Aidan's Grand Return in 'And Just Like That...', Explained
The other half of the great Aidan v. Big debate is back!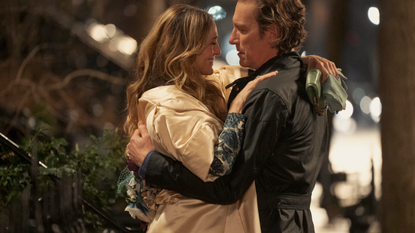 (Image credit: Craig Blankenhorn/Max)
Last year, Carrie Bradshaw returned to the small screen with the December 2021 premiere of And Just Like That..., Max's reboot of the beloved franchise Sex and the City. Fans who grew up with Carrie, Miranda Hobbes, and Charlotte York (though Samantha Jones was notably missing) welcomed the series with open arms, but some of the developments in its characters' lives have been controversial at best. From Big's death from a heart attack in the series premiere to the nasty breakup between Miranda and Steve—not to mention the Che Diaz of it all—longtime viewers have watched as the original series' central dynamics have been tested or transformed forever.
In the second season of And Just Like That, however, two of the original show's most iconic characters—Kim Cattrall, who played Samantha, and John Corbett, who played Aiden Shaw—finally make their return. The first to show up: Aidan, Carrie's ex-fiancé and half of the eternal Aidan vs. Big debate.
Carrie reaches out to Aidan over email.
Rather than another surprise encounter, Aidan re-enters Carrie's after he comes up during a dinnertime conversation about exes. Carrie has kept tabs on him; apparently he now lives in Virginia, got divorced from his wife five years ago, and sold his furniture company to West Elm. Carrie and Aidan haven't talked in forever, but she starts thinking about reaching out, even drafting a flirty "Hey Stranger?" email at home that night. She doesn't send it, though.
It takes Carrie the rest of the episode to build up the courage and press send, an eventful episode that includes her trekking through a blizzard to give a reading at WidowCon (yes, the event is just what it sounds like). But by the end, she's back in front of her computer. "And just like that, I realized some relationships are meant to stay in the past — and some aren't," she says via voiceover, as she sends out the digital note.
The exes have a reunion dinner on Valentine's Day.
Episode 7 takes its time getting to Aidan, as Carrie reveals early on that the pair have set a dinner date for Valentine's Day—he'll be in town for a meeting—and spends the rest of the episode worrying how the night will go. Of course, the course of love never runs smoothly on SATC, and Carrie's left waiting for thirty minutes at the restaurant. Carrie fears that she's been stood up, but it turns out that she was waiting at the wrong restaurant, next door to the one they chose (which, you have to admit, those two buildings were designed to be confusing). She goes outside, turns around, and Aidan is there, wearing a very tight belted leather coat.
(An aside: The coat shouldn't matter, but for those of us who are used to John Corbett's role in the To All the Boys franchise and XO, Kitty, it's jarring to realize that he dressed more like Aidan as a completely different character than in his first actual appearance as Aidan in 13 years. You don't believe me? See said coat below and then we'll talk.)
Once they're seated inside the right restaurant—and Aidan has removed the jacket to reveal a cozy knit button-down—, he shares his condolences about John (Big, if the use of his real name is still confusing to anyone else). He's also read her book, but Carrie assures him that time has helped the healing. Both of them are single, neither meant to stand the other up, and it's a lovely little moment. She invites him back to hers, and he's astounded by the time-travel head trip of her living in the same apartment. That's also the place where their engagement ended, and he understandably can't go back in there and feel the ghost of that heartbreak.
"At the restaurant, I thought how great… We're back where we started," he admits. "But this is where we ended, with the f***ing wall I couldn't break through, the floors… I redid. That's all bad, and it's all in there" He then adds, "I'm never going in there again."
It seems then like Aidan and Carrie 2.0 (or technically 3.0?) won't actually happen, as Carrie says she understands and he begins to walk away. But then, Aidan turns around, and points out that NYC is a city of hotels. They finally kiss, with voiceover-Carrie saying, "And just like that, Aidan and I were back on the same page."
What's next for Aidan and Carrie?
After that reunion right out of Carrie-Aidan shippers' dreams, the teaser for episode 8 shows that the pair are fully back on. All we see in the short clip are a beat of them kissing in bed and another of Aidan laughing with Carrie, Miranda, and Charlotte at a group dinner, so it seems like we'll at least get a few episodes of couple fun times before the season ends. (Season 2 will be eleven episodes total, so we have four to go.) There's also a moment of Miranda wondering whether Carrie and Aidan should take it slow, like any reasonable friend would suggest, but Carrie appears to be all in. We'll see whether the couple could actually end up together, at the end of so much drama, over the rest of the season.
Celebrity news, beauty, fashion advice, and fascinating features, delivered straight to your inbox!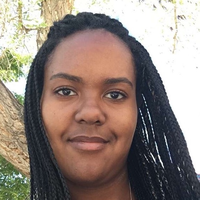 Contributing Culture Editor
Quinci LeGardye is a Contributing Culture Editor who covers TV, movies, Korean entertainment, books, and pop culture. When she isn't writing or checking Twitter, she's probably watching the latest K-drama or giving a concert performance in her car.