Meet the Four Kickass Finalists for DVF's 7th Annual People's Voice Award—and Vote for Your Favorite to Win
Diane von Furstenberg shines a light on inspiring women whose work is changing the world, and let's you decide who ultimately takes home a $50,000 prize.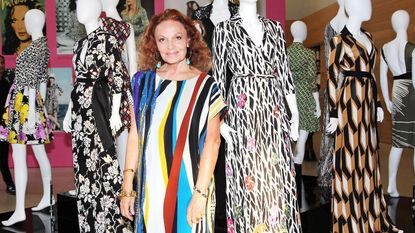 (Image credit: Getty)
When it comes to inspirational women, Diane von Furstenberg knows what's up. Sure, she's one herself—successful designer, CFDA chairman, avid philanthropist—but did you know that for the last seven years, she's also been seeking out other inspirational women who are doing things to change the world, and championing their efforts with major donations? It's called the DVF Awards, and this year's is set for April 7th. At the event, two International Awards are given to women promoting tolerance and advancing women's rights in their countries. An Inspiration Award is granted to a woman who uses her experience and influence to create positive change, while a Lifetime Leadership Award recognizes an individual who's spent her entire life's work empowering other women by instilling them with leadership, strength, and courage. But the most exciting award of the night is the People's Voice Award, which is chosen by popular vote from four incredible nominees. Whichever one receives the most votes by this Sunday, March 27, will win $50,000 from the Diller-von Furstenberg Family Foundation to further her work, and will be honored at the awards ceremony on April 7 at the United Nations headquarters in New York.
That's right—you have the power to decide the winner. Want to meet this year's kick-ass female finalists? Here they are. Cast your vote for the woman you think should win here by this Sunday, March 27. Next week, we'll reveal who came out on top, and dive into her inspirational story.
Jess Ladd
Founder and CEO of Sexual Health Innovations (sexualhealthinnovations.org)
An estimated one in five college women will be sexually assaulted. Astounding, right? Jess Ladd is trying to change that. Her company, Sexual Health Innovations (SHI), creates technology that transforms sexual health and wellbeing in the United States. Callisto, it's online sexual assault reporting system (currently being piloted on two college campuses), provides students a more empowering, transparent, and confidential way to report incidents. After creating a time-stamped report online, victims can choose to directly submit the report to a chosen authority immediately, or save it as a record and have it automatically submitted to authorities if anyone reports the same assailant. Another of SHI's initiatives, So They Can Know, helps people with STDs tell their partners about their diagnosis, either in person or via anonymous email (it's already had over 130,000 users). A TED Fellow and "Fearless Changemaker," "Emerging Innovator" and "Civic Hacker of the Year" award honoree, Jess has worked in sexual health since age 17 as an educator, advocate, policymaker, researcher and technologist.
Emily Greener
Co-Founder and Executive Director of I AM THAT GIRL (iamthatgirl.com)
Girls growing up today are constantly bombarded with messages about what they're not—not pretty enough, not smart enough, not strong enough, you name it. So how about telling them what they are, and what they are capable of? That's the thinking behind I AM THAT GIRL, an organization that addresses the physical, emotional, and mental well-being of adolescent girls by giving them a safe space to connect and lift each other up. The goal, says Greener, is to transform self-doubt into self-confidence and self-love by letting girls be who they are instead of who they think they're supposed to be. Programs are conducted through more than 175 local chapters nationwide, as well as online through their network of over 700,000 members.
Samantha Nutt, M.D.
Founder of War Child (warchildusa.org)
In 1995, medical school graduate Samantha Nutt traveled to Baidoa, Somalia, as a field volunteer for UNICEF. What she encountered—death, drugs, poverty, violence—transformed her forever. After spending the next 20 years working with children and families on the frontlines of some of the world's most major conflicts, Nutt founded War Child, the only humanitarian agency focusing exclusively on children affected by war. "War changes everyone it touches—it certainly changed me," says Nutt. "But war is not so entrenched that it cannot be undone." Reaching millions of war-affected children around the globe, War Child goes to work in communities where they are most at risk: in families that are displaced, plagued by sexual and physical abuse, or cut off from education. The organization also enlists the help of local partners to give children access to educational and outreach programs, skills training and investment, and justice, often times providing direct legal aid.
Fraidy Reiss
Founder/Executive Director of Unchained at Last (unchainedatlast.org)
After being forced into an arranged marriage by her religious family at the age of 19 with a man who turned out to be violent, Fraidy Reiss was trapped. Unable to support herself and her two daughters and bound by strict community religious laws that prevented women from filing for divorce (as well as a family that refused to help), it was 12 years before she was able to escape, earn a college degree, and gain financial independence. Her experience inspired Unchained At Last, the only US nonprofit dedicated to providing free legal and social services to help women and girls escape arranged or forced marriages. The organization has been praised by everyone from The New York Times to the White House (which invited them to take part in developing a national action plan to stop forced marriages last year) and played an instrumental role in writing and passing relevant legislation. For Reiss, her work is a matter of life and death: "My family considered me dead, and I want to help others whose families have declared them dead too."
Follow Marie Claire on Instagram for the latest celeb news, pretty pics, funny stuff, and an insider POV.
Celebrity news, beauty, fashion advice, and fascinating features, delivered straight to your inbox!