Meet Your New Favorite, Crazy Popular Watch Brand
Its minimalist designs are constantly selling out.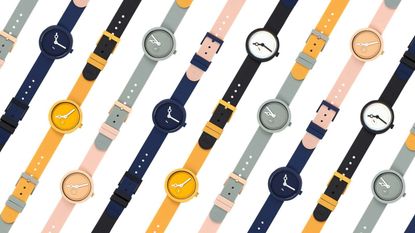 (Image credit: Courtesy of AARK Collective)
In the age of the smartphone, do we even need to make use of watches anymore? According to the countless people snapping up timepieces from Australian watch label AÃRK Collective, "Yes, a thousand times over."
Visit the brand's slick, design-heavy website and you'll see why its wares sell out so quickly. Aside from the easy-on-the-eyes branding, the watches themselves cater to slow fashion fans that crave simple shapes, snappy design, and affordable prices (most of them fall under $200). From tortoiseshell casing to futuristic dials, the watches look tailor-made for Pinterest "design" boards, though they're also bare enough to avoid landing on any flavor-of-the-month It List.
Their best feature, though, might be their genderless design. There are no clunky, drab watch straps for men and delicate, bright bands for women. Even the archetypal sky blue and pale pink watches could go either way.
This balanced take on design (nothing too flashy, nothing too gendered) could be a factor of the label's collaborative roots. The AÃRK Collective is the result of two couples combining forces, and the label represents an acronym of their individual names—which *of course*, sound equally as cool: Auver, Aura, Sara (nicknamed 'Ra), and Karla.
The group was drawn to the idea of creating watches after a "series of conversations about why certain objects pull on people's heartstrings." Once they doubled down on the idea of updating timepieces in 2011, they crafted the design scheme around their combined love for geometry and desire to create something both functional and beautiful.
The first collection began selling in 2013, and you can shop them now through their website. Stateside, check them out via purveyor of all things cool, California retailer Poketo.
Follow Marie Claire on Facebook for the latest celeb news, beauty tips, fascinating reads, livestream video, and more.