Stitch Fix Gave Me the Confidence to Shop as a Wheelchair User
"When I receive a box, it feels like my birthday."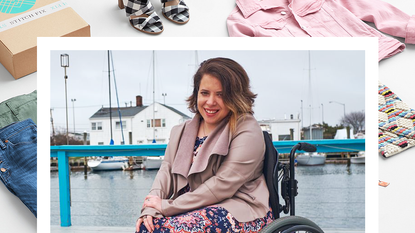 (Image credit: Tim Shortell / Stitchfix)
Don't tell my boss, but on most work days I get out of bed, wash up, and log on to my computer in my pajamas. I work from home in case you haven't guessed. I'm also not a morning person. Even though I can be found in loungewear most days, I do love and enjoy fashion. Everyone likes to feel good about themselves, and there's a unique sense of confidence that comes with wearing an outfit that you know you look good in.
With this in mind, I recently used the KonMari method to organize and clean out my closet, hoping to throw out the sweats I've been wearing since college and rediscover the casual summer dresses I've always loved. Instead of finding those forgotten pieces, I realized that even after I eliminated all the clothes that didn't spark joy, what I kept didn't make me happy either. But, for me, going shopping is no easy feat.
I was born prematurely and experienced complications at birth, which resulted in Cerebral Palsy (CP), so I'm a wheelchair user. I'm lucky if I can make it through the aisles and racks in a store, let alone to the dressing room to try on clothes. On more than one occasion, the supposed "wheelchair accessible" rooms were simply storage spaces for empty clothing racks and boxes of hangers. It's even harder to find dressing rooms with grab bars or a bench long and wide enough for me to comfortably sit on. This is just the beginning of why shopping for clothes in stores gives me anxiety.
A few friends who had tried and loved Stitch Fix suggested I try the fashion subscription box method myself. I was intrigued by the idea of a stylist shopping for me and the freedom of trying on clothes at home, but I was also skeptical.
I was anxious about all of the little things that make my body different. I'm 4'11 and my muscles are visibly tighter than able-bodied people. This sometimes affects how clothes fit and look on me. Off-the-shoulder tops are hit-or-miss, usually misses, because the cut might make it difficult for me to roll my chair. Dress length matters because when I sit, dresses get shorter and I can't cross my legs. I would never even dream of trying on a romper, but that's not even a disability thing (how does one pee?). Could Stitch Fix's questionnaire really capture my style and needs? Would a stylist understand all the nuanced challenges I face getting dressed every day?
I asked my friend Penny to help me fill out my profile so I didn't give the "wrong" answers. We tackled questions about proportion, fit, price, and weight, which was a difficult one. I have no idea how much I weight—seriously; accessible scales aren't a thing in most doctor's offices. It's gotten to the point where I'm not even offended by the idea of going to the vet and getting on a dog scale. I should be, but that's for another essay.
My friends told me that the key to getting a good Fix is getting the right stylist. Well, my stylist's name is Ashley and I want to keep her forever and ever. I had been worried that the style quiz was just a marketing tool, but I feel like Ashley actually got me. My first Fix included a pair of minimally-distressed medium-wash jeans, a silver bracelet, a gray, slightly oversized cardigan, a white cotton-blend top with crochet details, and a bright floral print top. Admittedly, some of those picks sparked more joy in me than others, but I thought, this Stitch Fix thing just might work.

I tried everything on with Penny's help. While guessing my weight was a step toward learning how to dress my body, we couldn't squeeze me into the minimally-distressed jeans I loved—I had guessed my size wrong. The cardigan was tight in the arms, but I couldn't exchange it because they were out of the size I needed. I kept the two tops. The crochet-detail top was a harder sell for me than a floral print because white scares me, but it hid my stomach—sitting in a wheelchair accentuates my belly—better than almost every other top in my closet, so I couldn't let it go.
I sadly sent off my returns, but I felt armed with knowledge. Price does matter (I paid $64 for the magic abilities of that white top) and I told Ashley that any clothes with stretch are my friend. I was also as specific as possible with my feedback on style, fit, and an absolute need for a pair of distressed jeans in my life. I don't have any real jeans in my wardrobe, just jeggings.

My second Fix was even better than the first. I got a colorful striped dress and gray scoop neck top, a front-tie floral print top, a graphic knit top that said "Day Off," and dark-wash skinny jeans. No distressing to be found, but they were so soft that I didn't care. I was so excited to try it all on that I didn't even wait for someone to help me get dressed, which was a great way to test the items' accessibility, too. I was able to get everything on without trouble. Alas, the second time is never the charm, right? I didn't end up keeping the second pair of jeans because, although they were stretchy and comfortable, they were also too big. I also returned the front-tie top, which had too many buttons for me to fasten, but kept everything else.
At this point, we can all agree that this story could be titled "Esme and Lightly Distressed Jeans: A Love Story"— right? I decided to increase my spending budget (changing my preferences from "the cheaper the better" to "$100 to $150") in most categories, especially for bottoms, to give Ashley a wider range of styles to choose from. I was curious to see if this would affect the quality and fit of the clothes I received.
I didn't get the dress I was hoping for, but I got my jeans! Distressed skinny jeans from Pistola in a light wash. I also received an off-shoulder floral print top, a dark blue paisley printed dress, a simple gray scoop-neck top with some stripe detail, and a tan faux leather jacket—the statement piece I didn't know I needed. All of these were keepers.
I started this piece in my PJs, wondering if Stitch Fix would work for me and other people with disabilities, and ended the experience with a makeshift photoshoot with friends by the water. The distressed jeans were the MVP of my closet, if you couldn't already tell from all my outfit snapshots.
I'm not trying to claim my life has been changed overnight by Stitch Fix—I still get out of bed and work in my pajamas most days—but every time I get a box, it feels like my birthday. I like that Stitch Fix is a collaborative shopping process (the key to making it work for me is being honest with Ashley and making sure she's implementing my feedback), which invites everyone, including the disabled community, into the style conversation.
I now have a wardrobe that I feel good in and, more importantly, I've eliminated any anxiety and body-shaming experiences of in-store shopping from my life.
For more stories like this, including celebrity news, beauty and fashion advice, savvy political commentary, and fascinating features, sign up for the Marie Claire newsletter.
RELATED STORIES
Esme Mazzeo is a lifestyle and entertainment journalist from Long Island. You can follow her on Twitter.