The Item I Wear to Death: My Margaret Cross Jewelry
These pieces have special meanings in my life.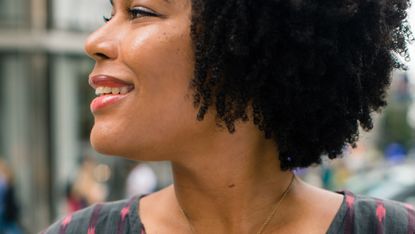 (Image credit: Kathryn Wirsing)
In our biweekly series, editors share "the item they wear to death," whether it be a basic white tee or a super-trendy jumpsuit. Prepare yourself (and your credit card) for some guilt-free shopping.
I started adorning my hands and neck with jewelry shortly before I attended art school. It seemed like a natural extension of my post high school life, as I was earnestly trying to be creative in all aspects of my existence. My hair was asymmetrical, my clothes were eccentric and second hand, my jackets were covered in band pins, and my hands were covered in vintage silver and gold jewelry. (Although, to be honest, this aesthetic was mostly because I could only afford to cut my own hair and buy used clothing and jewelry.) I was slowly developing my own sense of style, sure it was derivative but it was mine!
During this early time in my life, I met a woman that is still a cherished friend to this day. Her name then was Maggie Simpson and we bonded over punk rock, reading and writing zines, traveling, and general teenage mischief. In college, she started making rings and I was more than happy to be an early wearer. It started slowly with pieces she crafted in her jewelry making class at Pratt while working as a printmaker. Her style evolved to incorporate influences from Victorian mourning and memento mori. Soon, the brand "Margaret Cross Jewelry" was born.
My favorite Margaret Cross pieces have been with me through some major moments in my life. Let's take a brief walk through my timeline! I was wearing the horseshoe equestrian ring on my finger when I received the much awaited call from Hearst Magazines, offering me a job in the winter of 2016. As a visuals editor with Marie Claire, I like to wear it as my talisman on set, just in case I need a little luck on my side. The opal noose necklace was around my neck when I moved back to NYC after a brief stint living in Jamaica. I came back to the states to leave an unhealthy relationship, and to start anew. The necklace symbolized the death of my old habits and a transition into a life full of possibility.
My newest addition, an item that I can't wait to wear to death, is the black onyx crown ring. The crown jewel of my collection, so to speak, and a delicate compliment to any ring on my finger. My daily editor uniform is black and this pretty gold ring goes with and dresses up any outfit I pair it with. Sometimes when I get a little anxious about an upcoming shoot, I like to stare at the jewelry on my hands, and think about how far I've come. It always works.
If you want a unique and meaningful piece of jewelry for your own, check out my picks below.
For more stories like this, including celebrity news, beauty and fashion advice, savvy political commentary, and fascinating features, sign up for the Marie Claire newsletter.
RELATED STORIES
Celebrity news, beauty, fashion advice, and fascinating features, delivered straight to your inbox!