The Item I Wear to Death: My Black Lace-Up Sandals
A love story that will withstand time.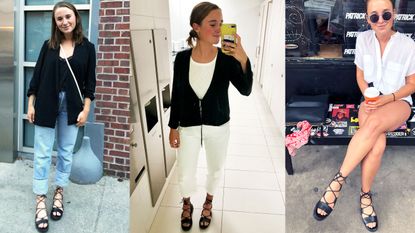 (Image credit: Courtesy of Zoe Harris)
In our biweekly series, our editors will be sharing "the one item they wear to death," whether it be a basic white tee or a super-trendy jumpsuit. Prepare yourself (and your credit card) for some guilt-free shopping.
Two years ago, I fell in love with a pair of black, lace-up sandals—the kind of love that withstands time. (In the most literal sense, since these shoes have been by my side for 730 days and counting.) The Vagabond sandals are an integral part of my life, taking me from the city to the beach and from work to class.
I knew right away this was not going to be a fleeting love—they looked like they'd go with everything (and they do, as evidenced by my photos, ahead). I tromped around with one sandal on my left foot and my old white sneaker on my right. I looked in the mirror, I wiggled my toes, I fell deeper in love.
They are sturdy enough to delay death itself: The soles are made of extra grippy rubber; the thick laces that wrap around my ankles don't slide down. The shoe's soft, worn-in leather (definitely fake, but still soft) keeps me from getting blisters. I have seriously walked miles in them. Those miles we've spent together have only made us closer, while, in other shoes, I finish long walks in a hate-filled cloud.
These qualities make them the perfect city shoe. I strolled over to Mud Coffee in the East Village in my black sandals:
I made them work for my Marie Claire internship with white jeans, a tee, and a black cardigan. The chunky yet delicate sandals added an interesting detail to the otherwise simple outfit.
The sandals transition easily into "going out" shoes at night. I wore them, here, with lightly washed jeans, a lingerie-style cami, and a long blazer to a bar in Brooklyn.
Although Vagabond, tragically, doesn't carry these particular sandals online anymore, I found a similar pair at Madewell. May you become as enchanted with your pair of black sandals as I am with mine.
Madewell boardwalk lace-up sandal, $60 SHOP IT
MORE ITEMS WE LOVE
Zoe is a contributing writer at MarieClaire.com; she covers celebrity and news. She loves sneakers and nicely organized bookshelves.