The Item I Wear to Death: My Ray-Ban Prescription Glasses
The blue light filtering lens really works.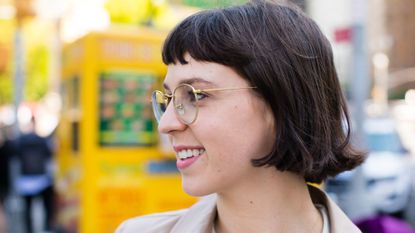 (Image credit: Kathryn Wirsing)
In our biweekly series, editors share "the item they wear to death," whether it be a basic white tee or a super-trendy jumpsuit. Prepare yourself (and your credit card) for some guilt-free shopping.
The first pair of glasses I ever got, my mom picked out for me at the Costco optical desk. I was 12 years old and had just started the seventh grade. They were a pair of thin, rectangular, gold wire frames that perfectly complemented my mouth of metal and increasingly oily face (hello, puberty). It was not cute. Less than a year later, mildly traumatized, I switched over to contacts. So now at 25, to admit my favorite thing that I put on every morning is a pair of gold wire frame glasses might come as a surprise.
I switched from contacts back to glasses again towards the end of college when my chronic dry eyes (by lunch time, my eyes would feel like fire) became too much for me to handle. I bought a new pair of Warby Parker frames two years in a row, but neither felt like the pair I wanted to wear long-term. I went into almost every optical store in NYC, and spent countless hours searching for the perfect pair online. I pulled the trigger on two prescription pairs but returned both when they weren't quite right.
It wasn't until I was on vacation in Tokyo that I finally found the perfect pair. I wandered into a Ray-Ban shop while waiting for my boyfriend to finish browsing a nearby record store. As soon as I put them on I knew it was a perfect match. I snapped a photo in the mirror and immediately sent it around to friends and family who had been patiently giving me feedback for the past few months. Once home, I found the same pair online and ordered them right away. They were sold out of the gunmetal colorway that caught my eye originally, so I settled on a gold wire pair instead.

All that said, the best part about my glasses isn't the timeless look or the ability to see clearly. My favorite function is the blue light filtering lenses that let me stare at a computer screen all day without the negative effects of the artificial light. (If buying prescription glasses, ask Ray-Ban about the add on.)

For years, I had been suffering from daily headaches. It became so bad that some days I would wake up with a headache and no matter how many pain relievers I took, balms I applied to my temples, or mugs of stress-relieving tea I drank, I would go to bed with the same headache.
I did some research about the benefits of blue light glasses (there's some thought that the high-frequency of blue light can stress out the eye and even damage our retinas; plus, it suppresses melatonin, keeping us awake), and decided they were worth a shot. If I hated the filter on my glasses, I could always send them back.

The first day I wore my new glasses to the office, I didn't get a headache. I thought it was a fluke. I wore them for a second day and so on. No headaches. I thought there's no way that these subtly tinted lens has cured me. (By then, I had seen a neurologist, two rheumatologists, and a psychiatrist to try to get to the root of this headache problem!) My once day-to-night persistent headaches, however, never re-emerged, not even once, and it's been six months.
Ultimately, I had to believe it was the glasses that did the trick (even if there isn't science support the headache-reducing benefits of a blue light filter yet).
So, here I am telling you not only about this perfect pair of frames that fit my face, but also about the magic of blue light filtering lens that ended my headaches.
If my story's convinced you to invest in a pair, go check them out below:
For more stories like this, including celebrity news, beauty and fashion advice, savvy political commentary, and fascinating features, sign up for the Marie Claire newsletter.
RELATED STORIES