Prabal Gurung Knows We Need a Fashion Revolution: How He's Making Inclusivity the New Normal
His new collection for Lane Bryant drops this month.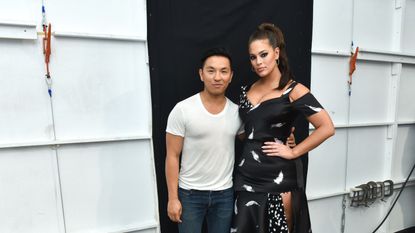 (Image credit: getty image)
Prabal Gurung is at a rare moment of standstill. At an isolated table at The Dirty French, the Singaporian designer is discussing his new 16-piece collection with plus-size retailer Lane Bryant, a collaboration that's been a long time in the making.
RELATED STORY
Gurung is no stranger to designing for curvier women (having cast plus-size models like Ashley Graham and Candice Huffine in his shows before) and using his stage to promote inclusivity. A prime example was his Fall 2017 show, where models walked the runway (opens in new tab) wearing tees with politically charged slogans like, "Our Minds, Our Bodies, Our Power;" "Break Down Walls;" and "I Am an Immigrant." This collection only seeks to amplify his message.
It's no secret that plus-size women aren't exactly privileged in the world of fashion. The offerings currently serving the plus-size market range from the strictly utilitarian (shapeless clothes that get you from A to B) to the low-quality (opens in new tab): Fast fashion clothes that are often crafted from cheap materials and poorly equipped to flatter fuller shapes.
And despite the line of thinking (opens in new tab) that plus-size clothes are just more difficult to make, Gurung says the design process isn't that different for larger sizes. He considers fit and flattering fabrics with every size, he explains, but with a plus-sizes piece he especially focuses on the ease, comfort, and functionality of it. "What I don't want to compromise is style," he adds. "Whenever I'm designing the essence of who the woman is stays the same. She's someone who has style with substance."
His decision to shape his Lane Bryant collection with the city of Paris in mind—from its beautiful scenery to the aspirationally chic women who occupy it—is a wink and a nod to the fact that Gurung's offering plus-size women entry to a space where they've never felt welcome before.
"Paris is not a city that's inclusive—it's not known for that. So I was thinking maybe this girl feels intimidated by this city. I wanted to dress her, give her that feel, make her a part of that world, bring her there and make her feel beautiful. There's the obvious factor of beauty, but the subtext to that was why can't she belong there?"
The fall collection includes cozy color-blocked knits, faux-fur collar coats, and minimal workwear sheaths, priced from $38 to $278. Dresses and skirts have cut-aways that enhance curves rather than mask them; bell sleeves and wide leg pants use oversized shapes in flattering ways. Sizes range from 14 to 28.
And though diversity at fashion week and in magazines is on the ups and ups every season (opens in new tab), there's still plenty of progress to make. Instead of checking off boxes to fill diversity quotas, Gurung says that big designers and influential industry players (whether that be in the publishing industry or beyond) should be the ones moving the needle on inclusivity and normalizing it.
"I know what's it like to grow up and look in the pages of magazines and see no one who looks like me. The ideals of beauty were that you needed to be a size zero, blue-eyed, blonde, white girl," he says.
In the age of brands and labels jumping on the diversity bandwagon (opens in new tab) to make headlines and then quickly moving on to the next big thing, he says it'll take courage from the top down to really secure lasting change. "When I see Céline, Prada, Louis Vuitton, Gucci, and other influential designers embracing plus-size models, diverse casting, and different ideas of beauty, that's when I'll think the industry has shifted. Until now, it hasn't."
Prabal Gurung x Lane Bryant clothes will launch at select Lane Bryant locations and at lanebryant.com (opens in new tab) starting on September 25.
Follow Marie Claire on F (opens in new tab)acebook (opens in new tab) for the latest celeb news, beauty tips, fascinating reads, livestream video, and more.