This Season, Put an Edgy Twist on All the Fall Favorites
Presenting your top-notch fall checklist.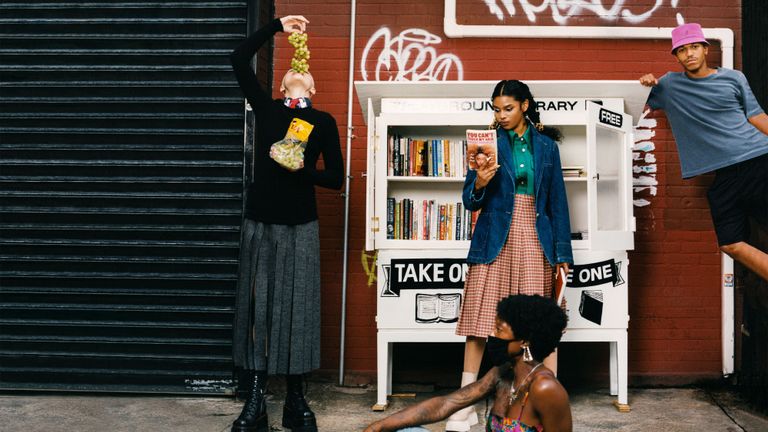 (Image credit: QUIL LEMONS)
As editors, we're constantly asked, "What should I add to my wardrobe this season?" Our answer: "Keep it classic." Now, that doesn't mean boring—it's all about which updated essentials you select and how you style those pieces to help breathe new life into your existing looks. Splurging on wardrobe staples that are well made and will outlast the ever-changing, fast-fashion trends is the key to creating a personal look you'll always love. So whether you're just starting to fill your closet or adding a few special new pieces, scroll on to find our fall fashion checklist...with a twist.
Leather & Denim
For a grunge inspired look, pair your favorite jeans with a minimal bralette and top with leather jacket for effortlessly cool 90s feels.
The Animal Print Coat
A animal printed coat is the perfect way to take a walk on the wild side and add a bit of lux to any ensemble.
kensie Casual Wool Leopard Coat, Leopard
The Shirt Dress
Don't be such a stiff. Give your summer shirtdress a little sex appeal with some thigh high leather boots.
The Trench Coat
An old-school trench is the perfect transitional coat—a super versatile wardrobe workhorse.
The Bold Blazer
A bright blazer and edgy latex leggings are the bold basics your closet is missing.
Even More Ways to Style Your Favorite Fall Essentials Pieces
The Midi Skirt
Image 1 of 5
PRADA SWEATER, $1,350, TOP, $920, TIE, $215, AND SKIRT, $1,560; R13 BOOTS, $1,195.
The Midi Skirt
Image 1 of 5
PRADA SWEATER, $1,350, TOP, $920, TIE, $215, AND SKIRT, $1,560; R13 BOOTS, $1,195.
The Black Dress
Image 2 of 5
FENDI DRESS, $2,790, AND BRA, $750; ASHYA BELT BAG, $595.
Image 3 of 5
ON LEFT: GABRIELA HEARST BLAZER, $3,690, TURTLENECK, $590, PANTS, $2,590, AND SHOES, $1,190; BEADS BYAREE EARRINGS, $128. ON RIGHT: TOD'S LEATHER TOP, $1,875, TURTLENECK, $595, PANTS, $595, SHOESM $795, AND BAG, $1,675; THIRD CROWN NECKLACE (IN HAIR), $800.
Image 4 of 5
DIOR VEST, $2,200, BLOUSE, $2,250, PANTS, $1,950, SHOES, $1,050, AND TIE AND EARRING, PRICE UPON REQUEST .
Image 5 of 5
Photographer: Quil Lemons / Models: Faith Jaggernauth at Supreme Management & Alecia Rodriguez at New York Models / Hair: Nigella Miller / Makeup: Marcelo Gutierrez for MAC Cosmetics / Manicure: Dawn Sterling at Statement Artists for OPI / Production: Andrew Samaha @NYCFILMLOCATIONS and Victoria Durden
A version of this story appears in the September 2020 issue of Marie Claire.
I'm Aya Kanai, Editor in Chief at Marie Claire. I am a native New Yorker (born and raised!), people think that's weird but it's actually NBD. Before I became a fashion editor I was a puppeteer, so yeah, I'm only qualified to work in a very few industries. I work in fashion but I don't wear heels cause I'm already tall.