Liza Voloshin Pursued Joy With Filmmaking
The first-generation American says removing fear is the key to unlocking success.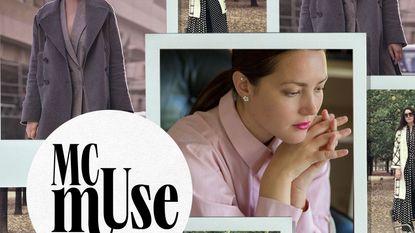 (Image credit: Chevy Tyler)
In our new series MC Muse, savvy women from around the world share their style, their ambitions, and the most coveted pieces to shop right now.
In 2015, Liza Voloshin, now 33, was making professional strides at her job in business development for fashion brands in New York City when, when just for fun, she bought an 8mm camera on eBay, picked up some film, and started shooting her friends.
"I think maybe my story is similar to what many immigrant parents have a tendency to encourage for their kids. I moved to the States when I was young"—Voloshin's family emigrated from the USSR to Chicago when she was 13 years old—"and my parents were very concerned with me having a steady career. Something creative didn't even seem like a remote possibility, and my parents certainly never encouraged it," she explains.
Still, Voloshin was looking to find more joy in her work life. That summer, Voloshin took on her first short film project, using her super 8 camera to shoot her best friend, the musician Margot, and began to establish a female arts collective with her friend group of emerging artists, called Chez Conversations. Over the course of a year, they held salons in New York, Paris, New Orleans, and Milan. In 2016, she was asked to make a film in partnership with The Whitney Museum Dreamlands exhibit (opens in new tab), and shortly thereafter, Voloshin left her full-time job—taking filmmaking from a hobby to a career. Last summer (five years after her first film project), Voloshin was tapped to film Katy Perry's Daisy (opens in new tab) music video, which she did via an intimate, socially distant production. It's been viewed more than 20 million times on YouTube.
After a recent move cross-country from New York to L.A., we got a chance to chat with the filmmaker about her work, how she cultivates female empowerment, and the sound advice from a fellow female director that she always follows.
Marie Claire: How do you think your move from the USSR to the States has impacted your work as a filmmaker?
Liza Voloshin: I think of myself as an American with a diverse background. But I do think, as an immigrant, you feel like you don't have the option to fail. So much of immigration, especially for my family, had to do with fear. Fear for safety, fear for opportunities, fear for the future. So, in order to really blossom, you have to remove fear. You can't have joy if you have fear. And so, that's been kind of my every day mantra: How do I remove the fear today so that I can create joy?
MC: A lot of your work centers on empowering women. How do you lift women up through your own lens?

LV: I'm so deeply inspired by my friendships and by the women that are in my life. Being able to capture women through film, as best as I can, is something that I think we need more of. It's really important to me to be able to tell women's stories, especially those that might not normally see the light of day.

I just did a project with the Women's Prison Association (opens in new tab), based in New York. Even though they've been around since 1845, not very many people know about the work they do. Talking about women in prison isn't very sexy. It's a difficult subject and people tend to shy away from it. It's really an ongoing project where we can tell the stories of these women. Prison or jail can happen to anyone—it's just a matter of socio-economic standing and circumstance. With my background in economics, I'm like, wait a minute...we can spend $20,000 a year as a society to help a woman get back on her feet, help her family, help her find work, and a safe housing facility, versus spending a hundred thousand dollars a year for someone to be at Rikers [Island prison complex] for no reason. Women are so much more likely to go through mental and physical abuse than men. They end up in the system and then it's almost impossible to leave.
MC: What's it like being a woman in the film industry?
LV: It's definitely tough. I've been called a "bitch" on set by some guys and I'm like, "I hired you. What's happening here?" Misogyny and the patriarchy are hard to wipe out, but I think there are so many amazing women, especially in Hollywood right now, taking very beautiful, proactive roles as directors and producers. Having women in leadership positions and getting more women's stories told is what I'd love to see more of.
MC: You recently moved from New York City to Los Angeles. Has that changed your aesthetic ?
LV: There's been a shift back to nature. Back to the basics. [In terms of fashion] I'm so cognizant of the fabrics that are against my body now— honing in on the things that will make me comfortable and happy. Moving to L.A., I purchased my first sweatsuit from Les Tein. I was like, "Wow, I never thought I'd have sweatpants, but here I am." I wore it on set the other day with a blazer.
MC: Is that what you typically wear while filming?
LV: I read this great interview where Ava DuVernay gave advice to filmmakers. She said to bring an extra pair of socks to set, so that halfway through, or during lunch time, you can put on a fresh pair of socks and feel like you're refreshed again. I've really taken that advice to heart.
I also really love [clothing] sets—anything that allows me to wake up at six o'clock in the morning before an early call time and look really sophisticated, but still comfortable. I live in Pleats Please. I have a matching top and bottom and then throw my Walk of Shame blazer on over it. It's my favorite designer from Moscow. I also just got these ear seeds from WTHN. When you go to acupuncture sometimes your acupuncturist will put little ear seeds in your ears. They have little Swarovski rhinestones on them, so it kind of looks like you have a little extra cool decoration on your ear. They're also good for stress or anxiety. I was laughing because I'm like, "Oh my God, this is such an L.A., West Coast thing!"
Shop Some of Liza's Favorite Pieces:
Sara Holzman is the Style Director at Marie Claire, covering runway trends and tracking down the latest finds to buy and wear. When she's not writing about fashion, she pens about the best places to jet-off to. Over her six years with Marie Claire, Sara has reported on the ever-evolving world of fashion— covering both established and emerging designers within the industry. Sara has held fashion positions at Lucky and SELF Magazine and was a regular contributor to Equinox's Furthermore website, where she wrote across their style, wellness, and travel verticals. She holds a degree in Journalism from the University of Missouri, Columbia, and currently resides in Manhattan. Follow her along at @sarajonewyork.