What Nischelle Turner Wears to Host 'Entertainment Tonight'
The anchor, who is the first Black woman to host ET, shares what she reaches for before going on camera—and, what she wouldn't be caught dead in.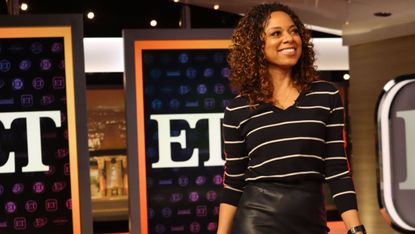 (Image credit: Courtesy)
Marie Claire Newsletter
Celebrity news, beauty, fashion advice, and fascinating features, delivered straight to your inbox!
Thank you for signing up to Marie Claire. You will receive a verification email shortly.
There was a problem. Please refresh the page and try again.
Nischelle Turner reports on history—but she's also making it. Last month, Turner was named the new co-host of Entertainment Tonight (ET), alongside Kevin Frazier. Turner, 46, is the first Black woman to host ET in the show's 40-year history. It's also the first time the show has been anchored entirely by people of color.
There is no one better suited for the job. Turner has been with the show for seven years (as a correspondent and weekend co-host) and, throughout her stint, has nabbed four Daytime Emmy Awards. Over the years, she's built a loyal celebrity fanbase, many of whom she regularly interviews, including Oprah, Gayle King, and Tim McGraw and Faith Hill.
The promotion was a long time coming. When former host Nancy O'Dell left the show in August 2019, Turner knew she wanted the role; despite being an obvious choice, she wasn't sure she'd be picked. "I won't make any qualms about it: I felt like I was the best person for the job," she says. "I know that I worked my butt off, but sometimes you don't know how things are going to happen and how they're going to fall at the end of the day." She watched as other people came in to interview for the role and screen test—but no hires were made. Instead of fretting over the position, she committed herself to focusing on being her best self.
"I will be honest. I did think, Is America ready to see two Black hosts [on] a nightly entertainment show?" she recalls. "Honestly, the answer I got back was, 'You're dumb because, yes.' So many people said to me, 'I already thought you were the host.' To me, it was really an affirmation of, America has been ready, sister."
When she got she got the call from her boss, executive producer Erin Johnson, that she'd been chosen, she was overwhelmed with emotions—excitement, joy, and gratitude. The tidal wave of support at both ET and from her those who watched her on screen for years has astonished her. "It really has been such a whirlwind. It was tough of wrap my brain around all of it at first. It makes me a little emotional, even thinking about it. I have received so much genuine love and support and well-wishes," she says.
It might be a new role, but Turner's classic, clean, and tailored on-camera style (brightened by bold color choices) remains constant. She says her on-screen style actually reflects her personal, day-to-day style—although it doesn't include sweats, one of her favorite things to wear.
We caught up with Turner a few weeks into her new role to learn what she wears—on camera, and off—to feel like her best self.
Her Morning Routine:
I'm a bad meditator, because my brain goes 50 miles an hour at all times, but I've really been trying to be conscious and intentional about when I wake up every morning. I try to take five or 10 minutes to just sit in silence. I don't check my phone. I don't really even move. I certainly don't turn the T.V. I just breath in the silence, with my eyes closed. And then I'm up, and I'm rocking and rolling and starting the day.
I'm a little bit of a gym rat; I try to exercise before work. During the shutdown, like so many other people, I was finding other ways besides going to the gym to keep fit. For the last several months, I would knockout a workout on a spin bike before work. I call it my 'Eloton.' Here's my little secret: I bought a much cheaper bike, and I use the Peloton app.
Then, I head to the studio. I go a little earlier now to join editorial calls and figure out how the show and the day is going to be shaped. I like being part of the creative process. Next, I go to hair and makeup, which... can I just be honest? As great as our team is, it's my least favorite time of the day because I'm such a tomboy. After that, I'm reading scripts and getting ready for the show. Sometimes, I'll have a couple of shoots for pre-taped segments beforehand.
Her First Outfit of the Day:
I sometimes have six outfit changes a day. But my first is sweats: I come in to work every day in sweats. If I come in in a denim jumpsuit or something, the hair and makeup ladies are like "whoa. What's the dressing up about?"
Her Favorite Styles:
Self-Portrait has some of my favorite dresses. I also love a wide-leg pant, and I think that cut is just always really flattering on 99 percent of women. It gives you a good silhouette. I love a monochromatic look, too, because it's easy. You can't really go wrong with all black, all white, or all green and I'm learning to really love yellow, which I never did. Lastly, I love menswear. I love that androgynous look. I think that works really well on me.
The Brands She Loves:
If I'm going to wear a designer, I like Theory, Calvin Klein, Helmut Lang. But I'm really getting into Zimmerman. It's more girly than I usually go for. I have three or four Zimmerman dresses right now that I just adore.
The Shoes She Can't Live Without:
As much of a tomboy as I am, I do love a pretty shoe. I'm a shoe girl; it doesn't matter if it's Steve Madden or Christian Louboutin. So, shoe game is always going to be tight. Always. In life, I'm much more of a flat and sneaker (Nike Air Max!) girl. On set, I'm a heel girl, all the way.
I have two pairs [for filming shows]: This pair of Giuseppe Zanotti shoes that are army green and that have a snakeskin back and a green bow on the toe. Whenever I wear those shoes, people lose their mind. Even if I have on jeans, I put those bad boys on. They're a hot shoe. I found those shoes on sale for more than half off. I also have a pair of beige Christian Louboutins. I have worn them down to the nub. They look great with anything.
The Cuts that Works for Her:
I am pear shaped. I have hips for days and nothing up top. So A-line cut skirts always worked for me. In the country, we call it the after five hem—it hits right below the knee. It's very flattering because I'm a little bit bowlegged. I also love anything that gives me a waist, because one of the best assets about me is my very small waist.
What You'll Never See Her Wear:
Ruching generally does not work for me. I'm also not a girl who loves something that's bejeweled or adorned with a lot of stuff. That doesn't do it for me. And I am like, if I don't ever wear another cold shoulder, I would be too thrilled.
What She Wears on Repeat:
I rarely carry a purse. I always have a backpack. I actually just got this amazing leather men's backpack from Coach.
The Accessories She Loves:
I'm an earring girl now, which I never really was. My friend Simone Smith, LL Cool J's wife, has a great jewelry line. Whenever I wear Simone's jewelry, I feel like I'm making an LL video. What I've found is that if I put a little hoop in, it actually makes me look like I tried.
Clothing That Makes Her Feel Powerful:
I love a really well cut two-piece suit. I love it. It's my jam, it's my thing.
What She Pulls on After Work:
Honestly, a good pair of sweats. I recently found these these cashmere luxe sweats at Banana Republic. But really, my go-to is this huge T-shirt that I stole from three boyfriends ago. It's ratty and worn in, but when I put that thing on, I love it so much. It's so lived in and fantastic. I would never want to look at that person again, but that t-shirt is never going anywhere.
On Her Personal Style:
I have fought against what society thinks as female style for my entire life. My mother would always say, 'Oh my God, if you don't put some effort in...' When I was in junior high school and high school, I used to wear boxers and long johns, and I felt fine because of it. I liked to go against the grain. I think personal style is an extension of who you are. You see my style and I think that you can understand, oh, she's easy. It's simple, clean. And for me, that mirrors who I want to be in life. But there's a lot of structure to my style too, and that is very much who I am. I like organization. I like having a schedule and structure, and so that's what's reflected in my style.
Just like you learn more about yourself as you go on in life, you really do learn more about your personal style. I've developed a love for clothes that I never thought that I would have. I've always had that love for a good deal, so that's never going anywhere. But in this job and in this industry, I've also learned to appreciate... maybe I had my Anne Hathaway, Devil Wears Prada moment when I learned to appreciate what good style can do for you, and how spending $10 on a tailor will change your life.
My mother told me that a little bit goes a long way, and I think that's very true with style. I hate to say it, by my mama was right. Except for the part about having me wear a fuchsia lipstick.
Steal Nischelle's Style
Celebrity news, beauty, fashion advice, and fascinating features, delivered straight to your inbox!
Megan DiTrolio is the editor of features and special projects at Marie Claire, where she oversees all career coverage and writes and edits stories on women's issues, politics, cultural trends, and more. In addition to editing feature stories, she programs Marie Claire's annual Power Trip conference and Marie Claire's Getting Down To Business Instagram Live franchise.