Take Care of It: Give Your Chanel Bag a Spa Day
How Paris-based consignment boutique Re-SEE gave a vintage bag its shine back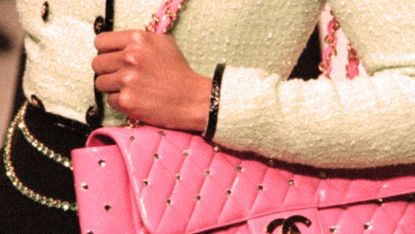 (Image credit: Getty Images)
Welcome to Take Care of It, where we'll share best practices for the upkeep and maintenance of luxury fashion purchases—because we know you want to keep them forever.
My white vintage Chanel bag is one of my most prized possessions. I "borrowed" it from my mom in high school and have slowly taken it over since. The bag has seen it all, from vacations to graduations to (shamefully) the inside of various nightclubs across the world. Ten years on, it was showing some signs of wear. I'd searched YouTube for at-home remedies, but once the wear-and-tear had reached point of no return, it was time to call in the professionals.

Paris-based consignment destination Re-SEE is a one-stop-shop for all things vintage, offering a wide range of second-hand clothing, shoes, accessories, and handbags for purchase. Re-SEE also offers a full-service handbag repair spa, which sets them apart from many other consignment stores that often turn away items that were a little too well-loved. The lengthy list of spa-service repair options, including full bag color repair, re-stitching, and hardware repair, are all conducted by French artisans and start at $350 for a solid once-over.
I sent my bag to Re-SEE's atelier in Paris, opting for the Classic Spa Treatment, which involves a complete cleaning and light makeup touches that "give your handbag a second life," according to the website. Here, the Re-SEE team explains the classic spa treatment and offers some at-home handbag maintenance tips for the time in-between professional cleanings.
Marie Claire: What are the steps in the Classic Spa Treatment?
Re-SEE: There are eight.
Clean the leather inside and out, then clean the stitching to take off dust, wax, marks, and stains.
Find the most specific defects of the bag that needed a deeper treatment.
Clean the hardware.
Apply a deeply nourishing leather conditioner.
Apply the first layer of color, which is a special mix made for each bag following a very precise colorimetry.
Apply the second layer of color.
Apply a special treatment to make the new color as natural as possible, especially on a vintage bag as we want to keep its genuine appearance.
Apply the last layer which is a protective lotion to safeguard the bag from water and stains.
MC: Once the bag looks brand new, what can be done at home to preserve its beauty?
Re-SEE: We always recommend to take the dust off weekly, store it with an adapted bag pillow to keep the perfect shape, protect your bag from the rain, use products such as leather conditioner, leather brushes, and leather polish a few times a year, and take your bag to the spa with an artisan regularly.
MC: How often should bags be brought to a professional? Is your classic spa treatment something that should be done once a year, or does it depend on how often the bag is used?
Re-SEE: Once a year is recommended. This is of course relevant for the bag that you wear more frequently, however, even the bags that aren't used every day should be checked on every year to ensure that they are looking their best. Remember, bags don't necessarily need to have stains to get a spa treatment. The upkeep is just as important as repairing or removing a stain!
MC: How do you know when an at-home treatment will suffice and when it's time to bring your bag to a professional?
Re-SEE: You know it's time to take your bag to a professional if you don't want to worry about handling the bag yourself. Or, if you've tried the home care process and it failed to take out the stain or mark. When in doubt it's always best to turn to the know-how of a professional. For example, with specific leather, such as ostrich, lizard, and crocodile, we recommend using only a dry cloth for basic cleaning and to go to a pro for any other treatment.
One thing my Chanel bag taught me is that it is important to consider upkeep, maintenance, and cleaning before splurging on a white investment bag. I don't like to be too precious with my bags; I like to wear them everywhere. I knew my bag needed a facelift and Re-SEE came in to save the day, but that's an added cost to consider. If you need some reassurance before hitting "add to cart" on that white bag, I say do it! But stay on top of maintenance.
Shop Handbag Maintenance Essentials:
RELATED STORIES
Celebrity news, beauty, fashion advice, and fascinating features, delivered straight to your inbox!
Shelby Comroe is the Credits Editor and Fashion Assistant at Marie Claire covering all things fashion and giving credit where credit is due. Check her out @shelbycomroe on Instagram if buying designer handbags is your idea of a retirement plan!