Fall 2021 Handbag Trends to Carry Into a Brighter Tomorrow
Classic shapes and practical purchases await us this fall.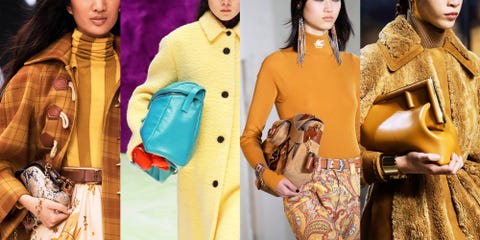 After so long spent in lockdown, the fall 2021 runways cast a beacon of optimism, with clothes intended to be worn out and about—not solely in the comfort of our own homes. This doesn't mean that practicality and comfort weren't top of mind for designers, but that the luxurious materials, colors, and details they showed beg to be shown off in public. The fall handbag trends for 2021 will feel familiar: From retro, metal-framed shapes to utility-focused messenger bags, we know these styles well and we still really love them. These are bag staples that have transcended eras and seasons and strengthen their positions as essentials every woman should aim to have in her closet.
Veering away from the impractical, the idea of investment handbag shopping is reinforced by the designers who put these down the runway. It's a time to reflect and celebrate the past while we carry our belongings into into a better future.
This content is created and maintained by a third party, and imported onto this page to help users provide their email addresses. You may be able to find more information about this and similar content at piano.io