Big Girl in A Skinny World: Pretty Pastels
Go soft this spring with pretty pastel basics. Plus-size style expert Nicolette Mason rounds up her must-have pieces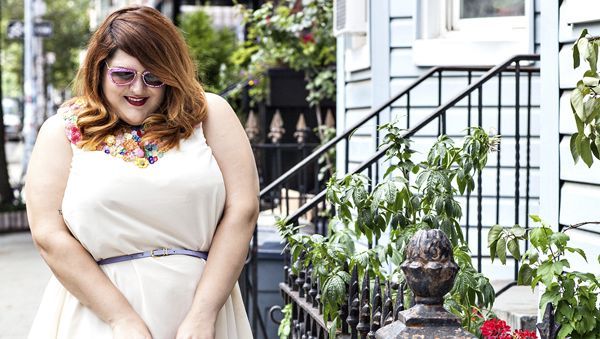 (Image credit: Lydia Hudgens)
If you're like me, you plow through winter in a uniform of "slimming" dark hues. Admit it: You've got a drawer full of black turtlenecks. (I do, too!) I also know how tough it can be trading in a wardrobe of gray and black for a lighter, spring-appropriate palette of periwinkle and pink. Here's a tip to make the transition easier: Pastels always pair well with neutrals like navy and tan. And the easiest way to integrate pastels without looking like an Easter egg is via accessories, like a pair of dusty-rose sandals or maybe a sky blue bag. It's that simple. For more plus-size fashion news and tips, be sure to follow me on Twitter @nicolettemason.
1. SHOES, Moschino Cheap Shoes; BAG, The Cambridge Satchel Company.

2. Mint Condition: You'll score major mileage this spring (and summer!) from a pastel blazer perfect with jeans for Sunday brunch or layered over your favorite LBD. JACKET (up to size 38), $69.99, Jessica London; onestopplus.com.

3. JEANS (up to size 38), $39.99, Woman Within; onestopplus.com.

4. SHOES $695, Tabitha Simmons at Saks Fifth Avenue; (212) 753-4000.

5. Neckline Note: How awesome is this necklace? Bold, edgy yet still delicate, this statement piece pairs with camis, tanks, button-downs, and crewnecks-basically, everything you own. NECKLACE $678, Lizzie Fortunato; shoplesnouvelles.com.

6. PANTS (up to size 32), $49.99, Jessica London; onestopplus.com.

7. BAG $398, Kate Spade New York; katespade.com.

8. TOP, MICHAEL Michael Kors; BAG, Kate Spade New York; SKIRT, Asos.

9. DRESS, Asos Curve Salon; SUNGLASSES, MIU MIU; RINGS, Catbird & Stefanie Sheehan; BELT, Asos; SHOES, Topshop; BAG, Kate Spade New York.