Russia Government Cracks Down on Lacy Offenders
Panties in a bunch...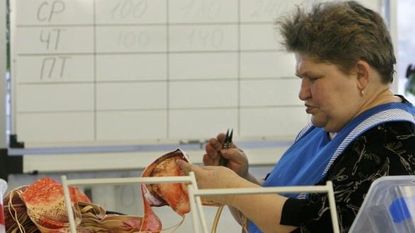 (Image credit: Marie Claire)
What if the government told you that you could not buy lace underwear anymore? Russia, along with other post-Soviet countries, like Ukraine and Kazakhstan, are doing just that by kissing acrylic sexiness goodbye thanks to a new ban, according to NBC. The ban was introduced by the Customs Union between Russia, Kazakhstan and Belarus in 2010 and will go into effect this summer on July 1 (aka primetime panty-wearing season). In Kazakhstan 30 women were arrested for wearing panties on their heads and shouting "Freedom to Panties," according to Fox News.
The reason behind it seems to be health related: the ban states that underwear needs to have a certain threshold to absorb moisture, while cotton is the most breathable, lace and synthetic underwear only reaches 3 to 3.6 percent. We wonder if a ban will soon follow restricting men from wearing tighty whities for fear that those underwear will generate lower sperm counts, therefore preventing the country from proliferating.
The consumer undoubtedly will not be pleased — underwear sales are at $4 billion dollars annually in Russia, and analysts estimate that 90 percent of the product will disappear from shelves.
Women should be in charge of their own vaginal health and of course, what underwear they choose to wear. Plus, have you ever seen Soviet-style underwear? Probably not. No one wears it anymore because it is out of style—somewhat like a government telling women what they can or cannot wear.