The Monokini Is Swim Fashion with a Hard-Hitting Purpose
Coming to a beach near you.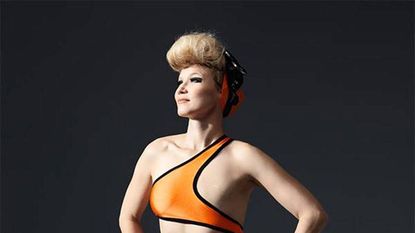 (Image credit: Courtesy of Monokini)
The monokini, a 1964 swimwear design by Rudi Gernreich with cutouts that exposed both breasts, is getting a makeover by a Finnish group. When founder Elina Haluttunen opted not to get reconstructive surgery after a mastectomy, she found it impossible to buy a swimsuit that fit with only one breast.
Monokini 2.0 was born to create comfortable swimwear while keeping with the original monokini vision of challenging cultural norms about freedom and expression. The company's manifesto declares: "We want to incite a positive self-image of breast-operated women by showing that you can be whole, beautiful and sexy even with just one breast or with no breasts at all... Seeing an exposed breast is considered nakedness, but why is exposing no breast also considered nakedness?" Monokini begins a Kickstarter campaign on Friday to raise money to produce its swimwear designs.
We chatted with Haluttunen about her vision:
How did the idea of Monokini 2.0 come about?

I got the idea during a persistent heat wave in Croatia. I wanted to dress down as much as possible on the beach, but finding fitting bikinis was impossible with one breast, and wearing the sweaty prosthesis was not an option. Therefore I bought bikinis that I sewed into a monokini (I removed the unnecessary bits and made it more streamlined), and started using them on the beach. Nobody seemed to notice that anything was amiss. I felt great and liberated, and thought that maybe there were others out there like me; women who saw no logic in first faking a breast and then hiding it.
What inspired you about the original monokini?

Their manifest. ["It had to do with more than what to wear on the beach. It was about a changing culture throughout all society, about freedom and emancipation," Gernreich is quoted.] It could have been something we wrote. Therefore we wanted to use the same name, just update it a bit.
Why are you raising the money to produce the swimsuits through crowd funding?

We see crowd funding as a market analysis. If we get funding, we take it to mean that there are enough women out there who would want to use Monokini 2.0's. We let the people decide. Our goal is $55,000. With that amount we would be able to start producing three designs in small scale, and if they prove to sell, start diversifying. For example, we'd love to start producing evening gowns as well. We see being one-breasted as a design-opportunity.
Your manifesto says that the designs will "dig into the restrictive social taboo on what is considered appropriate." Please tell us more.

Female breasts is a taboo theme, and exposing them even to use them to their purpose, to breast-feed, is controversial. We want to ask why exposing the non-existence of breasts is taboo as well. Are we forced to pretend that we have two breasts just to conform to the norm?
Related:

What They Didn't Tell You About Surviving Cancer: The Year After

The Big Business of Breast Cancer
Photo Credit: Courtesy of Company
Marie Claire email subscribers get intel on fashion and beauty trends, hot-off-the-press celebrity news, and more. Sign up here.