The Woman Behind the Tibi Brand
What does it take to become a successful fashion brand? We chatted with Tibi founder Amy Smilovic on what it takes to start a clothing line, going with your gut, and being the #BadassBoss.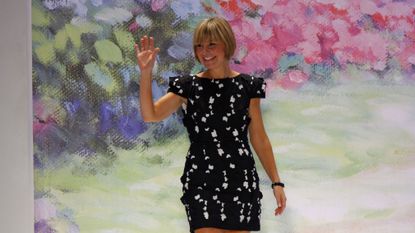 (Image credit: Archives)
Amy Smilovic always had a strong interest in art and fashion, and a desire to start her own business. While living in Hong Kong, she was instantly inspired by the entrepreneurial spirit and ability to get things done. The factories were accessible and she worked closely developing fabrics and prints with local artisans in Asia. Once Smilovic saw the response to some of the initial pieces she designed, she knew there was a larger market for it—and was hooked.
Tibi has gone through major transformations—from a contemporary dress collection to a full-fledged ready-to-wear brand complete with accessories. She said it was always her intention to take the brand to its highest level possible. "This was always my intention but it took some time to materialize. Each category we explored the perfect fitting pant, blogger-worthy shoes, etc.), I wanted to be just right," Smilovic said. "Separates and accessories are such important aspects to any wardrobe, this really has become the focus of the Tibi brand. Ultimately, everything just has to be clean, feminine & relaxed. If I would never wear it, if there's just one too many elements to it, I know it's just not right," she continued.
Any secrets to success?

I received a great piece of advice from an entrepreneur living in Hong Kong. He encouraged me to forego the traditional business plan. His advice was: "make a product. If you sell the product, you have a business. If you don't sell the product, you don't have a business." He pushed me away from over-analyzing and just doing. It's too easy on paper to demonstrate how you'll sell something—nothing is more of a reality check than actually trying to sell a real product.
I think my AHA! moment was at one of my first Coterie shows in New York. Jeannine Braden from Fred Segal came by and she said, "I love these skirts," (I'd just started doing these little bias-cut skirts in the late '90s a la early Kate Moss). She said, "If you did them in crazy prints, I would buy tons from you." I went over to Bleecker Street to this vintage store, and they had these postcard scarves. I thought, those are so tacky that it could work, in a cool way. So I bought five of them and took them back to Hong Kong and we made them into prints.
On a later trip back to NYC, I was wearing them around Soho, and everywhere I went, people kept complimenting me. So I had this idea to go up to Scoop and wander around until I was noticed. I was in there for about 30 minutes when a sales girl came up and said, "We just have to ask you, where did you get your skirt?" And I was like, "Oh. Jeannine Braden at Fred Segal, we're kind of working together on these." She went in the back and grabbed Stephanie Greenfield who bought them on the spot. So I hired a PR agency, and they got them out to every editor and VIP. I got my big break in the New York Times not long after. Bill Cunningham had shot an entire page of my scarf skirts for his "On the Street" column.
How did you make your first dollar?

I was one of those crazy kids who started with a newspaper route at age 10 and created a babysitting company that I had plans to franchise.
What's behind your new collection. How were you inspired?

For the in-between seasons like Pre-Fall, we like to be a bit more lighthearted. We actually started with the Brawny Man as our inspiration…and lumberjacks, which lead to forests and squirrels, and log cabins. So it started in a fun place but then we interpret this into things that are clean and sophisticated. The thing about Tibi is that it should have a bit of lightness to it. I don't ever like to take myself too seriously.
You recently took a bunch of editors and bloggers to Charleston, SC for a collab event at Hampden. Tell us about it.

Stacy and I had been wanting to partner together for a while, she has an amazing boutique with a distinct point of view and a carefully curated selection. Her interest in fashion is strong and sincere which I think is incredibly refreshing. Charleston itself has many of the same attributes I love about my own hometown, St. Simon's Island, Georgia – the sense of community, ease of island living, and a creative surrounding. Tibi has a big southern following and I'm sure that's because of where I'm from. Plus, it's only three hours from St. Simon's.
Now we have to ask: What's your favorite Southern food?

Every time I'm in the south I have to have BBQ! I ate at so many amazing places in Charleston—it's really a foodie town. Husk was one of my favorites, chef Sean Brock is leading the grand culinary reclamation project of Southern food, the pig ear lettuce wraps and pimento cheese crostini were my favorites. I also love shrimp & grits (it's our Christmas Day staple), friend oysters, and boiled peanuts! Stacy's husband drove an hour away to get us the best boiled peanuts in town, we had to sneak them into the restaurant, but it was so worth it.
Clearly you travel a lot. What's your beauty regime like? Any favorite products?

My beauty routine is minimal; I wear a Bobbi Brown facial night cream for day because my skin needs hydration, even in the summer. I don't wear too much makeup but I'm loyal to the ones I use - Laura Mercier's tinted SPF, Clinique's Quick Blush (a portable all-in-one), Lorac's under-eye concealer and Bobbi Brown No Smudge mascara. I use Tammy Fender's milk cleanser at night, I've found that a foaming face washes dries out my skin. I follow it up with an antioxidant neroli and orange replenishing crème which is light but effective. I also love Devechan's "No-Poo" no-lather shampoo and masculine scents like Margiela Untitled. I also can't live without some Labello lip balm.
Related:

Advice From Female Entrepreneurs


The Most Powerful Women in the World


Going With Your Gut to Get a Promotion

Photos via Getty
Celebrity news, beauty, fashion advice, and fascinating features, delivered straight to your inbox!