50 Best Fashion Stores in America
We shopped the country for the best stores right now. Program your GPS—these gems are worth planning your next vacation around.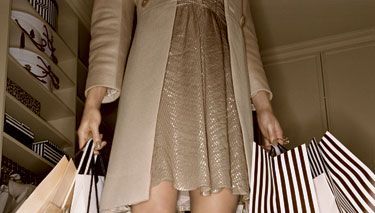 (Image credit: Karin Catt)
AMERICAN HAUTE SPOTS
ATLANTA, GA
1. Bill Hallman
784 North Highland Avenue
Atlanta, GA
(404) 607-1171
billhallman.com
The Draw: If you want a keepsake that isn't emblazoned with peaches, this is the place to get it. Owner Bill Hallman stocks his shelves with vintage and one-of-a-kind pieces from local designers at a mix of price points so that new labels (think: less expensive) can mingle with the more established ones.
2. Jeffrey
3500 Peachtree Road Northeast
Atlanta, GA
(404) 237-9000
jeffreynewyork.com
The Draw: Pairing luxe labels with superb service (they'll organize your closet and send clothes to your home!) is what this multidesigner specialty shop by Jeffrey Kalinsky is all about.
AUSTIN, TX
3. Kick Pleat
918 West 12th Street
Austin, TX
(512) 445-4500
kickpleat.com
The Draw: Get a taste of Austin's art scene while you shop. Owner Wendi Koletar teams up with local artists to display their masterpieces above those of Apiece Apart, Rachel Comey, and Mociun. Get on the store's e-mail list to nab an invite.
4. Gallery D
436 West 2nd Street
Austin, TX
(512) 322-5241
gallerydaustin.com
The Draw: Sisters Emily and Julia Keast bring Made in Heaven jeans and Antik Batik to Austin fashionistas in this light and airy shop that opened last March.
BOSTON, MA
5. Gretta Luxe
10 Huntington Avenue
Boston, MA
(617) 536-1959
grettastyle.com
The Draw: Celeb stylist, TV personality, and all-around powerhouse Gretta Monahan built this two-store mini chain. High-end collections from Michael Kors and Chloé may set you back a bit, but the full service and knowledgeable staffers are free of charge.
6. Crush Boutique
131 Charles Street, Boston, MA
(617) 720-0010
shopcrushboutique.com
The Draw: If you can't get out of work before this store closes, give owners Rebecca Penner and Laura Macris a call. They'll extend their hours so you can snag a dress for your date. Schedule a three-hour private shopping party (with complimentary wine and cheese) for you and your friends to peruse items by brands like Dolce Vita and Rory Beca at every price point.
7. The Velvet Fly
424 Hanover Street, Boston, MA
(617) 557-4359
thevelvetfly.com
The Draw: This cozy boutique mixes one-of-a-kind vintage pieces that date as far back as the '30s with new retroinspired items from designers like Kensie, Tulle, and Hype—all for less than $300.
CHARLESTON, SC
8. Hampden Clothing
357 King Street
Charleston, SC
(843) 724-6373
hampdenclothing.com
The Draw: No creature comfort is overlooked in this boutique. While you're trying on Alexander Wang and Vena Cava, your guy can plop down on the sofa in front of the flat-screen TV and enjoy a complimentary beer. At the Greenville location, the bedroom-size dressing rooms even come with a mini fridge!
CHICAGO, IL
9. Blake
212 West Chicago Avenue
Chicago, IL
(312) 202-0047
The Draw: This boutique's minimalistic decor (there isn't even a sign outside) reflects the clean lines of the clothes it carries. Among one of the first stores ever to feature Martin Margiela and Marni, Blake loves discovering and developing major players in fashion—making for buys that last a lifetime.
10. Ikram
873 North Rush Street
Chicago, IL
(312) 587-1000
ikram.com
The Draw: Ikram Goldman, the owner of this chic shop (and fashion adviser to Michelle Obama), has an eye for picking unique pieces by coveted designers. This is the only store in the state to carry the lines of Jason Wu, Thakoon, and Isabel Toledo, making it a natural destination. Prices are steep, but clothes practically come with a head-turning guarantee.
11. Handle with Care
1706 North Wells Street
Chicago, IL
(312) 751-2929
handlewithcarechicago.com
The Draw: This Old Town staple, which turns 28 this year, is divided into two rooms: One carries fun, of-the-moment clothes, accessories, and gifts, all for less than $250; on the other side, you'll find more timeless pieces by designers like the chic Trina Turk.
12. Le Dress
1741 West Division Street
Chicago, IL
(773) 697-9899
ledresschicago.com
The Draw: If you're in the market for the perfect dress, this shop was made for you: It's packed to the rafters with frocks from more than 50 designers at prices ranging from $50 to $500. A L'emergency Kit, stocked with a mini nail file, safety pins, doublestick tape, and mints, comes with every buy.
COLUMBUS, OH
13. Jinny
844 North High Street
Columbus, OH
(614) 291-3600
shopjinny.com
The Draw: L .A. fashion-industry transplant Jin H. Fillinger brings her stylish sensibility to the artsy Short North area with this shop that's outfitted with vintage fixtures and antique ottomans. Expect to find international lines you don't see every day in the States, like Willow, Losselliani, and De Couture.
DALLAS, TX
14. V.O.D.
2418 Victory Park Lane
Dallas, TX
(214) 754-0644
vodboutique.com
The Draw: Call it the Valley of the Dolls (get the acronym?) of Texas. This shop is the only store in Dallas that carries the hard-to-find Isabel Marant line, in addition to other coveted labels, like Vanessa Bruno.
HONOLULU, HI
15. Aloha Rag
1221 Kapiolani Boulevard, Suite 115
Honolulu, HI
(808) 589-2050
aloharag.com
The Draw: Don't let the touristy name fool you. Unless you consider a Givenchy handbag a souvenir, you won't find any tropical memorabilia here. High-end pieces by designers like M/Marani, which you can't get anywhere else in the U.S., are a nice alternative to typical island wear.
NEXT PAGES: -->
LOS ANGELES, CA
16. Heist
1104 Abbot Kinney Boulevard
Venice, CA
(310) 450-6531
shopheist.com
The Draw: Proprietress Nilou Ghodsi left her investment career to open this edgy shop. Basics from Humanoid attract A-listers like Julia Roberts and Naomi Watts. But every shopper is important. No matter how small your purchase, you'll receive a handwritten thank you from Ghodsi. Bonus: Reuse the "Repeat Offender" bags offered in-store and earn dollars toward future must-haves.
17. Confederacy
4661 Hollywood Boulevard
Los Angeles, CA
(323) 913-3040
shopconfederacy.com
The Draw: Co-owners Danny Masterson and Ilaria Urbinati believe in service. Vintagelooking phone booths serve as dressing rooms where you can call a sales clerk to request size swaps—as if the shop's hip indie labels (including an exclusive line designed by The Strokes guitarist Albert Hammond Jr.) weren't enough to get us there in the first place.
18. TenOverSix
7427 Beverly Boulevard
Los Angeles, CA
(323) 330-9355
tenover6.com
The Draw: Designer Kristen Lee knows that wearing an outfit without accessories is like eating a cake without icing— why bother? When she opened this boutique with partners in August 2008, she decided to make jewelry, bags, shoes, hats, belts, lingerie, and sunglasses the main attraction. White walls display the everchanging array of unique finds from about 70 different emerging and independent designers, like Zanzan and Wundervoll.
19. American Apparel Factory Store


747 Warehouse Street
Los Angeles, CA
(213) 488-0226 x1459
americanapparel.net
The Draw: Tees to live in are 30 to 50 percent less here. Colors and products are tested at this shop, so you'll find items that may never enter the mainstream market or just haven't hit the regular outposts yet. Sign up online for a factory tour to get a behind-the-scenes look at how everything is made.
20. Scout
1646 North Cherokee Avenue
Hollywood, CA
(323) 658-8684
scoutla.com
The Draw: The new digs of this California mainstay offers the Scout line that owner Joey Grana designs, in addition to vintage clothes and accessories. While the Scout Collection is sold elsewhere, you'll find pieces here that aren't anywhere else. Try on the garb—which rarely exceeds $300—behind the dressing rooms' antique doors.
21. American Rag
150 South La Brea Avenue
Los Angeles, CA
(323) 935-3154
amrag.com
The Draw: In what was once a car showroom, you'll now find a Denim Bar, almost the size of an arena football field that includes everything from Prps to J Brand. Countless racks of vintage clothing, separated by period, style, and color, attract Olsenesque girls, and the endless shoe selection carries Frye, Keds, and Delman. Plus, the overall price range satisfies all budgets. 20% off at all locations
MCLEAN, VA
22. Mango
1961 Chain Bridge Road
McLean, VA
(703) 506-2646
mangoshop.com
The Draw: Shop here for the same collection you'd find in the original Barcelona location of this global chain. Expect clothes in a vibrant palette at prices that will leave you with some spare change to put toward your travel fund.
MIAMI, FL
23. The Webster
1220 Collins Avenue
Miami, FL
(305) 674-7899
thewebstermiami.com
The Draw: An Art Deco building designed by Henry Hohauser is home to this boutique. Shoppers love that its three French founders are committed to making the best looks from the Paris runways available in the States—for the right price.
24. Green Gras
54 Southwest 10th Street
Miami, FL
(305) 373-7423
greengrasshouse.com
The Draw: Claudia and Carlos Sanz, the cutting-edge husbandand- wife team behind this store, don't just feature clothes from local and international designers in their eclectic store. They also exhibit paintings on the shop's whitewashed walls and host art parties, with booze and a velvet rope.
25. Alchemist
438 Lincoln Road, Miami, FL
(305) 531-4653
shopalchemist.com
The Draw: Make your way through the parade of tan beachgoers on trendy Lincoln Road to discover a shop where the minimalistic decor lets clothes by Rick Owens and jewelry by Delfina Delettrez shine. (Alchemist is the only place in Miami where you can find either of these designers.)
26. Fly Boutique
650 Lincoln Road
Miami, FL
(305) 604-8508
flyboutiquevintage.com
The Draw: The warm hues and kitschy charm may lure you in, but the vintage finds at every price point from designers like Pucci and Chanel, as well as its own line of bikinis—for less than $200—will keep you coming back to see what the latest pieces can add to your closet.
27. Miss Sixty
845 Lincoln Road, Miami, FL
(305) 538-3547
misssixty.com
The Draw: As if the brand's signature edgy yet feminine styles weren't enough to get us to this shop (we love the way they reinvented the leather jacket for fall), here's one more reason: It's one of two spots in the U.S. where the sought-after Killah line, inspired by Japanese streetwear, is sold.
NASHVILLE, TN
28. Posh
1801 21st Avenue South
Nashville, TN
(615) 383-9840
poshonline.com
The Draw: Enter this new location of the decade-old boutique and you'll discover G-Star shoes, Nudie Jeans, and other brands rarely seen in the South. Swing by to catch a fashion show for independent designers, like Prophetik, or you might see a style expert, like J Brand's denim guru Oscar Adames, who made a special visit to fit customers. There's also a music bar where shoppers can listen to and buy tunes by underground artists.
29. Venus and Mars
2009 Belmont Boulevard
Nashville, TN
(615) 915-4846
venusandmarsvintage.com
The Draw: Karen Elson, model and wife of The White Stripes' Jack White, opened this vintage garment shop last year with stylist Amy Patterson. Located in a quaint house with retro paint-by-numbers artwork on the walls, the store features vintage Chloé and Christian Dior, in addition to more casual dresses starting at $20.
NEXT PAGES: -->
NEW YORK, NY
30. Eryn Brinié
501 Broadway

New York, NY
(212) 308-6134
erynbrinie.com
The Draw: The first U.S. outpost of South Korea's popular line boasts feminine, French-inspired pieces with a downtown, deconstructed edge. Prices rarely reach $300. Be sure to hit up their complimentary personal-shopping service when you visit.
31. Kirna Zabête
96 Greene Street

New York, NY
(212) 941-9656
kirnazabete.com
The Draw: Wish you could handpick your clothes from the runway? You can at this shop whose owners have brought top picks from the catwalk to shoppers over the last decade. Score the latest from Balenciaga and Rick Owens while you snack on the candy (gummy sharks, anyone?) that's always on hand.
32. Maryam Nassir Zadeh
123 Norfolk Street

New York, NY
(212) 673-6405
maryamnassirzadeh.com
The Draw: An extension of the love affair between designer Maryam and her fiancé, Uday Kak, this shop is a fusion of new-world treasures, like Jane D'Arensbourg's glass necklaces, and old-world finds, like handmade throw pillows by A Détacher.
33. Début
298 Mulberry Street
New York, NY
(212) 343-2717
debutnewyork.com
The Draw: Want to discover the next Marc Jacobs? This boutique showcases talented, emerging designers set to take the world by storm in a gallery-like setting adored by style seekers.
34. Century 21
22 Cortlandt Street
New York, NY
(212) 227-9092
c21stores.com
The Draw: Fight the crowds at this discount designer mecca and you could score a Calvin Klein dress for far less than its retail price. Be sure to hit up the shoe department—there are 100,000 pairs for the trying on! You'll also find clothes, accessories, cosmetics, and lingerie from your favorite designers marked down 35 to 65 percent.
35. Opening Ceremo ny
35 Howard Street

New York, NY
(212) 219-2688
openingceremony.us
The Draw: Jenny Lewis of Rilo Kiley and Karen O are fans of this popular bicoastal boutique (there's also an L.A. outpost). The store-showroom-gallery combo is like the fashion Olympics, bringing together top talent from all over the world. Let the games begin!
36. Topshop
478 Broadway

New York, NY
(212) 966-9555
topshop.com
The Draw: When this U.K. retailer opened its doors in the U.S. for the first time, pandemonium ensued in the form of neverending lines. The rush has simmered a bit now, but the finds remain. Snag fashion-forward items designed by trendmakers like Kate Moss. And don't miss the drool-worthy shoes!
37. Uniqlo
546 Broadway

New York, NY
(917) 237-8811
uniqlo.com/us
The Draw: This flagship store is the Japan-based brand's only U.S. outpost. The global chain has made a name for itself by selling easy-towear, nicely priced staples and must-have luxe items, like cashmere sweaters in more colors than you'll see in a bag of Skittles.
38. Pas de Deux
328 East 11th Street
New York, NY
212-475-0075
pasdedeuxny.com
The Draw: This boutique's chandelier-lit racks feature pieces by forward-thinking designers like Phillip Lim. The owners believe the labels they carry will grow with them, so you can always revisit the same lines. Check out Fenwick by Engineered Garments— exclusive here in the U.S.
39. Ina
21 Prince Street

New York, NY
(212) 334-9048
inanyc.com
The Draw: Find designer items in mint condition at this upscale consignment shop. The pieces that fill all five Manhattan locations are by the designers who make headlines at Fashion Week. Look out for Patricia Field, famous for styling the ladies of Sex and the City. She shops and drops off items to be resold here.
40. Inven.tory
237 Lafayette Street
New York, NY
(212) 226-5292
inventorynyc.com
The Draw: If overstock.com were to apply its famous cost-cutting principles to create a boutique featuring the latest designers, the result would be this store. You'll get your hands on Cheap Monday and other hot finds for 60 to 80 percent less than the retail price, in a cool yet comfy setting.
41. Jessie James
95 Greenwich Avenue
New York, NY
(212) 217-9944
jessiejamesonline.com
The Draw: Find the Lorick label you've drooled over on Gossip Girl here (the clothes are portrayed as Eleanor Waldorf's designs). Your guy will love the free beer (there's champagne, too), and the gratis personal-shopping service will solve any "What do I wear this with?" dilemma.
PHILADELPHIA, PA
42. Reward
55 North 2nd Street
Philadelphia, PA
(267) 773-8675
rewardproject.com
The Draw: Owner Shari Roulin, a former buyer for Urban Outfitters who's got her finger on the pulse of what shoppers want, has made this boutique the first in the U.S. to sell Gemma Degara from Barcelona and Émilie Casiez from Paris.
PORTLAND, OR
43. Moulé
1225 Northwest Everett Street
Portland, OR
(503) 227-8530
moulestores.com
The Draw: Nestled in Portland's Pearl District, this offshoot of a Canadian original mixes quiet luxury with eclectic housewares. Don't expect anything over-thetop trendy. Instead, think interesting fabrics in impeccable cuts to build a wardrobe around.
44. Seaplane
2266 Northwest Lovejoy Street
Portland, OR
(503) 234-2409
seaplanedesign.com
The Draw: Leanne Marshall, the winner of season five of Project Runway, got her start at this shop that promotes and cultivates young talent. Today you'll find sewing machines humming away among a mix of about 30 different, mainly local, designers' offerings.
45. Sloan
738 Northwest 23rd Avenue
Portland, OR
(503) 222-6666
sloanpdx.com
The Draw: Want a trained eye to find you items that cost much less than designer duds but look just as great? Well, San Francisco native Karalee Sloan Whitehouse does just that in this store she and her husband, David, opened three years ago.
RICHMOND, VA
46. Coplon's
6235 River Road

Richmond, VA
(804) 288-3699
coplons.com
The Draw: This ultraluxe designer haven is bigger than a boutique, but don't call it a department store. Owners Hank and Bruce Greenberg present a world-class mix of brands with a hometown feel. Southern belles often turn to them for an entire season's wardrobe, and out-of-towners rave that in two hours here they can accomplish what would've taken two weeks of boutique-hopping in New York.
47. Need Supply Co.
3010 West Cary Street
Richmond, VA
(804) 767-1825
needsupply.com
The Draw: Zip yourself into unique denim brands, like A.P.C. and Current/Elliott, at this beloved store, which opened its doors 13 years ago. Each member of the jeanious-certified staff (there's actually a test!) has tried on every variation in the store, so they're ready to guide you to your perfect pair. There are also interesting pieces from local designers like Garnett Jewelry.
SEATTLE, WA
48. Frock Shop
6500 Phinney Avenue North
Seattle, WA
(206) 297-1638
shopfrockshop.com
The Draw: We challenge you to find something in this shop that's more than $200—most items don't even reach the $100 mark. Expect to find owner Suzy Fairchild's line mingling with lots of vintage-inspired dresses.
49. Totokaelo
913 Western Avenue
Seattle, WA
(206) 623-3582
totokaelo.com
The Draw: This store's name means "reaching to the edge of the stars," which is what boutique owner Jill Wenger does by featuring big-name designers like Yohji Yamamoto alongside up-and-comers. Do yourself a favor: Follow the advice of the 3000 gold sequins spelling out "Try On" above the fitting rooms.
50. Canopy Blue
3121 East Madison Street, Suite 103
Seattle, WA
(206) 323-1115
canopyblue.com
The Draw: This perennially bright spot is a refuge from gloomy Seattle weather. Even the dressing rooms are outfitted with their own chandelier and a blue, scalloptrimmed curtain. Be sure to check out local designer Juliet Roger's gemstone jewelry—it's the only place in town you'll find it.