Tim Gunn Discusses Fashion Building Blocks
Everyone's favorite Project Runway mentor solves all of your style conundrums. This month Tim covers some basic rules for building an outfit.GET MORE STYLE ADVICE FROM TIM GUNN: Check out his rules for evening fashion, plus his jewelry tips!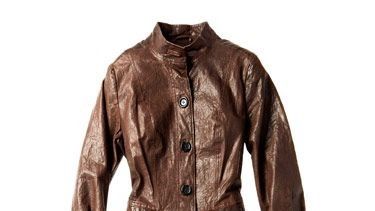 (Image credit: Ben Goldstein/Studio D)
Marie Claire Newsletter
Celebrity news, beauty, fashion advice, and fascinating features, delivered straight to your inbox!
Thank you for signing up to Marie Claire. You will receive a verification email shortly.
There was a problem. Please refresh the page and try again.
Got a question for Tim Gunn? E-mail him here!
True Colors
"Can I wear brown and black together, like a brown skirt with a black top? Are there still rules against that?"
I find that few looks are quite as chic as brown and black together. However, it's very important that it be the correct brown, because not any brown will do. I find that a deep-chocolate brown is the most successful choice to wear with black. This is especially true with accessories: deep-chocolate only! Otherwise your look will become entirely too casual to support the chic. A word to the wise: The only time that I have seen brown footwear work with black was in the case of a knee-high, chocolate suede boot and black tights. Stunning!
Dressing 101
"I'm an MBA student on a tight budget. At my last job, I rotated between three pairs of slacks and button-downs. Now, as a marketing major, I want to show more personality. Any recommendations?"
I believe women in business should dress like women. Show off your curves and celebrate your gender. Keep your slacks, and wear them with printed wrap tops that correspond to your taste. I suggest wrap tops because, like a wrap dress (God bless Diane von Furstenberg!), they let you customize the fit and give you shape. If my words about fit, fit, fit concern you, consider our secretary of state: I have the greatest admiration and respect for her, but she often looks like she's wearing menswear. Why can't more businesswomen and politicos emulate the divine Nancy Pelosi?
Metal Down Now
"I love the stud trend, but I don't think I'm edgy enough for it. Any advice for working it into my wardrobe without looking like I'm trying too hard?"
Since you love the stud trend, embrace it! I respect the fact that you don't want to look like one of London's Pearly Kings or Queens. I was just with a colleague who was wearing a neutral-color top with a stud treatment in the same hue. It wasn't even remotely over the top. But if that's too much for you, then consider studded accessories: handbags, shoes, belts. There are myriad options available, so find one that suits your taste and your lifestyle.
Celebrity news, beauty, fashion advice, and fascinating features, delivered straight to your inbox!