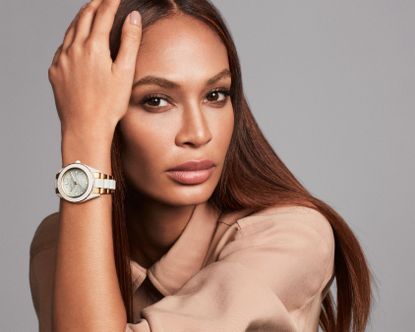 (Image credit: Anne Klein)
Did you know more than 8 million tons of plastic waste enter the oceans each year? That's the equivalent of five garbage bags for every foot of coastline in the world. And not only is plastic making its way into our oceans but it's also being found in the bodies of more than 700 animal species including 84 percent of sea turtles and 44 percent of all seabirds.
Despite the knowledge that plastic is 1) infiltrating our ecosystems and 2) doesn't biodegrade, global plastic production exceeds 3 million tons per year. Only 10 percent is recycled. This carbon-intensive material is still widely used especially in the fashion industry.
To turn the tide, Anne Klein has partnered with Oceanworks®, the trailblazing leader in the interception and removal of plastic waste from oceans worldwide, to create a sustainable collection of watches made utilizing plastic waste that was once ocean-bound and has been transformed into new materials.
In the Anne Klein Ocean Plastic Collection, you'll find two key watch styles, a bracelet watch made of (you guessed it) sustainable recycled ocean-bound plastics and a natural rubber strap watch with a recycled plastic case. These fashion-forward designs are available in five colorways and—even better!—are solar-powered (when charged by any light source the watch is functional for up to 4 months thereby reducing battery waste).
Image 1 of 4
By 2050, scientists have estimated that there will be more plastic in our oceans than fish. Change is clearly needed and Anne Klein is making leaps and bounds in its sustainability efforts through its partnership with Oceanworks®. As we continue to learn about our impact on the natural world, the Anne Klein Ocean Plastic Collection makes an effort against further pollution without compromising our style.
It's time to sea watches differently. Let's clean up the ocean one watch at a time.