How Carolyn Bessette Kennedy Changed the Face of Fashion
Gone nearly 25 years, CBK's sartorial influence lives on.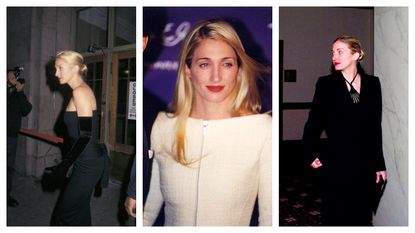 (Image credit: Getty Images)
In just a few months from now, Carolyn Bessette Kennedy—along with her husband, John F. Kennedy Jr., and her older sister, Lauren Bessette—will have been gone for 25 years. A quarter century of wondering what might have been. Would John have been president? How would Carolyn—fiercely private and elusive—have adapted to social media? In the late 1990s, she nearly made a lifestyle of avoiding the paparazzi; in 2023, everyone with an iPhone is one. Though we lost her at 33, what would she be like today, approaching 58 years old?
Nearly 25 years after the plane crash that took her life, Carolyn's style is as it was then: timeless. Gauche though parts of the 1990s certainly were, everything she wore would not only hold up today, but deeply work today. Her minimalistic style gave off the same "I don't give a f—" attitude that attracted her husband to her. Her wedding dress—simple, sophisticated, and constructed by her friend Narciso Rodriguez—was more about showcasing the woman than the dress and changed the wedding industry permanently. Her close friend Carole Radziwell (later of Real Housewives of New York City fame, then married to John's cousin Anthony, who also died in the summer of 1999) said that Carolyn dressed so chicly understated, in a muted color palette, so the paparazzi would leave her alone, hoping that if the pictures all looked the same, the photographers would stop taking them. (It didn't work.)
Those who knew her called her an enigma. We admire her style, not just because it's refined and ageless, but because it's really all we know about her—and it seems she wanted it that way. She is still a cultural force, though a mystery; Wes Gordon, creative director at Carolina Herrera, designed an entire collection inspired by Carolyn. Meghan Markle called Carolyn's style "Everything goals." Carolyn inspired Rosamund Pike's character in the movie Gone Girl. So, a quarter century later, Carolyn's influence is very much still here—and a great many still consider her the epitome of elegance. Here are some of our favorite looks of hers throughout her roughly five years in the public eye.
October 28, 1992
Before she was known internationally, she was the director of publicity at Calvin Klein, where she worked until the spring of 1996, leaving a few months before marrying John. Here, a 26-year-old Carolyn is one of Klein's guests at a City of Hope fundraiser party, wearing a silhouette she'd replicate many times after becoming one of the most famous women in the world. Interestingly, 1992 would also be the year she met her future husband but, as he was dating actress Daryl Hannah at the time, they wouldn't start dating until 1994.
Spring 1995
Here at work at the Calvin Klein Collection's Fall 1995 ready to wear runway show, Carolyn's expressive eyes are on full display. By now, she and John were dating, having initially been introduced at a charity event by Kelly Klein, and later being reacquainted with him when he came by the Calvin Klein offices to try on clothes, Carolyn's ex-boyfriend Michael Bergin (himself a former Calvin Klein model) wrote in his book The Other Man: John F. Kennedy Jr., Carolyn Bessette, and Me. "One of her responsibilities at the shows is to manage the models," Radziwell wrote in her book, What Remains. "They are constantly, it seems, in crisis. She is mother to them all, calm and ready with answers."
March 11, 1996
About six months before their wedding on September 21, the engaged couple leave their Tribeca loft for an event. Carolyn almost always wore black to events—it became her signature. In her book Fairytale Interrupted, John's personal assistant RoseMarie Terenzio recalled a time when John asked everyone to not wear black to a party for his magazine, George, and Carolyn wore it anyway. "F— it, I don't care," Carolyn laughed. "I don't work for George. I can wear black."
April 15, 1996
In these rarely seen photos, the couple attend the presentation of the new Cartier Tank watch in Geneva, Switzerland. "Carolyn had an inner elegance," said designer Gabriela Hearst, who didn't personally know Carolyn, but whose minimalist designs emulate her style, per Vanity Fair. "Something not from this earth in a way. Her big, blue eyes, her features, her nose, her hands, everything—she was very, very ethereal. People who knew her said that she was much more beautiful in person than in any of the pictures we've seen of her."
September 20, 1996
The day after this photo was taken, John and Carolyn were married on Cumberland Island, Georgia, a location so remote it could only be reached by ferry. In a rare look at a casual Carolyn, she still keeps her muted color palette. "They were very much in love," said Ariel Paredes (per People), the granddaughter of Providencia Paredes, who was an assistant to John's mother, Jacqueline Kennedy Onassis (who, unfortunately, never met Carolyn—she died in 1994).
October 6, 1996
After returning from their wedding on Cumberland Island and their honeymoon in Turkey, the couple stand outside of their loft and speak to the eager paparazzi. "I just ask [for] any privacy or room you could give her [Carolyn] as she makes that adjustment," he said of his new wife. "It would be greatly appreciated." While John had grown up with the sound of clicking cameras his entire life, she had not. The look, by the way, is classic Carolyn sophistication and, though she is smiling in the final photo as journalists surround her, Carolyn was known to say that she was "terrified" of the paparazzi, especially after the death of Princess Diana on August 31, 1997.
This undated photo was taken around the same time as the previous three, not long after returning from her honeymoon. Here, Carolyn walks their dog, Friday, in a sleeveless black top, denim, and heeled sandals, as the paparazzi at least attempt to keep their distance. She did her best to avoid the photographers and refused to give interviews, leaving much of who she was a mystery, despite being one of the most famous women in the world.
January 24, 1997
In a rare pop of color, this red coat and denim was an unusual detour from black, white, and beige. "A simple dress, simple shoes, the tiniest hint of makeup—everything about her was pared down," Bergin wrote. "She wasn't about noise or flash. She was about beautifully understated elegance." He also wrote of Carolyn that she "literally oozed class" and "could electrify a room."
May 23, 1997
The Kennedys step out to mark what would have been President John F. Kennedy's eightieth birthday, had he lived to see it. Of dressing the part of a Kennedy wife, "It's not like they gave me a handbook," Carolyn laughed to friend Radziwell as she stood in her closet about a year after they were married, Radziwell wrote in her book.
July 22, 1997
Here, Carolyn is seen attending the funeral of designer Gianni Versace, who had been murdered the week prior in Miami. Also in attendance was Princess Diana, who had just about six weeks to live; by this time two years later, Carolyn, too, would be gone.
September 19, 1997
Just two days before her first wedding anniversary, Carolyn attends the opening of Saks Fifth Avenue men's store in San Francisco. "There's an intelligence that's reflected in her style," Hearst said. "I think there was an extreme depth in her that attracted John, and the whole world, too—a hidden treasure that we'll never, ever know."
October 18, 1997
A headband, sunglasses, a chic coat, and denim were staples of Carolyn's off duty street style in New York City. Here, Carolyn and her husband take a stroll in their native Tribeca after brunch at Bubby's. "Hers was not an opulent style, but it was luxurious," Hearst said. "It was more about the shape and the silhouette. There's no distractions. It's not a style that calls attention; it's actually a style that tries to deflect attention. And by deflecting that attention, you're making people pay more attention."
November 6, 1997
Carolyn, though typically in black for nights out, always seemed to make each look more glamorous than the last. Here, she and John attend "The Warhol Look/Glamour Style and Fashion" Exhibition Gala at The Whitney Museum in New York City.
March 12, 1998
Carolyn is seen here with her sister, Lauren, who would be killed alongside her in a plane crash in 16 months' time. Lauren was a twin to sister Lisa, and the three Bessette sisters were raised in Greenwich, Connecticut. Carolyn went on to get a degree in elementary education from Boston University; friend Radziwell said she wanted to go back to school to get a master's degree in psychology someday.
April 2, 1998
John and Carolyn are seen here attending a fundraising dinner that benefited the nonprofit environmental organization Riverkeeper at the World Trade Center. The couple were firm fixtures on the New York City social scene. "She's the hippest person I've ever met," said Jean-Louis Ginibre, the former editorial director of Hachette Filipacchi Magazines, the publisher of John's magazine, George (per Vanity Fair). "She is totally au courant. Very bright. There is nothing she doesn't know. She…can mesmerize a person."
April 6, 1998
In a rare two-times-in-one-week occasion, Carolyn once again paired black with a bold red lip for the Municipal Art Society's presentation of the Jacqueline Kennedy Onassis Medal to businessman and investor Stephen Swid at the Minskoff Theatre.
September 6, 1998
Carolyn added a new accessory—gloves—to her typical all-black ensemble at the Municipal Art Society's Grand Central Station Main Terminal reopening reception, where she chatted with Lee Radziwell, mother-in-law Jackie's younger sister. (Lee was also the mother-in-law of Carole, who was married to Lee's son, Anthony, who died of cancer less than a month after John and Carolyn died in the plane crash.) So often photographed not smiling, Carolyn's megawatt smile is on display here; those who knew her say she had the uncanny ability to make people feel like they were the only person in the room.
December 9, 1998