Community and Inclusion Are Vital for Fashion's Future
The sustainable fashion movement must be an ongoing, all-hands-on-deck effort.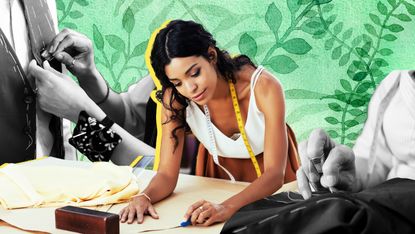 (Image credit: Future)
It's not just greenwashing; the fashion industry has made significant strides in reducing its environmental impact. Transparency and accountability are becoming standard, with more companies adopting circular production models and consumers thinking about the lifespan of their garments. Still, wide-reaching progress remains slow-moving—a pace the earth can't afford: According to the United Nations Climate Change Department, the fashion industry accounts for up to 10 percent of global carbon emissions, and it must cut that number in half by 2030 to meet the goals of the Paris Agreement. A handful of savvy shoppers and a few well-intentioned conglomerates is not enough—the sustainable fashion movement must be an ongoing, all-hands-on-deck effort.
"Anytime you want to try to effect monumental change, you need all ships to be aligned in the direction of the North Star," says Aurora James, the creative director of footwear brand Brother Vellies, founder of the Fifteen Percent Pledge, and author of Wildflower: A Memoir. Streamlining progress of this scale requires consistent input and action from all players involved, from industry executives to influential celebrities to everyday consumers. After all, as the old adage goes, "If you want to go fast, go alone; If you want to go far, go together."
"So much of sustainability right now still needs to be a conversation because we're all still figuring it out," says James. "We need to engage with consumers to help them figure it out. We can design everything in the world, but unless [celebrities] also help amplify it and explain to their community members why it's important, it won't get the visibility it needs." And that conversation must be open and ongoing, even to the point of repetition. "Real change happens when the message is delivered at multiple stages," says actress Kerry Washington, who is also founder of the production company Simpson Street. Whether reading billboards, scrolling on social media, or seeing A-listers wear vintage archival gowns on the red carpet, "people need to get the messaging in multiple places to understand that [sustainable fashion] is not a flash-bulb moment. It is not a trend: this has to be a way that we right the ship to maintain our planet's health."
Having public conversations on sustainability is how fashion designer Angela Chang works to rectify the fashion industry's past wrongs. The artist behind the eponymous label stresses the importance of accessibility and understanding the intention behind clothing production and consumerism. "Eighty percent of a product's environmental impact is determined at the design stage. So designers need to be educated on the decisions they're making when creating products, and we need management that is educated about these materials and how to produce better products. If we are to create these climate and environmental solutions, it's really about changing our mindset," she says. Chang urges her fellow designers to think about "why they're creating products" and for consumers to reflect on "why they're shopping," as consciousness is foundational to building a more sustainable fashion industry.
The fashion industry must also continue democratizing and be an open door for anyone who wishes to enter. As Washington points out, if everyone's efforts are required to create a brighter, better, and greener future, then everyone must be able to contribute and be heard. "As a woman of color and fundamentally being, in my heart, a kid from the Bronx, who wants to have access to luxury, I want people where I'm from to have what I have. It shouldn't be that I'm the exception in my neighborhood; We should all be able to have access to beautiful things."
Laborers and artisans must be involved in the conversation as well. "What's difficult for me is to hear brands talk about feminism and all of these things when you know that in their factories in Bangladesh, there are women not being treated properly," says James. "You can have a woman of color in your ad campaign, but if you are mistreating women of color in your factory or dumping chemicals in a way that's not helpful to their communities, then what are you doing?"
To wit, women are often the driving forces within the sustainable fashion sector, despite the many injustices they encounter. "Historically, nature has not been valued because it has been linked with the feminine. I mean, we call nature mother nature," Chang says. The designer notes how difficult it is for sustainable fashion brands to acquire funding because "many of them are women-led" and "only two percent of venture capital funds go to women [because] most of the investors who have money are men and invest in male-dominated businesses." James concurs, adding that this work ethic often blooms in adversity. "Women are more thoughtful, driven, and motivated about the environment—especially women of color, who are the most adversely impacted [by climate change]." As Naomi Michelson of George Washington University finds, due to structural and institutionalized racism, Black women are more vulnerable to air pollutants and natural disasters, and climate change exacerbates their communities' historical exploitation and displacement.
There are undeniable challenges, both current and soon to come, that come with building a more sustainable and ethical fashion industry. But even still, Chang is optimistic: "As a designer, I'm always thinking about the future. I visualize a world in the future—five, 10, or 20 years—where the rooftops in New York are covered with trees. I imagine people on the street walking outside in the sun. They are wearing all-natural fibers and not wearing polyester textiles. You hear the wind in the leaves, and you hear birds singing. We're living in this solar-punk future where nature dominates. And for me, that is a world I can design into and be excited about."
Chang's vision is admittedly a fantasy. But perhaps it's a place that, together, we can make—at least somewhat—a reality.
Emma Childs is the Style Editor at Marie Claire, where she researches up-and-coming trends, curates shopping guides, and gushes about the must-buy items she can't stop thinking about. She previously wrote for TZR, Editorialist, Elite Daily, and Mission Magazine and studied Fashion Studies and New Media at Fordham University. When she's not writing up fashion deep-dives or finding the season's best pieces, you'll find her fiddling around in Photoshop and perusing HBO Max for the next show to base her personality on (currently, it's "Succession").