The 65 Most Iconic Oscar Dresses of All Time
Here are the best and most iconic fashion looks from the Academy Awards red carpets over the years.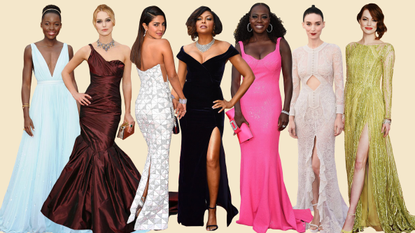 (Image credit: Design by Morgan McMullen)
The Oscars have forever been the fashion Olympics for Hollywood's brightest stars. Style chameleons like Cate Blanchett and Nicole Kidman regularly steal the show, while risky contenders like Björk still live in our hearts (and memes). Ahead of the biggest night in film and television, we're taking a look back at the most memorable outfits of Academy Awards past.
1/65
Nicole Kidman, 2018
We can't stop staring at this royal blue Armani gown—complete with a corset, bow, and slit—on Nicole Kidman at the 2018 Oscars. It perfectly complements her skin tone, too.
2/65
Margot Robbie, 2018
Margot Robbie looked like an angel in this white Chanel gown, which she wore when she was nominated for her role in I, Tonya.
3/65
4/65
Viola Davis, 2018
Once more for the people in the back: Viola. Davis. Is. Queen.
5/65
Eiza González, 2018
Eiza González brightened up the red carpet in a very yellow Ralph Lauren gown that shows less can be more.
6/65
Janelle Monáe, 2017
Please observe the detailing on Janelle Monáe's fairytale Elie Saab Haute Couture gown. It was her first time at the Academy Awards, and she couldn't have nailed the outfit better.
7/65
Jennifer Aniston, 2017
Aniston presenting an award in Atelier Versace proves that black doesn't have to mean boring. The open leg, v-neck style has been popular recently among celebrities like Jennifer Lawrence.
8/65
Priyanka Chopra, 2017
We can't tell whether this geometric Ralph & Russo dress looks better from the back or the front. It's that gorgeous, and nobody could wear it as well as Chopra.
9/65
Ruth Negga, 2017
Ruth Negga made sure her appearance at the Oscars was not one to be forgotten, thanks to this lacy high-neck scarlet dress from Valentino with a romantic sweeping train and a Renaissance-style headband.
10/65
Taraji P. Henson, 2017
This va-va-voom Alberta Ferretti look on Taraji P. Henson is understated, but speaks volumes about her style, confidence, and killer body, as many Internet users pointed out.
11/65
Rooney Mara, 2016
Rooney Mara in lace Givenchy, a.k.a. the dress of our dreams. Her slicked back hair and staple red lip adds to the elegance of the gorgeous sheer number.
12/65
Cate Blanchett, 2016
Aaaaand she nails the landing! Cate Blanchett (can she do any wrong?) is a vision in this sea-foam feathered gown by Armani Privé.
13/65
Rachel McAdams, 2016
McAdams chose a relatively understated look from August Getty (no over-zealous beading or abundant tulle), but she's subtly pulling off other Oscars staples, too—thigh-high slit, low back, and sweeping train—in a very refreshing emerald hue.
14/65
Selena Gomez, 2015
Okay, so this outfit was technically from the after party, not the red carpet, but it felt impossible to leave out this stunning long-sleeve Louis Vuitton gown Gomez wore in 2015.
15/65
Emma Stone, 2015
One reason why we're thrilled Emma Stone ended up landing the role in La La Land: her auburn hair naturally vibes with the colorful frocks she chooses for red carpet events. Here, she's wearing a risk-taking Elie Saab gown in mustard yellow that 100-percent pays off.
16/65
Rosamund Pike, 2015
Pike looks like a statuette herself in scarlet Givenchy Haute Couture, perhaps playing off her unforgettable bloody role in the previous year's Gone Girl.
17/65
Kerry Washington, 2014
Have you seen a chicer pregnant woman than Kerry Washington at the 2014 Oscars in this strapless Jason Wu dress? Pregnancy glow is real.
18/65
Lupita Nyong'o, 2014
The then-newcomer stunned in a beautiful aquamarine custom Prada gown with a Fred Leighton headband that landed her on many best-dressed lists in 2014.
19/65
Jennifer Lawrence, 2013
The giant tiered dress that caused the staircase-trip-seen-'round-the-world was a gorgeous haute couture gown by Dior.
20/65
Amy Adams, 2013
Giselle from Enchanted but make it fashun. Adams wowed in an Oscar de la Renta dress with an ethereal frothy train that she helped envision with the designer.
21/65
Cameron Diaz, 2012
It doesn't get much better than Cameron Diaz in Gucci.
22/65
Meryl Streep, 2012
Acting icon and epic speech-giver, Meryl mimicked an Oscar statuette (in her signature red carpet style: floor-length dress and plunging neckline) with this gold lamé Lanvin gown.
23/65
Angelina Jolie, 2012
The Versace look that sparked its own Twitter account (@AngiesRightLeg) was the talk of Tinsel Town in 2012. Many saw it as a return to her cheeky younger red carpet image. It's definitely one way to ensure that your all-black dress is anything but boring.
24/65
Michelle Williams, 2011
Talk about sheer (!). This simple yet elegant Chanel gown on Michelle Williams is equal parts demure and sexy.
25/65
Natalie Portman, 2011
This aubergine gown by Rodarte was a double-header: a nod to the designer's role in her Oscar-winning movie Black Swan and a beautiful, enviably wearable maternity dress.
26/65
Mila Kunis, 2011
The year Mila Kunis wasn't even up for any awards (she was presenting), but probably crashed Pinterest with her appearance on the carpet this lavender Elie Saab gown.
27/65
Cate Blanchett, 2011
Blanchett, a five-time Oscar nominee at this point, caused a stir in this Givenchy Couture pleated lilac gown encrusted with pearls.
28/65
Sandra Bullock, 2010
The stunning Oscar winner for The Blind Side exuded glamour in this floor-length metallic Marchesa gown and perfect pink lip.
29/65
Katherine Heigl, 2008
Katherine Heigl is the epitome of Old Hollywood in this one-shoulder red Escada gown, which she wore during her Grey's Anatomy days.
30/65
Marion Cotillard, 2008
The mermaid dress is tough to nail without looking like a prom dress gone wrong, but when yours is a couture piece designed by Jean Paul Gaultier—covered with intricate scale embroidery—you're in a whole 'nother category.
31/65
Tilda Swinton, 2008
The year Tilda Swinton gave a middle finger to red carpet norms, she dyed her hair scarlet and wore a bat-wing/sleeveless cape dress that nodded to her reputation as a brilliant, unpredictable fashion maven. Some loved it, others hated it. Understandably.
32/65
Beyoncé, 2007
Before the days of Blue Ivy, Rumi, and Sir, there was Beyoncé in this great Armani Privé dress.
33/65
Nicole Kidman, 2007
Who could forget that scarlet red Balenciaga gown complete with a bow halter neck and side-swept hair?
34/65
Penelope Cruz, 2007
Cruz took sophistication to the next level in this feathered blush-toned Versace gown when she was nominated for a best actress award for Volver.
35/65
Reese Witherspoon, 2006
Southern sweetheart Reese Witherspoon won the Best Actress award for the role of a lifetime—playing June Carter Cash—in this vintage Christian Dior gown from 1955.
36/65
Keira Knightley, 2006
The actress topped 2006 best-dressed lists in an aubergine taffeta gown custom-made by Vera Wang.
37/65
Michelle Williams, 2006
Cementing her status as a red carpet icon, Williams paired a bright red lip and soft up-do with this lovely mustard Vera Wang gown.
38/65
Hilary Swank, 2005
The Oscar winner for Million Dollar Baby stole the show in this conservative-yet-daring navy Guy Laroche gown with a super low back.
39/65
Cate Blanchett, 2005
Eternal style chameleon Cate Blanchett took home an award for her role as Katherine Hepburn in The Aviator this year, but her accolades started earlier in the evening when she appeared in this yellow taffeta one-shoulder Valentino gown. It's still considered one of the best Oscars gowns in history.
40/65
Uma Thurman, 2004
The Kill Bill actress broke the mold in this Christian Lacroix gown with a silk-wrap waist and cropped sleeves.
41/65
Charlize Theron, 2004
This sleek crystal Gucci gown with a backless cut, draping train, and '40s pin curls looked beyond stunning on the South African beauty, who nabbed the Best Actress award for her role in Monster that year.
42/65
Jennifer Lopez, 2003
J.Lo was born knowing how to nail an entrance. Case in point: this mint green one-sleeve, asymmetrical cape dress that made her skin look radiant. (It's just one of many red carpet knockouts.)
43/65
Halle Berry, 2002
Berry oozed elegance in this embroidered burgundy Elie Saab dress with a satin train and her signature pixie cut. That night, she was the first black woman to take home a best actress award for Monster's Ball.
44/65
Björk, 2001
The Icelandic singer is now infamous for this swan dress designed by Marjan Pejoski.
45/65
Julia Roberts, 2001
Our favorite all-American sweetheart looked flawless in this vintage Valentino work of art from 1982 when she took home a win for her portrayal of Erin Brockovich.
46/65
Renée Zellweger, 2001
Renée Zellweger making lemon meringue look divine in a vintage chiffon dress by Jean Dessès.
47/65
Gwyneth Paltrow, 1999
1999 was the year Gwyneth made pastel pink her standard in this Ralph Lauren gown (she's worn the color numerous times since). She nabbed the Best Actress Award for Shakespeare in Love in it, too, so consider it lucky.
48/65
Celine Dion, 1999
Not about to show up to the Oscars in a boring floor-length gown, Celine Dion wore this backwards tuxedo from Christian Dior instead (with a white fedora to match).
49/65
Nicole Kidman, 1997
Considered one of the most influential red carpet dresses in fashion history, Nicole Kidman's silk chartreuse gown by newly minted Dior designer John Galliano helped to put him on the map and is considered the first true "couture" gown on the red carpet.
50/65
Courtney Love, 1997
Courtney Love looks boudoir-elegant (and decidedly un-grunge-y) in this Versace silky '90s slip dress.
51/65
Salma Hayek, 1997
At Salma Hayek's first Oscars, she appeared wearing a super-shimmery Armani gown and a tiara. (The best way to make a first impression, no?)
52/65
Kate Winslet,1996
Color at the Oscars often speaks for itself, and this bright pink gown (paired with an equally vibrant red wrap) screams glamour and youth.
53/65
Cindy Crawford, 1991
The ultimate Kim Kardashian move: show up at the Oscars (not nominated) and steal all the attention. (This might be the most va-va-voom Oscars dress in history, for what it's worth).
54/65
Geena Davis, 1991
Looking like a golden statuette, Geena Davis wears a beautiful off-the-shoulder golden brocade gown.
55/65
Cher, 1986
Cher's look twas one-of-a-kind (because, c'mon, it's Cher) and groundbreaking for its time. See the Grammys red carpet for the many ways Cher's bravado has influenced modern over-the-top fashion.
56/65
Diana Ross, 1982
In which Diana Ross brought the glam factor with a red sparkly key-hole dress and a larger-than-life white boa.
57/65
Jacqueline Bisset, 1976
Making a case for the one-shouldered trend to come, Jacqueline Bisset wore this non-traditional striped gown with a high neck.
58/65
Lauren Hutton, 1975
How you have fun on the red carpet, as demonstrated by Lauren Hutton wearing a rainbow dress topped with a fur chubby jacket.
59/65
Cher, 1973
Cher shows off her toned abs in a sequined belly dancer get-up that led the way for midriff-baring stars like Britney Spears.
60/65
Goldie Hawn, 1971
Goldie Hawn matches her florals with a "flower child"-style spaghetti strap dress and a darling updo.
61/65
Elizabeth Taylor, 1970
Elizabeth Taylor wears a plunging custom violet chiffon dress designed by Edith Head to showcase a pear-shaped diamond from her then-husband Richard Burton.
62/65
Barbra Streisand, 1969
Not one to wear anything close to traditional, Babs chooses a sparkly pantsuit sealed with a bow (and the perfect rounded bob to match).
63/65
Natalie Wood, 1968
That time when Natalie Wood stole the show in a sparkly dress, big earrings, a giant hair bow, and perfect double cat-eye wings.
64/65
Audrey Hepburn, 1968
The definition of classic beauty is Audrey Hepburn wearing this modern lace-up dress with strategic cutouts (mostly because we're still dying to wear it today).
65/65
Grace Kelly, 1955
The queen (princess?) of red carpet elegance Grace Kelly wearing this mint-green spaghetti strap number is everything.
•••
For more stories like this, including celebrity news, beauty and fashion advice, savvy political commentary, and fascinating features, sign up for the Marie Claire newsletter.
Marie Claire email subscribers get intel on fashion and beauty trends, hot-off-the-press celebrity news, and more. Sign up here.