Who Is Eiza González? 16 Things to Know About the Actress
The Oscar presenter is an actress, singer, and beauty ambassador.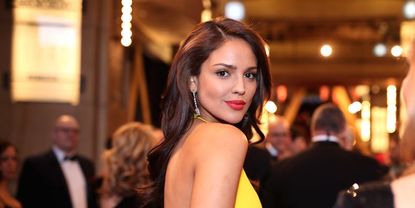 (Image credit: Getty Images)
Marie Claire Newsletter
Celebrity news, beauty, fashion advice, and fascinating features, delivered straight to your inbox!
Thank you for signing up to Marie Claire. You will receive a verification email shortly.
There was a problem. Please refresh the page and try again.
When Eiza González was announced as a presenter for the 2018 Oscars, many people wondered who she is—and why she looks so familiar. Well, there are several reasons why you might recognize the 28-year-old: She's an actress, singer, and brand ambassador for a major skincare company. Here, 16 things to know about Eiza González.
1. She was born in Mexico
Gonzalez was born in Caborca, Sonora, Mexico on January 30, 1990. She moved to Los Angeles in 2013.
2. She was a telenovela star
Gonzalez got her start as an actress in the TV series Lola...Érase una vez at age 16.
3. She starred in Justin Timberlake's Newest Music Video
JT tapped Gonzalez to appear opposite him in his video for "Supplies."
4. ...and totally killed it
If you haven't watched it yet, it's hard to miss her.
5. She was in 'Baby Driver'
You might recognize Gonzalez from her role in 2017's buzzy film starring Ansel Elgort, Jon Hamm, and Jamie Foxx.
6. She's also a singer
González took a few short breaks from acting to focus on her music. She has two albums, Contracorriente released in 2009 and Te Acordarás de Mí, released in 2012.
7. She's an activist
"Quick reminder. It's 2018 and not taking action is dated," Gonzalez wrote in an Instagram post. "Body shaming, slut shaming and basically any form of bullying at all is just pathetic . Spread kindness. #STOPBULLYING Send something nice to someone on my comments!! Create a healthy online and day to day environment."
8. She has 3.3 Million Instagram Followers
And over a million Twitter followers.
9. She Almost Played the Mexican Serena van der Woodsen
González was reportedly considered for the starring role of Sofía López-Haro in Mexico's Gossip Girl: Acapulco. XOXO.
10. She Was Linked to Liam Hemsworth
In the same week Liam Hemsworth and Miley Cyrus confirmed their decision to end their engagement back in 2013, the Australian actor was spotted hanging out with Gonzalez in Vegas and later the two were photographed kissing in Los Angeles.
11. She's Reportedly Dating Josh Duhamel
According to US Weekly, the actress met Fergie's ex at Jennifer Lopez's pre-Super Bowl concert in Minneapolis back in February.
"They drank and partied together until very late," a source told the magazine. "After, Josh reached out to a mutual friend and asked for Eiza's number."
"They definitely have a connection because they've been FaceTiming and texting nonstop while she's been in England working," the source added. "They're keeping it on the down-low. He's telling her he's never met anyone like her before."
12. She's a brand ambassador for Neutrogena
In 2015, the actress became an ambassador for Neutrogena, starring in several of the brand's commercials in both English and Spanish.
"I'm humbled to represent a brand that values the Latina culture and encourages women to embrace a natural, beautiful and healthy appearance," Gonzalez said in a statement announcing the news.
13. She's been a redhead, brunette, and a blonde
The actress has gone through many hair transformations through the years—most recently she underwent a (temporary) dye job to get platinum waves for a role, but she's already back to her signature dark brown look.
14. She Also Goes By Eiza Gonzalez Reyna
If you've checked out her Twitter and wondered why her name reads "Eiza Gonzalez Reyna" it's because Reyna is her mother's maiden name.
15. She's Starring in the Upcoming Movie "Highway"
Gonzalez plays rodeo queen Jane, who goes missing after meeting a "mysterious man" played by Josh Hartnett, according to Deadline.
16. She's very excited to be presenting at the Oscars
The actress shared a sweet video of the moment she got the call asking her to present.
Celebrity news, beauty, fashion advice, and fascinating features, delivered straight to your inbox!