7 Ways to Get Ready for Winter
Need. This. Now.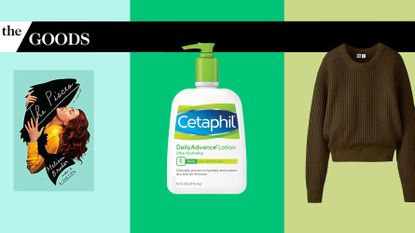 (Image credit: Future)
Winter is coming and there's a whole checklist of things to switch up, replace, and add to the mix. From your beauty routine to your closet, the colder, drier weather means certain favorites need a temporary retirement and brand-new items need to be added in. Here, the faves we'll be adding in to our routines.
1.
Uniqlo Women U Sweater, $50
Beyond being fantastic with a plain pair of jeans, a crewneck knit is the key to making your summery dresses and skirts work for winter. Pull over a flimsy dress, add knee-high boots, and go.
2.
Cetaphil DailyAdvance Lotion, $10
Make sure your moisturizing routine isn't limited to your face. A good idea year-round, winter weather makes it especially important to moisturize your entire body (and shea butter will start working instantly).
3.
Graham Cashmere Socks, $65
Sure, slippers are good at keeping toes toasty, but they fail when it's time to curl your legs under you on the couch or bed. Soft cashmere socks are the thing you never knew you couldn't live without.
4.
The Pisces by Melissa Broder, $16
Less sunlight means earlier nights in to read, right? Prep yourself for the indoors season with stacks of the buzzy books everyone's been talking about—like this out-there love story.
5.
Cetaphil Moisturizing Cream, $10
Just because a winter wardrobe means limbs are pretty covered, that's not a pass to totally ignore them. Keep super dry areas (think elbows and ankles) from screaming with a cream that goes the distance and locks in moisture for a full 24 hours.
6.
Otherland "Kindling" Candle, $36
As the seasons switch, so should your candle of choice. Pick a scent that echoes what's going on outside. We love this combo of smoky wood and spicy clove.
7.
Sorel Joan of Arc Wedge Bootie, $200
Whether or not your winter weather involves snow, a shoe switch-up is required when temperatures drop. Find a waterproof boot that doesn't give up any of its style and you'll want to wear it everywhere.
Leah Melby Clinton is a writer, editor, and serious shopper who loves discovering new labels, detailing the best ways to build a wardrobe, and interviewing interesting people.