Medical Alert Jewelry for Women That You'll Actually Want to Wear
I tracked down the best. You're welcome.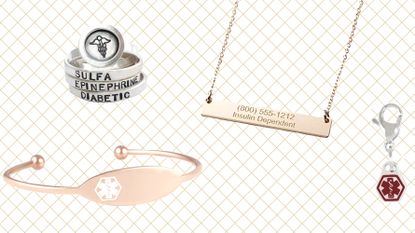 (Image credit: Lauren's Hope / Etsy / Amazon )
Medical jewelry is a quick and practical way to convey all kinds of essential information, from conditions like allergies and diabetes to contact information. There's a Medical ID app for smart phones and the Apple Watch, but as a person who's lived with allergies all my life, I like having a very clear sign for medical professionals/EMTs to find quickly in an emergency. Plus, technology can glitch or run out of batteries, so I always wear my medical bracelet (opens in new tab) just in case.
However, if I'm buying something I need to wear, I don't want it to be a chore to fit in my wardrobe. Anyone who's ever tried to buy medical jewelry can relate to the following struggle: 1) I look for a classic, not-too-trendy piece to match my style. 2) Everything is hideous. 3) I give up. This process has repeated itself since I was old enough to try replacing a truly ghastly set of medical dog tags I had to wear as a kid. Fortunately, there's more selection now. There are some practical, sporty options out there (think Road ID (opens in new tab)), but, for me, I want something that integrates with the light, layering pieces I use every day for work and going out.
Sadly, high-end designers haven't gotten on the medical jewelry train just yet—what I wouldn't give for a Tiffany or Sarah Chloe bracelet—but I've heard that custom pieces are possible in some cases. If you're looking for something a little easier, or your wallet can't quite handle something pricey, these are some affordable, customizable options that have the caduceus (that snake-and-staff symbol) printed clearly somewhere. Now, I can look forward to buying a new bracelet every time I get a new allergy! Ugh.
1 Lauren's Hope The Classic Bracelet
Fun fact: I own this. I've never had a single person (who wasn't a doctor or nurse) identify it as a medical bracelet. I have a lot of information to put on there, and the bigger width means I get a ton of character space to use. It's so cute that it's actually become a seamless part of my style—I've bought similar chunky cuffs to pair with it so that it looks more deliberate. It comes in silver and rose gold, too.
2 Lauren's Hope The Micro-Cuff
This is a more delicate, minimalistic look. The lighter symbol means it's not obtrusive and in your face, but still identifiable to an EMT. There's not as much room to put information on the back, which is why I opt for something thicker, but there's enough room to get a few words on there. The cuff is also available in silver.
(opens in new tab)
A pendant is a good staple that pairs with (or under) most outfits and never goes out of style. This one is stamped on the front and allows for engraving on the back, and it comes in gold, rose gold, and silver. It doesn't give much space for engraving—just enough to put a couple words, or an emergency contact number—but it's so cute that I might just buy one that matches my bracelet. It's totally thematic!
(opens in new tab)
4 The Delicate Layering Bracelet
Delicate jewelry is definitely still in; just ask Meghan Markle. If you wear one or more sparkly bangles on your wrist, you might consider adding one like this that fits right in. If you don't, this little piece will look unobtrusive and dainty. Unlike the above two cuffs, though, it isn't adjustable, so just bear that in mind when you order.
(opens in new tab)
There are a number of silicone bands out there, but it's tough to find one that isn't designed with kids in mind (or look like those old-school Livestrong bracelets everyone was wearing in 2005). This one is a standout because it's sleek and ubiquitous. A lot of people wear Fitbits, and this looks similar to one, so it's a good, surreptitious option.
(opens in new tab)
This is kind of a fun concept: On the front, it just looks like a set of plain, stackable silver rings with the caduceus on top of one of them. But underneath, at the base of the rings, they actually list out your conditions. This wouldn't be practical for me, as I'd need 18 rings to list them all, but a cute look nonetheless.
(opens in new tab)
There are other medical necklaces out there, but it's really, really hard to find one that doesn't look like glorified dog tags. This one is a delicate bar, and could pass as a regular piece of jewelry that happens to have engraving on it. This is the back view—the front is engravable and has the caduceus stamped on it. This comes in silver and rose gold, too, in case gold isn't your thing.
8 Lauren's Hope The Pretty Bracelet
I don't normally opt for color in my work jewelry, because it's too hard to make sure the piece goes with everything. But this mini-cuff is super-thin so that it's just a pop of emerald. The gold keeps it classic, and the geometric design gives it a little visual flair (it also comes in light pink, if that's still too much color!). This one miiiight also be on my shopping list.
(opens in new tab)
For a simple, inexpensive look, this silver bangle is hard to beat. It lets you engrave on the front and back, although I don't tend to print any kind of personal information where random people can read it (I take the subway, in case you couldn't tell). Make sure you measure your wrist and get the right size, because this style isn't adjustable.
10 Lauren's Hope The Tiny Charm
Have a charm bracelet you can add a teeny-tiny charm to? This little pendant isn't engravable, but attaches to a bracelet or to the back of a necklace clasp. It's a small but significant way to tag your pre-existing jewelry, although you'll need a backup way to communicate exactly what your condition is.
Katherine's a Boston-based contributor at Marie Claire who covers fashion, culture, and lifestyle—from "Clueless" to Everlane to news about Lizzo. She's been a freelancer for 11 years and has had roles with Cosmopolitan and Bustle, with bylines in Parents, Seventeen, and elsewhere. It's "I go to dinner," not "Her huge ego," but she responds to both.