Editors handpick every product that we feature. We may earn commission from the links on this page.
Medical Alert Jewelry for Women That You'll Actually Want to Wear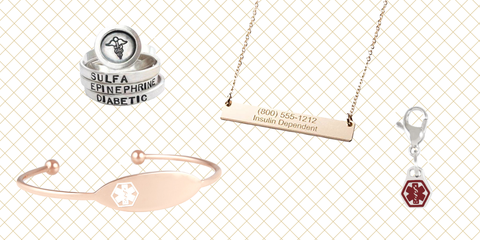 Medical jewelry is a quick and practical way to convey all kinds of essential information, from conditions like allergies and diabetes to contact information. There's a Medical ID app for smart phones and the Apple Watch, but as a person who's lived with allergies all my life, I like having a very clear sign for medical professionals/EMTs to find quickly in an emergency. Plus, technology can glitch or run out of batteries, so I always wear my medical bracelet just in case.
However, if I'm buying something I need to wear, I don't want it to be a chore to fit in my wardrobe. Anyone who's ever tried to buy medical jewelry can relate to the following struggle: 1) I look for a classic, not-too-trendy piece to match my style. 2) Everything is hideous. 3) I give up. This process has repeated itself since I was old enough to try replacing a truly ghastly set of medical dog tags I had to wear as a kid. Fortunately, there's more selection now. There are some practical, sporty options out there (think Road ID), but, for me, I want something that integrates with the light, layering pieces I use every day for work and going out.
Sadly, high-end designers haven't gotten on the medical jewelry train just yet—what I wouldn't give for a Tiffany or Sarah Chloe bracelet—but I've heard that custom pieces are possible in some cases. If you're looking for something a little easier, or your wallet can't quite handle something pricey, these are some affordable, customizable options that have the caduceus (that snake-and-staff symbol) printed clearly somewhere. Now, I can look forward to buying a new bracelet every time I get a new allergy! Ugh.
This content is created and maintained by a third party, and imported onto this page to help users provide their email addresses. You may be able to find more information about this and similar content at piano.io