The 15 Best Fanny Packs That Scream "Fashion"
Stylist-approved ways to rock the It Girl look.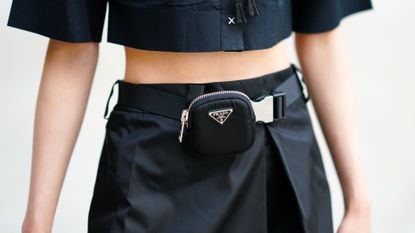 (Image credit: Edward Berthelot)
Formerly known as the sporty accessory, donning a fanny pack quickly became a passé tourist thing. But today, strapping one to your hip, in earnest, won't deem you a paranoid traveler or a naïve fashion victim. Thanks to a major comeback on the runways, designers like Louis Vuitton, Fendi, and Bottega Veneta have catapulted the fanny pack, or the more fashionable monitor "belt bag," to cool-girl status. Indeed, A-list celebrities like Rihanna and Sarah Jessica Parker have long been spotted wearing belt bags, and their support has helped propel the popularity of this fashion classic.
Celebrity stylist Elisabeth Kassab agrees, recalling, "My memory of fanny packs coming back in style is when Kim Kardashian started wearing them in the peak of Keeping Up With The Kardashians. She was the style It Girl so it was like 'monkey see, monkey do.'"
In addition to being stylish, the practicality of a fanny pack is unrivaled. There's nothing more liberating than going hands-free, and with roomier interiors and loads of pockets, you don't have to decide between your important life essentials.
"Not only is a fanny pack hands-free and more comfortable," Kassab summarizes, "but it's also the perfect size to take on the go. You don't have to take it off to dig for what you need. It's already in front of you."
And when it comes to styles, the possibilities are endless: You can keep it elevated with a slim leather style or get into on-trend prints like camos and tie dyes. Ahead, editor- and stylist-approved options with loads of fashion-meets-function potential.
Styling Fanny Packs
Styling a fanny pack can be quite the challenge for the wearer who doesn't want to look like a lost tourist at Disney World. The key, of course, is the belt bag you opt for and the items you wear it with.
Kassab says that the typical fanny pack or belt bag "is a small handbag 'pouch' that you typically wear around your waist." In addition to this more traditional method of wearing the bag, she adds that wearers can also style a fanny pack "as a crossbody around the front of you, or as a crossbody on the back of you, almost like a backpack. I prefer in the front of me for safety purposes!"
The Best Fanny Packs
Lululemon Everywhere Belt Bag
"I think one of the most popular is the Lululemon belt bag," says Kassab of this durable, versatile option, which is beloved by celebrities. "It's a small fanny pack with an adjustable belted strap with a water repellent fabric. It's perfect for an active day on the go. It's small but minimal, so it goes with everything." Offered in 14 colors and patterns, including this trendy camo print, you're bound to find the fanny pack style of your dreams in this small but mighty piece.
Customer Review: "I got this for runs, and also for when I go out to the bars and don't worry about leaving my purse somewhere. Works great for both, and has a surprising amount of storage!" -Lululemon
Prada Men's Re-Nylon and Saffiano Leather Belt Bag
While fanny packs are typically associated with a more athletic, functional look, there are also a number of options available for those who prefer luxury looks. "For something a little higher end, the Prada Re-Nylon belt bag is amazing," Kassab gushes. "It has the classic Prada triangle logo on the front in silver hardware. This bag is great because of the three different pockets, which is perfect for storing all of your essentials."
Rag & Bone Commuter Fanny Pack
"The Rag & Bone commuter fanny pack is great for any night out," says Kassab. "It's made of lambskin leather and has a couple of different pockets on the front, back, and inside. Put your cards, ID, and lip gloss inside and you're ready for a night out." This versatile option also comes in white, with silver toned hardware that would offset a set of silver jewelry perfectly. It also has an adjustable strap, so you can easily wear it any way you like.
Fjallraven Hip Pack Medium
This option from Fjallraven, which comes in both black and light brown, is made for any kind of weather because of its nylon fabric. Kassab agrees, "When looking for a fanny pack, take into consideration when you will wear it. If you plan on wearing it during the day, and it will go through many different places and climates, I would go for a nylon fabric. It's water resistant and will wear better." And this option is super cute—and affordable—to boot.
Dagne Dover Ace Neoprene Belt Bag
Dagne Dover is one of my all-time favorite brands. The AAPI-owned company makes versatile bags in gorgeous, unique colorways that still manage to match with everything. That's why it comes as no surprise that this belt bag, which comes in four colors, has multiple pockets that are perfect for storing your wallet, phone, keys, wallet—just about anything. Plus, it has an adjustable strap, which Kassab recommends for any belt bag "so that you can make it as comfortable as can be."
Kurt Geiger London Small Soho Leather Belt Bag
If you thought that fanny bags were made exclusively for daytime wear (like hikes or afternoons spent wandering the city), think again. Kassab reminds us that there are a number of elevated belt bags out there that rival even the most popular evening purses—it's just a matter of knowing what fabric to look for. "For nighttime wear, I would do a leather or faux leather bag," she explains. "It's more formal and elevated." This option by Kurt Geiger London even features a belt that's half chain, half leather for an edgier look.
Cuyana Double Moon Belt Bag
Cuyana is another of my go-to brands. Wholeheartedly devoted to sustainability, they champion a mindset of "fewer, better" by creating luxurious staple pieces that are built to last for years—even generations—to come. This belt bag is a great example of that ethos, made from premium Italian leather with a structured silhouette that transcends passing trends. It comes in three colors, including black and brown, but I'm partial to this new dark coral colorway, which works well into fall.
MZ Wallace Metro Belt Bag
Looking for your next winter bag? Look no further than this belt bag from MZ Wallace, which looks like a down coat and comes in five unique colors, from neutrals to neons. Reviewers say that it fits a surprising number of items, clocking in as one of the roomiest options on this list. For added convenience, it also has four inner pockets and one outer pocket, all of which are lined with fabric, and has an adjustable strap.
Customer Review: "I ordered this to hold the essentials my phone and a couple of cards and my keys when walking at a local park. It's perfect and a great size." -MZ Wallace
Isabel Marant Skano Hobo Bag
It's this belt bag from Isabel Marant that ultimately won me over, with the studded detailing on its outline and its multi-paneled leather. It has an almost Bohemian look to it, particularly in this timeless terracotta colorway. The bag also comes in three additional colors, including light beige, black, and biscuit, all of which are easy to wear during any season with any outfit. It's also lined on the inside with a top zip enclosure and an additional exterior pocket for extra storage.
Judith Leiber Couture Convertible Crystal-Embellished Metallic Textured-Leather Belt Bag
This tiny metallic bag fits right in with the micro bag trend, but with a glittery twist. It's made from metallic textured leather, embellished with row upon row of meticulously placed crystals. The bag features a single slip pocket and fits everything a standard wallet would, and also includes some extra space inside for essentials like keys. Plus, it's versatile, with a strap that's detachable so you can use the pouch as a wallet.
Max Mara Teddy Banane Wool and Silk-Blend Belt Bag
This fanny pack from Max Mara is designed to match the brand's iconic Teddy coat, which was released a decade ago to great acclaim and instant popularity. The bag, like the coat, is fuzzy to the touch (hence the name "Teddy"), made from a soft blend of wool and silk. It's also spacious, with a zip pocket on the inside and another external one on the back—each of which are perfect for securing extra important items like your phone, keys, cash, and wallet.
Bee Kin The Friend Belt Bag
This belt bag puts a funky twist on the classic, turning the typically athletic accessory into an ultra modern, geometric fashion statement. It's made from 100 percent genuine Italian leather with a soft cotton lining and an adjustable, removable strap. Plus, it's high tech: The inside of the bag has a special pocket meant for charging your phone with the brand's signature wireless charger. Style this bag with an all black outfit for a head turning pop of color, or with an all purple look for a monochromatic masterpiece.
Stoney Clover Lane Classic Fanny Pack
Looking to spice up your wardrobe with a fun pattern? Look no further than this adorable floral fanny pack, which keeps it simple with one easy compartment big enough to store all of your essentials. It features a handy adjustable strap and is made from nylon, rendering it durable and weather-resistant. Style it with a similarly patterned dress in the spring and summer, or use it to brighten up an otherwise dark colored outfit in the fall and winter.
Bimba y Lola Metallic-Effect Belt Bag
Another fun metallic option, this silver toned fanny pack is made from genuine calf leather and features both internal and external zipped pockets. It has an adjustable, detachable shoulder strap made for optimal convenience, and its logo is on the inside rather than the outside—something that I tremendously appreciate. It's great for a frosty winter look when paired with all white, or it can be used to coordinate with shiny silver jewelry.
Bottega Veneta Cassette Intrecciato Lambskin Shoulder Bag
For all the luxury lovers in search of the right belt bag, this is the ultimate splurge. It's structured and boxy—even featuring a woven exterior—but its calfskin leather makeup gives it a softened look that keeps the bag from looking too geometric or ostentatious. Its adjustable shoulder strap extends up to 21.6 inches down, and its flap top secures shut with a magnet rather than a zipper. Lightweight with one interior pocket, it's suited to fit all your essentials.
Customer Review: "I like the workmanship, it is comfortable and soft plus it doesn't have a logo." -Neiman Marcus
Meet the Expert