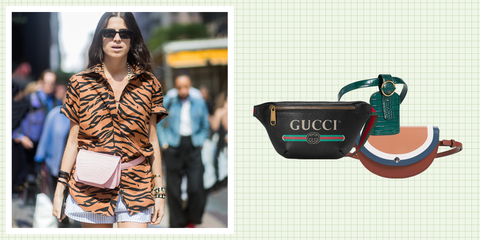 Design by Morgan McMullen
Ever since that '90s staple, the fanny pack, made a comeback on the spring 2018 runways, everybody has changed their mind about them. Especially after Kendall Jenner and Beyoncé began wearing fanny packs of their own, and street style stars rocked them at front row at Fashion Week. The industry has fully re-embraced this beloved throwback accessory, and it's time you do, too.
If you're still skeptical about the trend, or haven't yet found the fanny pack you love, I understand. There are plenty of duds out there, which is why I went on a hunt to find the very best ones for 2019. These include the most current styles and at every price point. Whether you want a pouch under $20 for upcoming music festivals, or a designer one to replace your crossbody bag with, you'll find the one within the 14 options, ahead.