The Best Bags of Fall 2020
From the circle-shaped handbag to the day clutch.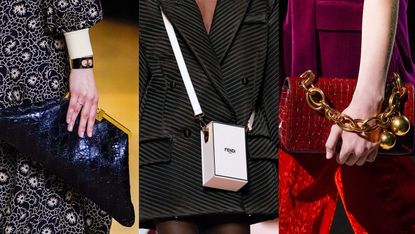 (Image credit: Getty )
In a season where bags were sent down the runways (opens in new tab) in a myriad of shapes, colors and styles, there have never been more options available (opens in new tab) to the consumer. The beauty of a great bag is that you don't have to think twice about it; just grab it and go—all while remaining stylish and put-together. Whatever your daily routine, (opens in new tab) there's a bag that will fit the bill and elevate your look in a pinch. For Fall 2020, we saw the return of hobo bags, a doubling-down on the heavy chain trend, and the advent of the circular silhouette bag—and we were both shocked and delighted to see that small "knick-knacks" ruled another season of runway shows. These are our picks for the best bags of the season, ranging from the luxury to the affordable.
1/24
Full Circle
A circular silhouette is the fresh new shape for fall. Making its way down the runways at Coperni (left) and Balmain, it's destined to be a hot shape for the upcoming season.
2/24
JW PEI Rantan Bag in Sage Green Croc
Not only do we love the shape of this bag, but we stan it for its color and price.
3/24
Coperni Swipe Mini Leather Tote
Fun fact: The curved shape of this bag is inspired by the slide motion you once used to unlock your iPhone.
4/24
Staud Moon Bag
This genuine leather, logo-less bag is the perfect choice if you're looking for something versatile.
5/24
Chain Gang
For the past few seasons, heavy chains have ruled the runways in different iterations, from necklaces to bracelets to shoes—and now they've come for bags. Test-drive this trend by wearing this style on your next night out.
6/24
Venczel Serial Shoulder Bag
Copenhagen-based designer Matilda Venczel draws inspiration from leather-working and saddlery for her namesake brand. Her pieces are super-structured and unlike any bag you already own.
7/24
Kara Pinch Shoulder Bag with Chain
This top handle bag is designed to be extra spacious.
8/24
Marques Almeida Pleated Clutch Bag
This baby pink bag is the perfect color addition to your wardrobe.
9/24
Frame Worthy
A metal frame is the perfect detail for accentuating the silhouette of your bag or clutch. Try a larger version for day and the a smaller one for a night out.
10/24
Hobo Bags Lauren
This bright red clutch will make a statement.
11/24
Chylak Frame Bag
Fun fact: These bags are created in limited quantities—so much so that each piece is stamped in gold with its own personal serial number.
12/24
Laurus Bellona
This vintage-inspired silhouette in ostrich skin is a timeless addition to your wardrobe. Plus, the brand donated 100 percent of their June profits to NAACP, The Know Your Rights Camp, COVID-19 Relief Fund, Black Lives Matter, and Show Racism the Red Card.
13/24
That '70s Show
We saw hobo bags make their way down the runways at Bottega Veneta (left), Chloe (right) and Tory Burch this fall. Our prediction: These bag will do well from a retail standpoint, since they're so versatile and spacious.
14/24
Elleme Vosges Leather Shoulder Bag by Elleme
Based in Paris, designer Jingjing Fan's brand, Elleme, has a cult following.
15/24
Chloé Medium Darryl Leather Hobo Bag
Woodstock gets an upgrade with this bohemian bag from Chloé.
16/24
Cuyana Oversized Hobo
This XL structured tote is the ultimate carryall.
17/24
Perfectly Sculpted
Structured bags took on many different forms this season, and we saw them in a mix of abstract shapes. From JW Anderson (left) to Hermès (right) there's a style perfectly suited for you.
18/24
Yuzefi Ada Top-Handle Structured Bag
This adorable two-tone piece from Yuzefi is unlike anything else on the market.
19/24
Silver and Riley Cylinder Bucket Bag in Mandarin
This cylinder bag can also be worn as a shoulder bag or a crossbody.
20/24
Mateo Black Croc Catherine Box Bag
This embossed croc piece will add a bit of sophistication to your look.
21/24
Trinkets & Such
Fashion's most fun and frivolous trend is the "knick-knack." From bags you sport on your necklace (Tom Ford) to purses you rock on your wrist (Prada), below are some of our faves.
22/24
Ambush Lighter Necklaces
Your lighter will never be too far with this necklace from Ambush.
23/24
Gucci Chain Lipstick Case
Glossy lips only, courtesy of Gucci.
24/24
Anjuna Belt Bag
The belts on the fall runways at Prada, Fendi and McQueen doubled as utility belts that can hold your belongings and knick-knacks. This leather one from Ashya has five different compartments so you can go about your day hands-free.
Katie Attardo is the Accessories Editor at Marie Claire, covering all things fashion and jewelry-related.