20 Women-Owned, Small Fashion Businesses to Support
If you're going to shop, check out these brands.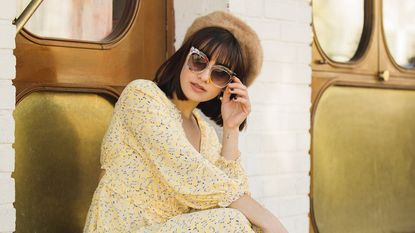 (Image credit: Courtesy of @sophiesahara )
Fashion is one of the industries being hit hard by the COVID-19 crisis, first by the closure of factories in China and Italy, and now by the suspension of non-essential work in many cities across the globe. Brands including Burberry (opens in new tab) have seen a sales slump, H&M (opens in new tab) is debating layoffs, while Prada (opens in new tab), too, is bracing for the negative impacts. And those are three of the biggest brands. The closing of physical stores for many small businesses (opens in new tab)—who might not have a big e-commerce presence on their own or through a wholesale retailer—can prove fatal. (If you run a small business, here are some loan resources (opens in new tab) that might help you.) It's difficult to feel positive after hearing all this, but one thing we know is that the fashion industry is resilient.
Corporations like LVMH (which owns Louis Vuitton, Givenchy, Sephora, Fendi, among others) volunteered to use its factories to make hand sanitizer (opens in new tab) for hospitals and authorities in France, Christian Siriano is now producing masks (opens in new tab) for medical personnel, and Allbirds is donating free shoes (opens in new tab) to front-line healthcare workers. If you're sitting at home, practicing social distancing and self-isolation, wondering how to help, why not start by supporting small businesses? Many ethicists say doing so is just fine (opens in new tab). (For even more ways to help, click here (opens in new tab).) Ahead, we've rounded up 20 fashion brands—some of which are donating a portion of proceeds to charity—to shop from in this time of crisis and beyond.
Delaroq
Jennifer Lyu's "reduce and simplify" ethos is reflected in her handbag creations, which are all made from discarded excess materials from tanneries and factories. The high-quality handbags are unique: once the up-cycled material runs out, the same bag won't be made again. In solidarity, the brand will be donating 10 percent of its sales to Direct Relief (opens in new tab) and The United Nations Foundation (opens in new tab).
shop to support (opens in new tab)
The Line by K
The Line By K makes basics that aren't. It was founded in 2015 by influencer-turned-designer Karla Deras, offering clean and sleek clothing that could easily be dressed up or worn alone for that effortless fashion girl look.
shop to support (opens in new tab)
Petite Studio
This four-year-old label caters to the 5-foot-4 and under crowd, hence the name Petite Studio. PS offers a mix of trendy tops, dresses, pants, and skirts with sizes ranging from XXS to large. The brand believes in slow fashion and works with only one factory for quality control and sources top-quality fabrics from around the world. PS is offering 20 percent off (and free international shipping) with the code MC20 until March 31.
shop to support (opens in new tab)
Retrouvai
Founded by Kirsty Stone, this fine jewelry brand is handmade in Los Angeles and offers stunning vintage-esque accessories. You'll find everything from vivid gemstone rings to a pink opal necklace. The brand is joining its jewelry peers in donating 25 percent of its website sales to No Kid Hungry (opens in new tab).
shop to support (opens in new tab)
Namesake
Finding the right leather jacket (opens in new tab) takes time and if you're on the hunt for a more personalized piece, you need to check out Namesake, founded by Rosa Halpern. In addition to its ready-made line of outerwear, customers have the chance to design their own jacket or pair of pants in line with their own sense of style.
shop to support (opens in new tab)
Shop Pêche
The brand launched in 2017 with a direct-to-consumer website and one brick-and-mortar store in Williamsburg, offering the latest products sourced from South Korea. All of Shop Pêche (opens in new tab)'s pieces, from the dresses to shoes, are under $200 with an emphasis on minimalism.
shop to support (opens in new tab)
Awoke Vintage
This little vintage store started as a market stall in Perth, Australia, in 2006 before migrating to Brooklyn, New York, in 2012. You'll find the cutest selection of vintage clothes and accessories here. Awoke Vintage is currently offering 20 percent off its e-gift cards (opens in new tab), which never expire, to customers. One hundred percent of all sales from AV will go towards paying its employees.
shop to support (opens in new tab)
Richer Poorer
The fact that most of us are WFH means we're spending a majority, if not the entire day, in our comfiest sweats and random college-era hoodies and tees. Richer Poorer offers a fine selection of everyday basics you'll want to wear 24/7—even once we head back to the office.
shop to support (opens in new tab)
Loup
If your fashion icons include the likes of Jane Birkin, Brigitte Bardot, and Audrey Hepburn, you'll want to invest in some pieces from Loup. The Parisian-inspired brand is made in New York City and offers a variety of ready-to-wear, size-inclusive pieces. Loup will donate 15 percent of all sales to Meals on Wheels America (opens in new tab).
shop to support (opens in new tab)
AMY O
AMY O, short for Accessories Make Your Outfit, was founded by Gina Nam. She set out to create a brand focused on perfecting the smallest details in its handmade products. You'll find timeless dainty jewelry that can be worn every day, whether you're pairing them with your stay-at-home hoodie and sweatpants or a lived-in vintage t-shirt.
shop to support (opens in new tab)
Tanya Taylor
The next time you're feeling down by the current state of affairs, take a peek at this brand's vibrantly colorful Instagram. It'll lift your spirits. Make that feeling permanent by shopping from its equally as colorful womenswear collection, from dresses to pantsuits. Ten percent of Tanya Taylor's net sales will be donated to Kids in Need (opens in new tab).
shop to support (opens in new tab)
We Dream in Colour
Jade Gedeon founded We Dream in Colour in 2002 in NYC and offers vintage and antique-influenced rings, necklaces, bracelets, earrings, and more. The brand's studio is based in Boston's North Shore and operated by a team of women. Each and every piece from the label is assembled by hand in-house. We Dream in Colour is currently offering 30 percent off with the code with code GOODTHINGS.
shop to support (opens in new tab)
The Helm
Lindsey Taylor Wood, Erin Shipley, and Emily Verellen Strom founded The Helm in October 2016 to provide financial and social support to female-founded companies (opens in new tab) with a female CEO. Customers can directly shop from these brands on The Helm's website's in addition to engaging with its editorialized content (opens in new tab). The Helm is offering 20 percent of all purchases between now and April 20 with the code SAVE20.
shop to support (opens in new tab)
Bagtazo
Designer and founder, Courtney Bagtazo, started her hat company in 2014 with an emphasis on manufacturing in the United States and working with small businesses, from paper printers and leather sellers to sewing houses and metal smiths. The hats, which can be custom made, are available in limited quantities, so hat lovers and connoisseurs add to your cart asap.
shop to support (opens in new tab)
Viva Aviva
Sonia Boyajian
Whether you're seeking a statement piece like the necklace featured here or a made-to-order 18k gold ring, Sonia Boyajian has you covered. The designer's creations aren't driven by the trends, but by her own creative perspective, which varies from season to season. Boyajian also creates bowls and cups, so your home can also have that artistic touch.
shop to support (opens in new tab)
Sami Miro Vintage
Sami Miro Vintage is an eco-conscious clothing line that sources garments from around the world, then reconstructs them, creating a unique find. From its denim patch pocket tee to a crushed velvet blazer, Sami Miro Vintage pieces are truly distinctive and special.
shop to support (opens in new tab)
Donni
Donni produces a line of feel-good, cozy pieces from waffle knit pullovers to two-toned shirts. The brand was founded in 2009 by Alyssa Wasko, who initially started making scarves to cope with her father's death (the brand is named after him) and it quickly grew into a larger business. Donni works with local women-owned factories in Los Angeles and supports a different non-profit each season.
shop to support (opens in new tab)
Softwear
Softwear makes sustainable, ultra-comfortable loungewear right in New York City. Founder Sabrina Zohar sources specialty fabric from a family-owned mill in California and uses non-toxic dyes to create her pieces—ones that never pill, shed, or shrink. Be right back, stocking up on some Softwear hoodies.
shop to support (opens in new tab)
TLR
Creative Director Elienne Anoriscat launched TLR in 2018 as a way to repurpose CDs and give them a new life as jewelry—shimmery earrings, necklaces, bracelets, and rings. You can read about the amazing design process here (opens in new tab).
shop to support (opens in new tab)
For more stories like this, including celebrity news, beauty and fashion advice, savvy political commentary, and fascinating features, sign up for the Marie Claire newsletter.
SUBSCRIBE HERE (opens in new tab)
Marina Liao is the former fashion news editor at MarieClaire.com, where she covered celebrity style (from Meghan Markle to Katie Holmes), fashion trends, and shopping advice, plus conducted original interviews with industry insiders. She's also had many opportunities to write content in other areas such as beauty, food, tech, and even home. Her previous fashion stints include POPSUGAR and Cosmopolitan.