The Item I Wear to Death: My AllSaints Leather Jacket
It's the edgy piece everyone needs.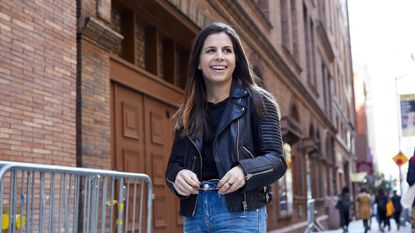 (Image credit: Kathryn Wirsing)
In our biweekly series, editors share "the item they wear to death," whether it be a basic white tee or a super-trendy jumpsuit. Prepare yourself (and your credit card) for some guilt-free shopping.
For a long time, a leather jacket felt like a "one day" purchase for me. When I first moved to New York City, I noticed this investment coat on every street corner, the epitome of je ne sais quoi style to me. I knew I needed one to complete my new, all-black (very New York!) wardrobe. A leather jacket, however, is nerve-wracking buy: Get yours wrong–too big, too small, poor quality—and your fantasy of being an elusive cool-girl slips away (until you return it, that is).
I spent years hunting the internet for the absolute perfect one. My journey took me to clearance-price cropped motos, oversized (and overdone) versions, and statement zip-ups with way too many buckles. When I finally stumbled upon the AllSaints "estella" leather biker jacket, I realized I might just have found the one. The tailored cut and streamlined silhouette made it feel timeless, but ribbed detailing on the sleeves added a punch of edge…without being too Joan Jet. This, I decided, could be my foray into rebel-chic.
As with any investment purchase, I was nervous about taking the plunge. I wanted to be certain that the "estella" jacket was truly the one. Cue an entire year of me hesitantly hovering my mouse over the "purchase" button. Every time I got close to checking out, I would freeze up at the thought of dropping hundreds on a jacket, so I patiently watched the website, willing a sale with Jedi-like mind control.
Finally, it was my chance to pounce: Black Friday 2018. My dream jacket dropped nearly 50 percent in price, and the "purchase" click never felt easier. More than a year later, I can confidently say my buy was well worth it. I wear my jacket in lieu of a blazer at the office, adding edge to otherwise buttoned-up workwear. I sport it with jeans and white sneakers for a casual Saturday brunch. I layer it over a floral dress on a crisp spring days. I layer it under a puffer coat on chilly winter nights. Some might say leather jackets are a seasonal token style, but I disagree: Styled right, my leather jacket remains a go-to any time of the year.
If you're considering adding this staple to your wardrobe, don't wait a year. Shop mine, plus other options, right now.
For more stories like this, including celebrity news, beauty and fashion advice, savvy political commentary, and fascinating features, sign up for the Marie Claire newsletter.
RELATED STORIES
Megan DiTrolio is the editor of features and special projects at Marie Claire, where she oversees all career coverage and writes and edits stories on women's issues, politics, cultural trends, and more. In addition to editing feature stories, she programs Marie Claire's annual Power Trip conference and Marie Claire's Getting Down To Business Instagram Live franchise.