Editors handpick every product that we feature. We may earn commission from the links on this page.
How to Wear a Bralette Without Feeling Naked
Bralettes are sexy but can still be sophisticated.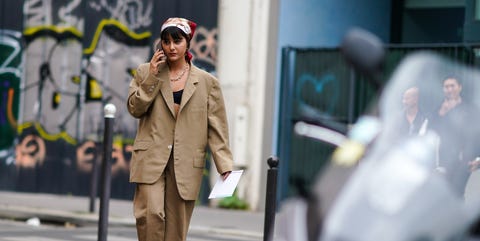 The bralette (definition: an undergarment that is not quite a bra, not quite a crop top) is an admittedly tricky wardrobe item to wear on its own. The allure is that the bralette hits the perfect spot for many body types that's above the belly-button/below ribs, to show just enough of a sliver of skin that most women in a range of ages can be cool with. However, the struggle of what to wear with said lingerie-esque item is the challenge at hand. Lots of questions come to mind: When is it appropriate? How do I not look like I'm going to Coachella? And most importantly, will I look like I am straight up just wearing my underwear??? Listen, bralette dressing is certainly a nuanced concept but we are here to help. First, let's start with things you may already have in your closet (i.e. a boxy blazer and off-the-shoulder sweater dress) and reinvent the look with a lingerie element. The key is making sure you have enough fabric elsewhere on your body to not feel too naked, plus recognizing exactly where and when this trend is supposed to be worn. In other words, a meeting with your accountant may not be the first place to try it out. Inspired by real outfits worn by real women, click through to see our breakdown of 5 ways to wear this tricky but sexy trend that is not only easy to execute but will also have you feeling confident and put-together.
This content is created and maintained by a third party, and imported onto this page to help users provide their email addresses. You may be able to find more information about this and similar content at piano.io