How to Wear a Bralette Without Feeling Naked
Bralettes are sexy but can still be sophisticated.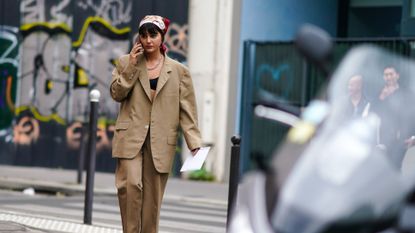 (Image credit: Edward Berthelot)
The bralette (definition: an undergarment that is not quite a bra, not quite a crop top) is an admittedly tricky wardrobe item to wear on its own. The allure is that the bralette hits the perfect spot for many body types that's above the belly-button/below ribs, to show just enough of a sliver of skin that most women in a range of ages can be cool with. However, the struggle of what to wear with said lingerie-esque item is the challenge at hand. Lots of questions come to mind: When is it appropriate? How do I not look like I'm going to Coachella? And most importantly, will I look like I am straight up just wearing my underwear??? Listen, bralette dressing is certainly a nuanced concept but we are here to help. First, let's start with things you may already have in your closet (i.e. a boxy blazer and off-the-shoulder sweater dress) and reinvent the look with a lingerie element. The key is making sure you have enough fabric elsewhere on your body to not feel too naked, plus recognizing exactly where and when this trend is supposed to be worn. In other words, a meeting with your accountant may not be the first place to try it out. Inspired by real outfits worn by real women, click through to see our breakdown of 5 ways to wear this tricky but sexy trend that is not only easy to execute but will also have you feeling confident and put-together.
1.This Look Suits You
Take your favorite non-black suit (it softens the look) and add a few edgy accessories (a western belt won't make it feel so suit-y) for Saturday night drinks with the girls.
Shop the pieces: 1. Maje jacket, $445; 2. Savage x Fenty bralette, $25; 3. Madewell scarf, $12.50; 4. Maje trousers, $295; 5. B-Low the Belt western belt, $138; 6. Loeffler Randall pumps, $375.
2.Texture and Print: Friends Forever
This crochet bralette becomes kind of a contrasting twinset with a grandma cardi and an easy pair of printed pants, like this preppy plaid. Slip on easy slides and you're perfectly cute for weekend errands that end in brunch.
Shop the pieces: 1. Everlane cardigan, $105; 2. She Made Me, $204; 3. Rokh pants, $555; 4. Birkenstock sandals, $44.95.
3.Monochromatic Magic
The simple matter of unbuttoning your denim dress down just a little bit more than you would normally for a peek of skin. Add all-white accessories and this look is guaranteed to get you dressed in under five minutes for a backyard bbq.
Shop the pieces: 1. Fenty dress, $810; 2. Gap bralette, $29.50; 3. Michael Michael Kors bag, $283.; 4. Marc Fisher sandals, $112.46.
4.Miss Con-jean-iality
Swap the ol' "jeans and a T-shirt" classic date look for something a little more pulled together. Pop on your bralette and roll up the sleeves of a boxy blazer like it's no big deal.
Shop the pieces: 1. Low Classic blazer, $385; 2. Cosabella bralette, $55.50; 3. Isabel Marant Étoile jeans, $290; 4. Halogen belt, $21; 5. Studio Amelia bag, $220; 6. Stuart Weitzman pumps, $395.
5.Off-the-Shoulder and Out the Door
Grab your favorite sweater dress but try wearing it off-the-shoulder to reveal a peek of a pretty bralette and it's suddenly a whole new dinner look.
Shop the pieces: 1. Reiss sweater dress, $375; 2. Kendra Scott chain necklace, $65; 3. Khaite bralette, $680; 4. Maje bag, $320; 5. SJP by Sarah Jessica Parker pumps, $350.
Julia Gall is the former Style Director at Marie Claire, covering all things fashion, as well as styling tips, wardrobe upkeep and sustainability. Check her out at @juliasgall.