The Most Scandalous Fashion Books to Read Right Now
Pass the popcorn, here are 20 of the most jaw-dropping, gossip-filled fashion books ever!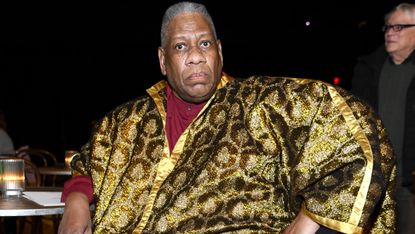 (Image credit: Dimitrios Kambouris)
Finally!! Life-long fashion journalist and former Vogue creative director, André Leon Talley's newest book, The Chiffon Trenches: A Memoir is available—and not a moment too soon. By now, you've most likely finished Netflix, baked 100 different banana breads and have completed enough puzzles to last a lifetime. How about picking up a book to remind yourself of what's really important? GOSSIP! Early press on ALT's newest memoir teases that this time, he pulls no punches–in particular, with his former boss, a certain sunglass-sporting, bob-having, fresh-from-the-runway Prada wearer. With an unparalleled career spanning from the early 1970s, working simultaneously with the legendary Diana Vreeland at the Costume Institute and Andy Warhol at Interview Magazine, plus stints at W, WWD, the New York Times and ultimately Vogue, if anyone's got stories to tell, it's André. So, if The Chiffon Trenches whets your whistle for more juicy scoop, here are 20 more fashion reads that will be sure to satisfy.
1/20
The Beautiful Fall: Lagerfeld, Saint Laurent, and Glorious Excess in 1970s Paris
The title alone is enough to set any fashion fan's heart a flutter. The Beautiful Fall recounts the initial friendship and ultimate rivalry of two of the 20th century's most influential designers and is required reading for every young fashion addict. It's hedonistic, it's transportive, and it's so salacious that Lagerfeld took legal action and tried to block its publication.
2/20
Front Row Anna Wintour : The Cool Life and Hot Times of Vogue's Editor-in-Chief
Love her or hate her, Front Row is the ne plus ultra on Anna Wintour. Unlike the fictionalized novel, The Devil Wears Prada, Jerry Oppenheimer recounts a studied and in-depth look at Ms. Wintour's incredible rise to the top of the fashion food chain. Along the way, decisions were made, feelings hurt, and wild rumors invented (like her affair with Bob Marley!!), all contributing to Anna's icon status.
3/20
Gods and Kings: The Rise and Fall of Alexander McQueen and John Galliano
Critically acclaimed fashion journalist Dana Thomas' book chronicles the meteoric rise of groundbreaking fashion greats, Alexander McQueen, and John Galliano in this double biography. The insider account is as spectacular as it is heartbreaking, and certainly hard to put down
4/20
Random House Grace: A Memoir
Breakout star of The September Issue and American Vogue's long time creative director, Grace Coddington, recounts her entré into the fashion world, first as a model in the late 1950s right up to present day. It's charming, witty, and filled with fantastical stories from a creative powerhouse.
5/20
House of Versace: The Untold Story of Genius, Murder, and Survival
Versace, Versace, Versace, Versace. As wild and operatic as their name has come to suggest, the House of Versace is chock-full of sex, drugs, and rock-n-roll, but always, at the heart of it all, fashion and family.
6/20
Knopf D. V.
This is a sharp and rollicking read full of life, excitement, and style. In D.V. , Mrs. Vreeland brings us all the way back to her childhood and the influences which helped form her unique and singular vision, and in turn shape the look of not only Harpers Bazaar but Vogue as well. While working in fashion for over 50 years, Mrs. Vreeland experienced a cast of characters second to none, and in D.V. she brings you into her world.
7/20
Fashion Climbing: A Memoir
While you may recognize Bill Cunningham as that sweet old New York Times photographer, in Fashion Climbing, he shows us another side, one very much on the pulse of fashion, years before his bike and blue workman's jacket. With fascinating stories of socialites and scammers, designers and debutantes, spanning from the late 1940s right up until his death in 2016.
8/20
Flammarion-Pere Castor The World According to Karl
The things that came out of this man's mouth!! Karl Lagerfeld, like Coco Chanel before him, knew the power of a well-placed sound-bite. This collection of always outspoken, often outlandish quotes, (approved by the late great designer) will keep you chuckling–that is if you can pick you jaw up off the floor.
9/20
Isabella Blow: A Life in Fashion
Editor, muse, eccentric, Isabella Blow lived life as an artist striving to create and celebrate beauty. An early champion of Alexander McQueen and Philip Treacy, Blow walked the walk in their oftentimes jarring and challenging creations–pressing forward the idea of what is considered beautiful. This book uncovers the highs and lows of her life in fashion as well as her privately fought demons which would ultimately get the better of her.
10/20
Obsession: The Lives and Times of Calvin Klein
It's been almost 20 years since Calvin Klein sold his company and walked away from the mega-brand he created. So, it's understandable that you might know very little about the man behind the brand (and the guy whose name is on your underwear)! This book will clear that all up for you–and then some! From 1968 through 2002, Calvin Klein, the man, WAS the brand. Leading a thrilling life in the public eye while creating some of the most shocking and memorable advertising campaigns ever made.
11/20
Champagne Supernovas: Kate Moss, Marc Jacobs, Alexander McQueen, and the '90s Renegades Who Remade Fashion
A rip-roaring ride through the 1990s as told through the lives of three of the most compelling subjects of the decade: Kate Moss, Alexander McQueen, and Marc Jacobs. Champagne Supernovas drops you right into the deep-end of the '90s and the decadent and debaucherous Champagne-fueled, perfect-storm energy that helped create these three as the flawed fashion icons they have become.
12/20
Shocking Life: The Autobiography of Elsa Schiaparelli
In her own words, designer/artist/aristocrat Elsa Schiaparelli tells of her childhood right through to the height of her fashion prominence. While imbuing Dadaism and Surrealism into her clothing, thanks in part to her friendships with Duchamp, Man Ray, Cocteau, and Dali, Schiaparelli pioneered the advancement of her couture house through the use of perfume and her invention of the color "shocking pink". Her story definitely fits the title "Shocking Life."
13/20
The House of Gucci: A Sensational Story of Murder, Madness, Glamour, and Greed
Forget everything you think you know about horse-bits and logo belts, this book will throw you for a loop. This sensational tale of the Gucci family, who created the brand we know and love today, is a page-turning account filled with lavish tales of spending, stealing, and murder.
14/20
Walking with the Muses: A Memoir
Pat Cleveland has been swanning down catwalks and lighting up photoshoots for over 50 years now. Born in New York City to a white father and black mother, Pat was on the front line of breaking racial stereotypes since she began modeling in the late 1960s. Walking With The Muses is filled with stories of Paris in the '70s—where her career really hit its stride. This book will make you fall in love with Pat, as designers have been, (and continue to) for years.
15/20
Genuine Authentic: The Real Life of Ralph Lauren
A dazzlingly detailed description of how Bronx-born Ralph Lifshitz spun his Gatsby-infused dream of Americana into a multi-billion-dollar global empire.
16/20
The Vanity Fair Diaries: 1983 - 1992
While not technically a "fashion read," Tina Brown's, Vanity Fair Diaries sure is filled with all the juicy gossip one may expect to hear from a woman helming a top-tier magazine during the days of power-lunches, purring town cars, and bottomless budgets.
17/20
Chic Savages
Legendary W/WWD publisher John Fairchild was known for his cutting and acerbic wit. During his almost 40 year reign, Fairchild was one of the most powerful men in fashion, giving rise to designers like Oscar de la Renta and Bill Blass while spilling equal ink on the socialites of the day, blending fashion, celebrity, and high-society in a way not previously seen. In Chic Savages, Fairchild pulls the curtain back on the spending habits of the rich and famous.
18/20
imusti The Battle of Versailles: The Night American Fashion Stumbled into the Spotlight and Made History
Pulitzer-Prize-winning fashion journalist Robin Givhan tells of all the behind-the-scenes details and dramas surrounding the fashion world's UFC, The Battle of Versailles—which pitted American designers against the French in a charity battle for the restoration of Versailles. With bold-faced names aplenty, (and egos to match) Givhan, describes the event that changed American fashion forever.
19/20
Atria Books The Price of Illusion: A Memoir
Former Editor in Chief of Vogue Paris Joan Juliet Buck recounts her fabulous life traipsing the globe for decades in a fashionable whirlwind. It is when the music finally stops however, that she must face that a lifetime in fashion doesn't necessarily guarantee a happy ending.
20/20
Simply Halston
With a Ryan Murphy-produced Netflix miniseries starring Ewan McGregor as Halston on the horizon, now is the time to brush-up on the famed fashion figure. Simply Halston lays bare all the dirty, decadent details of a man who built an elegant empire only to see it die on the vine due to his compulsions and addictions.
Celebrity news, beauty, fashion advice, and fascinating features, delivered straight to your inbox!