The Best Hoop Earrings for Every Occasion
Find your perfect pair.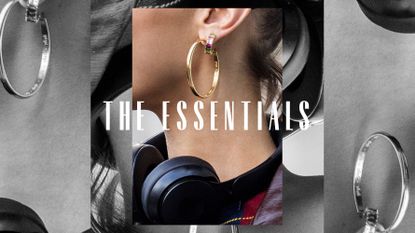 (Image credit: Design by Susanna Hayward)
Marie Claire Newsletter
Celebrity news, beauty, fashion advice, and fascinating features, delivered straight to your inbox!
Thank you for signing up to Marie Claire. You will receive a verification email shortly.
There was a problem. Please refresh the page and try again.
Welcome to The Essentials, our weekly series highlighting a must-have classic, key to building a timeless, pulled-together closet.
If I were stuck on a desert island and only allowed to bring one accessory, I'd bring a pair of hoop earrings. Period. That's how strongly I feel about them. Over the years I've built up quite the collection of statement earrings, but I still find myself wearing the same pair of gold hoops almost every day—they go with almost everything, and they're worth every penny. That's the beauty of the hoop earring: There's an option for everyone. Ahead, 20 different choices to get you started on your journey to finding the perfect pair.
1/20
Soko Sayo Maxi Hoop Earrings
All of Soko's pieces, including these chic hoops, are handcrafted by artisans in Kenya.
2/20
Jennifer Fisher 2" SAMIRA HOOPS
This wouldn't be a hoop round-up without an honorable Jennifer Fisher mention. Personally, I wear my Samira hoops every day.
3/20
Jennifer Zeuner Jewelry Carmine 2.5" Hoops
Chain link is one of my favorite jewelry trends; it has the ability to give any outfit that cool factor.
4/20
Sophie Buhai Silver Large Giacometti Hoop Earrings
The interesting texture set these hoops apart from the rest.
5/20
8 Other Reasons Camilla Hoop Set
This affordable set features two pairs of hoops in different sizes, and it's so fab that even Kylie Jenner is a fan. She was seen sporting the hoops on Instagram.
6/20
Oma The Label The Tonia Hoop
These geometric hoops are a great option if you're looking for something a bit different but still super wearable.
7/20
Nickho Rey Evie Slim Hoop
The Evie hoops are the perfect luxe addition to any outfit.
8/20
Missoma Lucy Williams Ridge Hoops
Go retro with these chunky '80s-inspired hoop earrings.
9/20
Lizzie Fortunato Forest Organic Acrylic Hoops
Hoops don't always have to be super edgy. Try these acrylic hoops for a more natural look.
10/20
Laura Lombardi Laura Lombardi Onda Charm Earrings in Brass
Don't let anyone tell you that you can't mix metals! These hoops prove that silver and gold look great together.
11/20
Casa Clara Lennon Hoop
The texture and oval shape make these Casa Clara hoops super special. Wear them with an LBD on a chic night out.
12/20
Danijo Naomi Silver
The bold twisted detail will amp up any outfit.
13/20
Lightbox Solitaire Huggie Hoop Earrings
Can you ever go wrong with diamonds? No. You also can never go wrong with a great pair of huggie hoops—they're timeless.
14/20
The M Jewelers The Mini Gothic Initial Hoop
If you're a sucker for anything personalized, these cool hoops by The M Jewelers are calling your name.
15/20
Jenny Bird Jenny Bird Icon Hoops
The perfect summertime hoop? Found. Pair these light-as-air earrings with your favorite breezy dresses for a fuss-free look.
16/20
Sylvia Toledano Petite Candy Earrings
These multicolored gemstone hoop earrings can be worn during the day with a t-shirt and jeans, or with a sexy slip for an elevated night out look.
17/20
Luv AJ Margot Hoops
This LA-based jewelry brand has garnered quite a following. Its fans include Candice Swanepoel, Bella Hadid, Adriana Lima, and Kendall Jenner...need I say more?
18/20
Charlotte Chesnais Initial Silver Hoop Earrings
Charlotte Chesnais is known for her chic sculptural jewelry, like these silver earrings.
19/20
Alexis Bittar Crystal Encrusted Spiked Hoop Earring
Give your look some edge with these spiked gunmetal earrings.
20/20
BRACHA Milan Large Hoops
These textured hoops are a great everyday option at an amazing price point.
Celebrity news, beauty, fashion advice, and fascinating features, delivered straight to your inbox!
Shelby Comroe is the Credits Editor and Fashion Assistant at Marie Claire covering all things fashion and giving credit where credit is due. Check her out @shelbycomroe on Instagram if buying designer handbags is your idea of a retirement plan!