The Most Iconic Britney Spears Outfits of All Time
Here, a look back at Britney Spears' most iconic outfits of all time.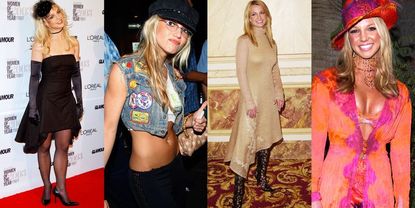 (Image credit: Getty Images)
Britney Spears has given us gems such as "Oops I Did It Again" and "Lucky," the song that was responsible for a lot of scream-singing in my childhood bedroom. And let us not forget her historic (to me) Hollywood movie, Crossroads. I mean, we have Britney to thank for a lot of amazing stuff. But with all of her artistry, sometimes her iconique fashion moments aren't the hottest topic of discussion when bringing up Brit. That might need to change. Britney has given us outfits of glamour and some more casual, chic looks. Her range is impeccable. Yes, I'm referring to her vocals, but ALSO the outfits. For someone who's been in the spotlight as long as Britney Spears has, there's bound to be a LOT of nostalgia-inducing ensembles. Ahead, a look back at Brit's most iconic outfits of all time. And, yes, Justin Timberlake does make some minor appearances. You're welcome.
1/81
This Matching Tube Top/Knee Pad Combo
Immediately Googles "white pants with built-in knee pads." Sorry not sorry, I'm obsessed.
2/81
Neon Bodycon Dress
Brit is glowing! Maybe it's the bright bodycon dress or her radiant smile. Whatever it is, she's rockin' the look.
3/81
All Embellish Everying
This photo was snapped at a Crossroads press event and...you can tell. The low-rise denim with the sheer wrap on top is a) gorgeous and b) a sign of the times.
4/81
Red Hot Grammy's Red Carpet Look
"That's why her hair's so big. It's full of secrets."
5/81
White Gown + Floofy Shawl
Wow. Just...wow.
6/81
The Early Aughts Called
Just sink into this outfit and let it take you back. The french manicure, the huge boho bag, and the oversized round sunglasses create the ultimate early-2000's vibe.
7/81
Stunning and Sparkly
Photos of brunette Britney are few and far between, but j'adore this one of her with a stunning dark and sparkly gown to match her equally dark do.
8/81
Office Barbie
Okaaaaay Ms. Britney showing us up with some white party realness. And that lil' bob?! Trés cute.
9/81
Sexy! Cutouts!
There's a lot of skin happening here and I...don't hate it.
10/81
Incognito Chic
I'll give it to her, Brit sure knows how to slay the accessories game. Matching her hat, sunglasses, jacket, and over-the-knee boots, she's bringing some chic AF vibes to her wardrobe.
11/81
Your Junior High Dream Dress
A sheer slip dress? Check. A bejeweled headband? Check. Extra-strappy heels? Check.
12/81
Casual Britney FTW
Bucket hat Britney was peak Britney, IMO.
13/81
No Shoes, No Problem
Here, Brit poses in a closet (casual) in a striped tank and baggy jeans. Looks like she has no shortage of sneakers, though!
14/81
Pretty in Pink
Here's Britney at the very first Teen Choice Awards. And there are big sequin paillettes on her pants, which take her 'fit to a whole new level.
15/81
Texture, Texture, Texture
There is just so much going on here, but perhaps best of all is the frosted eyeshadow? Okay, or the marabou-feather hemline on Brit's silk pants. I just can't decide!
16/81
This Sheer Top!
More dramatic eyeshadow circa the 1999 MTV Video Music Awards. Also, there are more marabou feathers on the sleeves of this epic see-through top.
17/81
This Metallic Lewk
TBQH, it's like Britney and Melissa Joan Hart (remember, Brit and Melissa both starred in the "(You Drive Me) Crazy" music video alongside Adrian Grenier) had a competition to see who could look more '90s. They both win!
18/81
Black Is the New Black
Belly chains and skirts over pants! You love to see it.
19/81
Hot Pink Lace
Surprisingly, her square-toe aqua shoes are VERY much in right now. Who would have guessed the trend would make a comeback?
20/81
Le Crop Top
Just a cute photo of Brit in a crop top and platforms in front of the Eiffel Tower. So fashun.
21/81
Neon Pink Cowboy Hat? Yep!
I have never seen so much going on with an outfit, but wow, do I love it. Britney's commitment to statement headwear is impressive, y'all.
22/81
Orange and Pink and This Hat
This is iconic and not just because of the hat. It's Britney at the 2000 Billboard Music Awards, and never has anyone ever dressed better for the red carpet.
23/81
Bring Back Patent-Leather Pants!
Here, Britney performs in a lace-up crop top and patent-leather pants with a buckle belt at Dodger Stadium in Los Angeles.
24/81
A Snake Accessory
Behold: Britney Spears at the 2001 MTV Video Music Awards. The look of the century!
25/81
Sophisticated Lace
Look, she's even serving hats by osmosis! Any excuse for a good J.Lo photo; this is from the 2001 MTV Video Music Awards, but it could just as easily be from last year's.
26/81
I Heart This Look
And when she's not wearing hats, she's rocking bandannas, like this yellow one tied around her short hair, with an "I Love Punk" shirt, distressed jeans, and colored sunglasses.
27/81
Pink Fringe Is V Surf Vibes
Brit picked up a Teen Choice Award in a fringed pink mini and strappy heels. Sidenote: I wonder where people actually store these surfboards?!
28/81
Date Night Lewk
This chunky knit turtleneck was a major menswear moment, and Britney's choker is cute too.
29/81
Statement Tee
Remember when we all wore shirts like this? Although no one can wear a crop top that says "Control Freak" quite like the pop star can, TBH.
30/81
Starry Print
Justin and Britney are back again, this time in contrasting outfits. Brit went with a classic zip-up dress with stars and metallic details, while JT looked like he just auditioned for The Matrix. What a time.
31/81
Fashion Pajamas
Looking like they both just stepped out of the Buffy the Vampire Slayer wardrobe department (as Buffy circa season four and Angel circa season one), here's Justin in a way glam sheer shirt and Britney in a lingerie-inspired slip.
32/81
The Low-Rise Jeans
You might think the most important thing here is that shredded jersey batwing sleeve thing happening, but you're wrong. It's actually Brit's extremely low-rise jeans.
33/81
Pops of Color
One look at this pic and you'll be an expert in color blocking—just peep the hot-pink sandals paired with an oversize purple sweater. Don't mind me when I wear this same 'fit tomorrow.
34/81
DIY Inspo for Those Old Jeans
Britney dominated the Teen Choice Awards. I mean, how many of these surfboards does she own? Her denim corset over a pink top and wedge sandals is also straight-up inspiring.
35/81
Soap Opera Realness
If you didn't own a chunky faux-fur-lined cardigan, were you even alive in 2005?
36/81
Butterfly Cutie
Just look at all these fabulous butterflies! That's one way to add color to a neutral beaded V-neck dress.
37/81
Newsies Fashion
Britney loves a good newsboy cap. It looks especially chic paired with a coordinating denim blazer.
38/81
Statement Boots
I wasn't joking about the newsboy caps. But let's also quickly mention (1) the thigh-high boots, (2) the dress over jeans, and (3) JT's shiny pants because they are quite something.
39/81
Business But Make It Crop Top
#TBT to the good ol' days of TRL and this amazing cropped purple button-up with dramatic puff sleeves. Love the contrast of the beaded necklace and the super-low-rise, dark-wash jeans, right?
40/81
Cold Shoulders
Proof that the off-the-shoulder silhouette was definitely a Thing.
41/81
So Cozy
Never thought a beige turtleneck dress could actually look this good, but wow, am I proved wrong. The asymmetrical hemline and laser cutout boots really make it a LOOK.
42/81
Even Cozier, TBH
You've been waiting for the velour, haven't you?! Here it is in all its Juicy Couture glory. Britney Spears owned this trend.
43/81
Cropped Sweaters
Just when you think her tops couldn't get any more cropped, she showed everyone up in this teeny-tiny unraveling sweater. Also, raise your hand if you had a stretchy maxi skirt exactly like this.
44/81
Butterfly Cowboy Boots
Here's Britney in some more fab cowboy boots and a cold-shoulder floral dress with a lace-up belt. You're so welcome.
45/81
The Iconique Bow-Tie Necklace
Have you ever seen a more glorious fedora? Also, peep the rhinestone bow-tie necklace, the ripped tee, and the piece of gum still in her mouth.
46/81
The Queen of Going-Out Tops
This neutral cutout one definitely makes a statement. And of course, she paired it with a classic initial necklace because it's Britney, b*tch!
47/81
Oversized Sweater and Boots
The best part of this sheer outfit is the extra Pretty Woman boots and the fact that Britney wore this to sit front row at a New York Fashion Week show.
48/81
'Fit for a Queen
A lesser-known-but-still-true fact: The British royal family only started wearing fascinators because of Britney Spears. When will Kate Middleton wear a choker though?
49/81
Cargo Pants
And Britney also wore this (a.k.a. baggy denim cargo pants!!!) to receive her star on the Hollywood Walk of Fame. Had she not already earned the accolade, this outfit is proof enough of DGAF fame.
50/81
Halter Tops!
Is it just me, or do you get all the nostalgic feels when you see halter tops? Also, chain belts like this were ~all the rage~ and only Britney Spears could convince me that I need one in this day and age.
51/81
Sparkly *and* Casual
This photo is here mostly because of Ryan Seacrest's hair, but Brit looks pretty incredible in this metallic top with rhinestone fringe.
52/81
The Fedora Era
Aaand we're back with the hats! This fedora is just the cherry on top of this eclectic outfit—graphic tee, studded jacket, statement earrings, and all.
53/81
A Tiny Puppy As an Accessory
Oh, no biggie, just Britney on the red carpet at the 2004 Billboard Music Awards with a tiny puppy—a.k.a. the best accessory of all.
54/81
Britney Spears Buys a New Hat
No, seriously, this is a shot from a paparazzi photo series literally titled "Britney Spears Buys a New Hat." Also, just look how happy she is with those pom-poms.
55/81
So Bright
Britney Spears wore yellow-tinted sunglasses and a US Open shirt, and now I want yellow-tinted sunglasses and a US Open shirt.
56/81
Rhinestone Plunging Neckline
Here she is taking the ~plunge~ in an embellished jumpsuit at the 2000 American Music Awards.
57/81
Neons on Neons
The Crossroads press tour was a very special time for Britney and, in retrospect, for all of us.
58/81
Hello Again, Cowboy Boots
Those boots again. And what else is there to say about the rest of Brit's look here?!
59/81
Vintage Vibe
Don't know what to do with all your old patches? Iron them onto a super-cropped denim vest and wear a baker-boy hat with them, duh.
60/81
Prom Queen Dream
Pinterest wasn't even a thing in 2001, sure, but if it were, we'd have all pinned this gown on our "Prom Dress Goals" board.
61/81
Tiny Sunglasses and Dad Sneakers
Can I interest you in more tinted sunglasses inspo? Say no more. Even Brit knew that cargo pants and dad sneakers would make a comeback, judging from her outfit.
62/81
A Winning Look
If you don't love everything about this photo, then why are you even in this gallery?! The lettuce-edge trim of this pink crop top is too much to handle in the best possible way.
63/81
Match-y Match-y
This is how Brit does a monochrome outfit: a silky tank with matching embroidered floral pants.
64/81
Bedazzled Jeans, Anyone?
Brit and Natalie Portman, WYD? Cute jeans, though!
65/81
Lace-Up Pants
Lace-up pants were just a way of life. Also, this fedora and asymmetrical black top just look amazing on her.
66/81
Fiery Fringe
Get down with your bad self (and your cute handbag), Jamie Lynn Spears!
67/81
A Fall Color Palette
Here, Britney wears a one-shoulder sweater, low-rise pants tucked into her knee-high boots, and her now-signature fedora hat.
68/81
Mix and Match
Pinstripes + a sparkly spaghetti top = a showstopping outfit.
69/81
A Fuzzy Coat
Now that it's winter, this huge fuzzy coat looks so warm. The flared jeans and ankle boots totally complete this cold-weather ensemble.
70/81
Your School Uniform Could Never
Throwback to when wearing a short-sleeve sweater over a white button-down was the ultimate outfit. Here, Brit completed it with a pleated tennis skirt because why not?
71/81
Surprise! More Leather Pants
Here, Brit wears low-rise leather pants, a lacy camisole, and strappy sandals to a red-carpet event.
72/81
And the Award Goes To...
Britney matched all her shiny MTV VMA awards with her silver sequin one-shoulder mini. Now that's what I call dressing to win.
73/81
Ringmaster Britney
You can be honest with me, you have the song "Circus" stuck in your head now, don't you?
74/81
Lucky Green
Here, Britney wears an electric-green bodycon with mesh inserts and matching eyeshadow as she arrives for her UK tour launch party in London.
75/81
Modern Elegance
Brit rocks some new bangs at The X Factor season finale with a black sheath dress and metallic heels.
76/81
Power Blue
Here, Britney shows up dressed to the theme in a blue body-hugging mini at the premiere of Smurfs 2 in Westwood, California.
77/81
Classic Beauty
The pop star poses with her People's Choice Award on the red carpet in an embellished mini with an illusion neckline.
78/81
Unicorn Glam
Here, Britney poses in a sparkly gold mini with see-through fabric and a sweetheart neckline. She also had a dyed ponytail that's making me want to make a hair-color appointment, stat.
79/81
Sheer Bursts
Another red carpet, another see-through mini—this time in the form of a long-sleeve aqua number.
80/81
Cute Cutouts
The icon wears a black high-neck mini with star-shaped cutouts on each side to announce her new residency, "Britney: Domination," at Park MGM in Vegas.
81/81
Metallic Fringe = Classic Britney
Britney attends the GLAAD Media Awards in a strappy fringed metallic number with plenty of cutouts. She paired the ensemble with coordinating see-through heels. An icon!
Celebrity news, beauty, fashion advice, and fascinating features, delivered straight to your inbox!
Mariah Schlossmann is the editorial business assistant at Cosmoplitan and is obsessed with all things food, lifestyle, and entertainment. When she's not throwing pizza parties in the office, you can find her trying to spot celebs around NYC or waiting in line for the newest food trend.