The Best Fashion Moments in Netflix's 'Bridgerton'
The empire waist dress is set for a major comeback.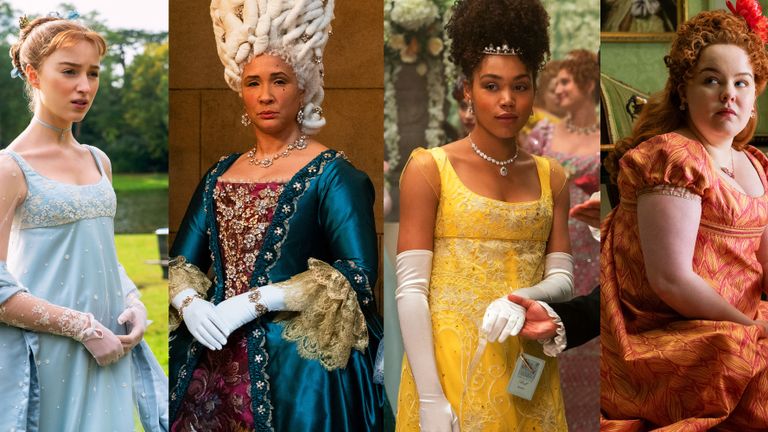 (Image credit: Netflix)
Sure, we're still thinking about the love stories in Bridgerton, but it was the fashion that had us smitten. From the colorful cap sleeve day dresses to the dazzling ball gowns and tiaras, the Bridgerton wardrobe department did not disappoint. Even though it was hard to narrow down, we rounded up our all-time favorite sartorial moments from the Netflix series, ahead.
1/40
Daphne Bridgerton's Debutante Look
The whole series centers around Daphne's debutante season, so it's only fair to mention her jaw-dropping gown. With a gold embroidered train and puffed cap sleeves, it's no wonder Queen Charlotte called her "flawless."
2/40
Eloise Bridgerton's Debutante Presentation Dress
Since Eloise Bridgerton was not "out" in society yet, the dress she wore to the debutante presentation was more understated than her older sister's. Nonetheless, we loved the ruffled detailing and pink silk sashes and bows.
3/40
Lady Danbury's Icy Ball Gown
Daphne Bridgerton, who? Lady Danbury totally stole the show in this silver gown encrusted in diamonds paired with an elaborate tiara, necklace, and neck piece.
4/40
Lady Portia Featherington's Picnic Attire
Never one for an understated look, Portia Featherington stood out at a picnic in the park wearing a long sleeve violet brocade dress with a corseted waist and sweetheart neckline.
5/40
The Featherington Sisters' Ball Gowns
Did anyone else live for the dresses worn by Philippa and Prudence Featherington? Someone give the wardrobe department an Emmy for these costumes.
6/40
Penelope Featherington's Orange Printed Dress
Penelope Featherington's orange printed dress stood out as equally bold and chic. The youngest sister even topped her curls with a red peony.
7/40
Marina Thompson's Yellow Lace Dress
Marina Thompson created quite the buzz when she arrived at the beginning of the London season. While staying with the Featheringtons, she wore colorful frocks, like the rest of the family. Our favorite? This yellow embroidered empire waist dress with a delicate tulle lining.
8/40
The Duke's Paisley Vest
Simon singlehandedly brought our affinity for men's vests back to life. In a scene where he confides in Lady Danbury, he dons a paisley brocade vest against one of his signature black button-downs.
9/40
Queen Charlotte's Yellow Ball Gown
What, you thought we forgot Queen Charlotte? One of our favorite looks of hers is the yellow taffeta and silver brocade bustled petticoat she wore while attending an event with the Duke of Hastings and Daphne Bridgerton.
10/40
Daphne Bridgerton's First Ball Look
After being dubbed the "diamond of the season," Daphne quite literally dressed in diamonds for her first ball. She looked flawless in a empire waist, tulle, diamond-embroidered cap-sleeve gown.
11/40
Daphne and Eloise Bridgerton's Day Dresses
While receiving callers, Daphne and Eloise wore powder blue and mint green empire waist gowns, respectfully. According to the show's costume designer, Ellen Mirojnick, she deliberately kept the Bridgerton women in soft pastels and muted hues to signify their prominence in society.
12/40
Penelope Featherington's Garden Party Look
While usually decked out in bright dresses, Penelope opted for a more demure look in a blush floral dress with chiffon puffed cap sleeves and lace detailing.
13/40
Eloise Bridgerton's Opera Dress
While chatting with the Queen at the opera, we're granted an Eloise ensemble that strays from her normal style. The younger sister dons a yellow floral appliqué scoop neck gown with a silver taffeta shawl and white dinner gloves.
14/40
Daphne Bridgerton's Black-Accented Look
Daphne does it again. The black oversized velvet bow in her hair, which perfectly compliments her matching sash at her waist, is *chef's kiss.* The diamond necklace from the prince doesn't hurt either.
15/40
Lady Danbury's Dinner Party Attire
Lady Danbury sticks to a mostly red and purple wardrobe throughout the series. One of our all-time favorite looks of hers is the velvet burgundy gown and taffeta shawl she wore to the Bridgertons for dinner.
16/40
Siena Rosso's Stage Costume
In one of the most underrated sartorial moments in the series, Siena Rosso dons a blush off-the-shoulder chiffon gown for an on-stage performance. This wardrobe choice comes after she mocks a debutante's frock in the same color, and claims she could never wear it because of her station in life.
17/40
Marina Thompson's Casual Day Dress
We couldn't stop cringing as the Featheringtons attempted to marry Marina Thompson off. Her floral blush dress on the other hand? Not cringeworthy in the slightest. We'd wear this dress today!
18/40
Queen Charlotte's Maroon and Teal Look
The wig. The jewel-toned dress. The gold lace sleeves. Queen Charlotte was anything but subtle and it works for her.
19/40
Cressida Cowper's Peach Gown
We know we're supposed to despise Cressida, but do we have to hate her over-the-top wardrobe?! The heiress's embroidered apricot dress was made even better by her ornate pearl headpiece.
20/40
Penelope Featherington's Strolling Dress
Ever the maximalist, Penelope wore this eccentric outfit for an afternoon stroll. Please note the mustard silk shawl, feather headpiece, and pink polka dot sheer gloves.
21/40
The Duke and Daphne Bridgerton's Ball Looks
We honestly can't decide which outfit we like more—the Duke's gold brocade waistcoat or Daphne's satin lilac gown fitted with a fabric rose at the bodice. Don't make us pick!
22/40
Marina Thompson's Out-of-Town Look
The reason for Marina Thompson and Portia Featherington's trip outside of Mayfair may not have been cheerful, but Marina's pink velvet hooded cape and blush empire waist dress certainly are.
23/40
Daphne Bridgerton's Horseback Riding Getup
While riding on horseback through the park with her eldest brother, Daphne appeared in what we can only describe as Regency era athleisure wear. The Lady rode side saddle in a plum petticoat with a high collar and a netted fascinator.
24/40
Lady Trowbridge's Cream and Black Look
Lady Trowbridge may not have had a major role in the show, but her wardrobe still made a mark. The widow, who held a ball at her late-husband's home, stood out in an elaborate off-the-shoulder cream gown with black gloves and a feathered fascinator.
25/40
Eloise and Francesca Bridgerton's Day Dresses
In Regency era London, all society ladies were fitted in empire waist gowns. Daphne's younger sisters caught our attention with their chiffon ruffled collar, known during the era as a chemisette.
26/40
Daphne Bridgerton's Date Look
Daphne joined the Duke in one of her signature empire waist dresses. While the tulle design was beautiful, it was her turquoise velvet shawl that made the outfit pop.
27/40
Queen Charlotte's Pink and Gold Gown
We love everything about Queen Charlotte's gold and pink corset petticoat in this luncheon scene, from the rose pins tucked in her wig to the crystal-embroidered bodice.
28/40
Daphne Bridgerton's Dressing Gown
Yes, even when Daphne's getting ready for a social event she looks fashionable. Where can we find her steel blue chinoiserie silk robe in our size?
29/40
Daphne Bridgerton's Romantic Ball Gown
The dazzling debutante wore an off-white cap sleeve gown with floral embroidery and crystal details to one of the many balls she attended. A Grecian tiara and diamond necklace completed the look.
30/40
Colin Bridgerton's Understated Ball Look
The youngest Bridgerton brother didn't get much screen time at the beginning of the season, but his silver brocade vest and white silk bowtie certainly caught our eye.
31/40
Daphne Bridgerton's Wedding Dress
While her wedding was thrown together rather hastily, Daphne's dress did not disappoint. Sticking to the style of the era, she wore an empire waist and cap sleeve silhouette with floral embroidery and a lace train.
32/40
Queen Charlotte's Black Wig
Viewers grew used to Queen Charlotte's daring wigs, but the boldest of them all was the one she wore to Daphne's wedding— a stark black wig adorned with diamond pins, red ribbons, and a tiara.
33/40
Marina Thompson's Pink and Red Dress
While concealing her pregnancy, Marina Thompson made a strong case for empire-waisted maternity wear. She stunned in this pink and red floral gown.
34/40
Daphne Bridgerton's Post-Wedding Dress
After getting married, Daphne's life becomes more subdued when she trades the city for the country. Her style follows suit with simpler dresses, like this periwinkle tulle design.
35/40
Daphne Bridgerton's Gardening Look
What does one wear to pick lavender in their castle's garden? Daphne opted for a very on-the-nose white lace gown with a purple flower pattern on the bodice.
36/40
Penelope Featherington's Pastel Yellow Dress
While we've seen Penelope in far more elaborate looks, there's a certain elegance to her light yellow brocade fabric dress. In true Pen fashion, she paired it with a stunning statement necklace.
37/40
Daphne Bridgerton's Garden Party Dress
Straying slightly from her traditional blue color scheme, Daphne attended a garden party in a stunning lavender floral dress. She topped it off with a teal velvet shawl that complimented the look surprisingly well.
38/40
Lady Featherington's Dressing Gown
In typical Portia fashion, she wears a chartreuse marabou feather dressing gown that's anything but understated. Still, we truly could not love it more, from the ruffled V-neck to the satin sash.
39/40
Daphne Bridgerton's Dinner Party Look
What Daphne wears to dinner looks like a piece from a haute couture collection. The powder blue and white frock is finished with a light blue velvet sash and floral appliqué on the shoulders.
40/40
Daphne Bridgerton's Baby Blue Dress
This baby blue dress, which features an embroidered tulle overlay and lace illusion sleeves, is one of our all-time favorite looks from the series. Don't fight us on this one.