The Fall 2021 Shoe Trends to Slide Into Now
Good news: Practical yet fabulous cold-weather footwear never goes out of style.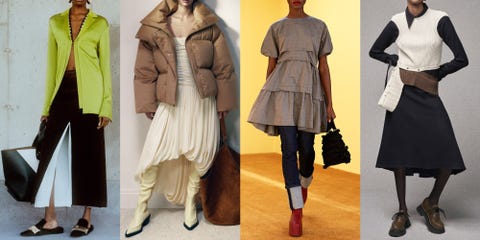 If one fashion category served as an indicator of the current mood about getting dressed, it would be footwear. Like many things during this year at home, shoes were scrutinized and, eventually, edited out our lives. Pairs that were borderline uncomfortable or unworn for months were banished to the closet or donated in favor of house shoes and easy-to-slip-on flats for the times we left the house. While many of us have embraced a freeing life empty of high heels with no turning back, it doesn't mean they are going away for good. Designers recognized this for their fall collections, but cleverly offered consumers very strong go-to options we've seen before—like lower-heel slouchy boots, platformed boots, and lug-soled oxfords for those who long for a little height. They also took into our at-home dressing into consideration with fuzzy slipper styles that have an indoor/outdoor appeal. So, whether you need a refresh of one of these reliable trends or want to double down on flats in lieu of stilettos, swipe through to see how we'll be stepping into fall.
This content is created and maintained by a third party, and imported onto this page to help users provide their email addresses. You may be able to find more information about this and similar content at piano.io