The Jewelry Trends of Fall 2021 to Prepare For
The mood-booster you need.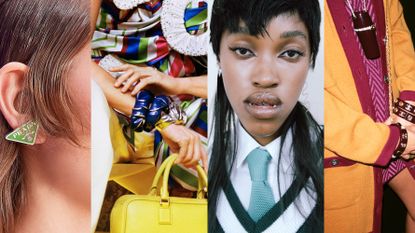 (Image credit: Courtesy of Prada/Loewe/Thebe Magugu/Prada)
When Tom Ford got to work on his new Fall collection, he had a few characteristics in mind. "Fierce, powerful, and badass are words that resonated me this season," he told Daily Front Row. "I mean, who doesn't want to be a badass? Especially after being trapped at home for a year." And being trapped at home is, indeed, all that's been on anyone's mind. As we swapped our fabulous dresses and trousers for sweats and thick socks, our jewelry stayed locked away. This was reflected in the Fall collections, where jewelry wasn't flaunted ostentatiously as it has been in seasons past.
While the pandemic will undoubtedly have a lasting effect on the fashion industry for the next few seasons (you can retire your stilettos until 2022), designers brought life back into the few jewelry bits that were shown in the collections. Earrings that you can party the night away in and small eclectic charms were some of the styles that graced the runway. All came with an implicit PSA: Don't underestimate the power of a good jewel. Whether small and minimal, or XL and art deco, a bit of glamour will ward off lackluster energy.
1/24
1. Charmed
Charms aren't reserved for your wrist. This season, we saw iterations in the form of rings and necklaces. Try one of these eclectic yet subtle styles—you'll be charmed.
Marine Serre
2/24
3/24
4/24
4. The M Jewelers The Gothic Anklet
What's more charming than a personalized anklet with your name or that of a loved one?
5/24
5. Serendipitous Project Ariel Kellogg x Serendipitous Project 'Island Gem' Charm Necklace
When two jewelry designers collab, the results are amazing—as proven with this charm necklace from Serendipitous Project and Ariel Kellogg.
6/24
6. Gucci GG Lion Head & Beaded Ring
This Gucci ring will jingle and jangle with every flick of the wrist, and people won't be able to keep their eyes off it.
7/24
7. Party Perfect
Make others take a second look in these show-stopping styles. This style from Tom Ford is made from a mix of mirrors, gold, and broken glass.

Tom Ford
8/24
9/24
9. Party Perfect
Alessandra Rich
10/24
10. Area Multicolor Crystal Fringe Drop Earrings
You won't need much else with this brilliant pair from Area. Style with an LBD and voilà—you're good to go.
11/24
11. We Dream in Colour Gold Moon Blossom Earrings
For an ethereal take on this trend, try this gold leaf style that's inspired by cascading foliage.
12/24
12. Loren Hope Begonia Statement Earrings
These rich and vibrant stones make for a standout look no matter the color of the outfit you pair it with.
13/24
13. Animal Crossing
A piece you never thought you needed: animal motif jewelry. These light-hearted styles will surely lighten the mood.
Acne Studios
14/24
14. Animal Crossing
Coach
15/24
15. Animal Crossing
Chopova Leowena
16/24
16. SVNR Ningbo Earring
This fish earring (sold as a single or a pair) is a statement that's classic enough to wear casually or for cocktails.
17/24
17. Don't Let Disco Bad Bunny (rosa) bracelet
Animals are a common accent bead in Don't Let Disco's array of whimsical beaded offerings. We love this mix of hearts and bunnies!
18/24
18. Jennifer Behr Brielle Earrings
These butterfly earrings are so timeless, you'll wear them long beyond this fall.
19/24
19. Flying Solo
Sometimes, less is more. A single earring will add an edgy elegance to your look.
Thebe Magugu
20/24
21/24
22/24
22. Johnny Nelson Crucifix Single Earring
This single earring from Johnny Nelson is available in gold, sterling silver, and white gold.
23/24
23. Lee Brevard Medium Ankh Single Earring
A two-tone earring from Lee Brevard that won't break the bank.
24/24
24.Maria Tash 6.5mm 18-karat Gold Diamond Hoop Earring
This spiked style from Maria Tash is surprisingly subtle.
Katie Attardo is the Accessories Editor at Marie Claire, covering all things fashion and jewelry-related.