The 16 Best High-Waisted Bikinis in 2023, According to Swimwear Experts and Editors
Retro, but not your grandmother's go-to bikini.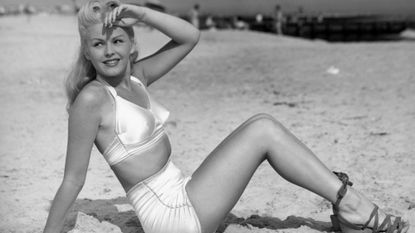 (Image credit: Getty)
Marie Claire Newsletter
Celebrity news, beauty, fashion advice, and fascinating features, delivered straight to your inbox!
Thank you for signing up to Marie Claire. You will receive a verification email shortly.
There was a problem. Please refresh the page and try again.
For the last few years, the high-waisted trend has dominated everyday women's fashion, knocking the low-rise cuts of the early aughts off of their precarious pedestal. And while one tends to envision high-waisted jeans first and foremost when thinking about this trend, as summer rolls around, another popular style dominates the style-minded psyche: the high-waisted bikini.
This retro cut originated in the 1940s—specifically 1946—when French fashion designer Jacques Heim introduced a revolutionary two-piece swim piece that featured a bra-like top paired with a bottom that covered the wearer's belly button. Meanwhile, competitor Louis Réard came out with a design even more revealing: a two-piece that he called the bikini, whose bottoms were composed of four triangles united by a string, revealing the entirety of the abdomen. The two designs competed back then, but today the high-waisted bikini and the string bikini are no longer the diametrically opposed competitors they once were.
"I'm seeing a lot of the brands who usually only do micro bikinis who are now doing high-waisted as well," stylist Chenelle Delgadillo explains. "You can also mix and match, so you can get a micro bikini or any other sort of bikini and also get the high-waisted bottoms, so you have two in one swimsuit."
Furthermore, she points out that high-waisted bikinis are no longer considered a modest or matronly option.
"I feel sometimes people associate high-waisted bikinis and one-pieces with trying to be body conscious, but I don't think that's true," Delgadillo continues. "I think it's just about having a different style and looking cute and maybe going more of a fashion route. I mean, it could be you feel more comfortable, but I think it can go either way."
This is especially the case now that there are so many cuts and styles of swimsuit available. Chenelle's sister and fellow celebrity stylist, Chloe, agrees, "I feel like when we were younger, there was not a lot of swimwear places that you could shop, but now the world is your oyster. There are so many options"
To unpack the myriad types of high-waisted bikinis and better understand how to find the best option for you, I spoke with Chloe and Chenelle about the best suits—and best practices—for indulging in this popular, comfortable style.
What to Look For in a High-Waisted Bikini
Chloe acknowledges the difficulty in finding a swimsuit that fits comfortably, admitting, "To me, it's really hard for me to fall in love with a swimsuit, and if I do, I'm wearing it all summer long." She advises, "I think just doing your research and finding out what other people are wearing, or just by trial and error and figuring out what's right for you."
Chenelle agrees, pointing out that fabric is the most important factor to take into account when finding a comfortable suit. Fabrics like spandex, elastane, and lycra guarantee a stretchy, durable fit, particularly when they're thin and double-lined, and therefore won't disintegrate after just a season.
Chloe and Chenelle also add that when finding a high-waisted bikini, it's important to ensure that the suit doesn't cut into your skin—particularly your stomach—in a way that results in discomfort, tightness, and chafing. To combat these issues, Chenelle swears by seamless swimsuits, which reducing the sensation of "feeling cut in" in the middle of your stomach.
Both sisters also advise that bikini wearers exfoliate regularly and refrain from shaving right before putting on a bathing suit, explaining that "having moisturized skin" (they swear by Olay's hyaluronic acid body wash and lotion) is key to enjoying time in a bikini without suffering from irritation as a result.
Finally, Chloe and Chenelle say that if chafing is an especially big concern, wearers can size up "to avoid feeling like it's digging into your skin." And if you're not sure which size is going to fit most comfortably, they advise trying out more than one—just to be sure.
The Best High-Waisted Bikinis
While taking care of your skin, shopping for the right size, and opting for a suit made from high-quality material are universal elements of finding the best high-waisted swimsuit, there is no such thing as a one-size-fits all, best-all-time suit. Different wearers prefer different designs, cuts, and levels of coverage, each of which is a matter of individual tastes and comfort levels. Read on for premium, expert- and editor-approved high-waisted bikinis, organized by cut.
Best Full Coverage High-Waisted Bikinis
Whether you're spending your beach day with your family, going on a business trip, or you simply dislike showing that much skin, you're likely to opt for a full coverage bikini at some point or another. Chenelle defines this cut as one that "covers as much as possible." Comfortable, often sexy, and perfect for swimming and beach sports, everyone should have one of these in their swimsuit arsenal.
Best Medium Coverage High-Waisted Bikinis
Chenelle defines this style as one that "shows a little cheek," but not very much. It's the perfect in-between style for the swim enthusiast that wants to show off without revealing too much skin. Her sister, Chloe, loves the style, admitting, "I think high-waisted with a little cheek out is cute, to show a little skin"—and our editors agree.
Best Low Coverage High-Waisted Bikinis
"I feel more comfortable when I have a thong or no coverage bikini bottoms," says Chenelle. She explains that while the style, which is reminiscent of '80s swimwear, has regained attention in recent years, its popularity transcends trends and is more about what wearers feel most comfortable in.
Meet the Experts
Chloe and Chenelle Delgadillo
Chloe and Chenelle Delgadillo are celebrity stylists who have worked with the likes of SZA, Rosalia, Willow Smith, Olivia Rodrigo, and Addison Rae. They've also worked with a number of popular brands, including Olay, and are currently based in Los Angeles.
Celebrity news, beauty, fashion advice, and fascinating features, delivered straight to your inbox!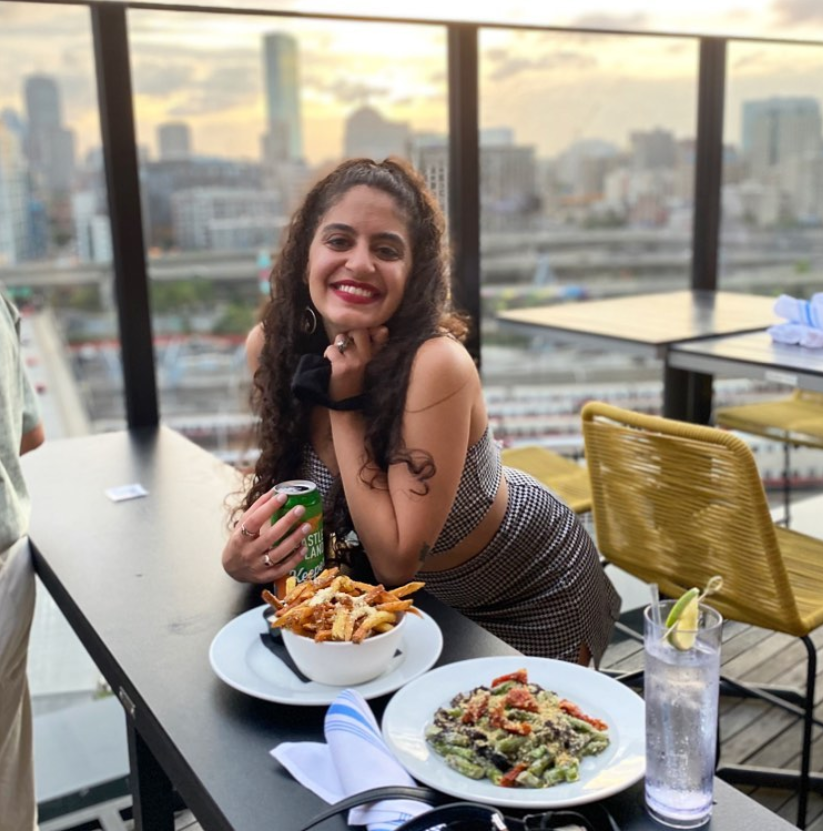 Gabrielle Ulubay is an E-Commerce Writer at Marie Claire and writes about all things beauty, sexual wellness, and fashion. She's also written about sex, gender, and politics for publications like The New York Times, Bustle, and HuffPost Personal since 2018. She has worked extensively in the e-commerce and sales spaces since 2020, including two years at Drizly, where she developed an expertise in finding the best, highest quality goods and experiences money can buy. As a film school graduate, she loves all things media and can be found making art when she's not busy writing.