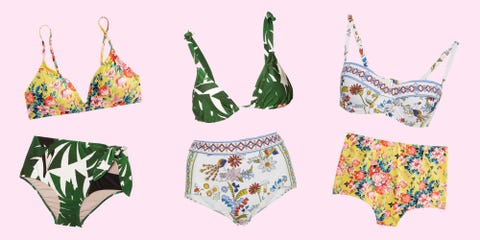 Take it from your elders: The high-waisted silhouettes of the '50s and '60s possess the superpower to enhance your curves and elongate your legs. So if you want to look sexy poolside—but with a bit more coverage than an itsy bitsy bikini offers—this is your comfortable (and stylish!) middle ground. Shop the best high-waisted swimsuits of this season, below, before your next beach vacation.
Seea top, $80
Seea bottom, $85

The pastel blue stripes and pale yellow ruffles on this bikini give it a sweet and feminine vibe. It's perfect for chilling in by the pool or for water-sport activities like paddle boarding. If you're going with the first option, accessorize your two piece with a pair of white shades like this one by Ray-Ban and woven raffia slides.
As a small-chested gal, I gravitate towards bikini tops with light padding and underwire, like this balconette style, which lifts what you have to create the illusion of a fuller bust. Meanwhile, the high-waisted bottom draws the eyes to the smallest part of your waist to accentuate your figure.
Tory Burch top, $148
Tory Burch bottom, $138
Aerie offers trendy and affordable swimsuits, so of course its high-waisted bikini options are seemingly endless. You can also mix and match any of their pieces for a completely new look. This navy top and velvet bikini bottom, for example, aren't part of the same set (could have fooled us, I know), but they pair perfectly together.
Aerie top, $18
Aerie bottom, $18
You can spot a Lisa Marie Fernandez original from a mile away, thanks to the button details (so cute!). This particular whimsical style, made from sculpting stretch fabric, is comfortable and flattering. Pair it with the brand's yellow skirt as a cover up and go from beach to bar with ease.
Lisa Marie Fernandez, $395
If you're going to buy another black bikini, find one that's not boring. The cutouts on the top and bottom of this style give it edginess and sex appeal. Plus, we're pretty positive you can easily mix and match both pieces with other bikinis in your wardrobe.
Mikoh top, $112
Mikoh bottom, $112
Kourtney Kardashian owns this swimsuit, so that means I should definitely buy it, right? The beauty of this crochet bikini top is that it can be worn alone with a maxi skirt or even denim shorts, effectively making it appropriate for swimming and then dinner by the boardwalk.
She Made Me top, $175
She Made Me bottom, $165
This foliage-print bikini is supposed to reflect designer Adriana Degreas' native home of Brazil, and the vibrant green colors do remind me of a tropical rainforest. But let me point out my favorite part: The high-rise briefs tie at the left side to form a sexy cutout.
Adriana Degreas, $365
This ruffle swimsuit from For Love & Lemons, carries hints of elegance and romance—perfect for ladies who love lingerie and want to channel those same sexy energies at the beach. And we're talking sexy: The beige lining gives this bikini an almost completely sheer, naked look.

For Love & Lemons top, $106
For Love & Lemons bottom, $106