Hermès in the Making
Craft isn't just a buzzword for the French fashion house.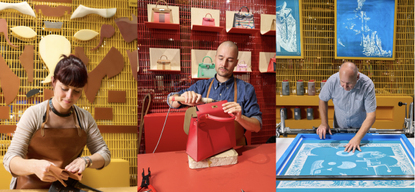 (Image credit: Matthew Gibson)
Of all the things commuters and Amtrak passengers might have expected to encounter in Chicago's Union Station last week, it's unlikely that a French leather artisan hand stitching an Hermès Birkin bag was one of them. Sebastien Fraisse was one of 12 Hermès artisans in town to showcase his craft as part of Hermès in the Making, a grand, traveling exhibition that brings the house's metiers to the public in the interest of sharing the human touch and exceptional skill that go into its products.
"You learn the technique that we've had for centuries, from more than 400 years ago," said Fraisse, who works in Hermes Beverly Hills store and spent 18 months training to making Hermes bags. "I will try to save this from generation to generation, to transit this passion and patience also, because it's a work of commitment."
Over the course of the five-day exhibition, Union Station's 20,000-square-foot Great Hall was set up with stations featuring Hermès' star craftspeople hand-panting porcelain, stitching saddles, cutting and assembling leather gloves, repairing handbags, watchmaking and jewelry-making. Demonstrating how Hermes' famous silk scarves, made entirely in Lyon, France, are printed was Kamel Hamadou, one of the house's master artisans who's been with Hermès for more than 30 years. The print in question was a geometric pattern featuring a horse that required 14 different colors and thus 14 different frames over which the canvas is stretched and each color (Hermes has a selection of 75,000 shades) is applied separately. "The first carré was born in Lyon in 1937 and it's been 86 years that all the Hermès carré and ties come from our workshop in Lyon," Hamadou told the crowd gathered via interpreter. "There are eight workshops because we monitor every process from the thread to the finished carré."
The concept for Hermès in the Making began in 2011 as Hermès' annual theme, which guides all of their collections for the year. The idea of bringing their craftspeople to the public was so successful, they decided to continue it, rebranding it Hermes in the Making in 2021. The exhibition has traveled to Copehagen, Turin, Italy, Troy, Michigan, Singapore, Kyoto and Lille, France. Later this month it will go to Bangkok.
"There is something universal in showing human beings who are behind the product," said Guillaume de Seynes, Hermès' Executive Vice President Manufacturing Division & Equity Investments. "We are in the world of Apple iPhones and anonymous products. You don't know where they are coming from, or vaguely you know." De Seynes recalled a story of a man who spent several hours asking one of the leather artisans about her process, which she showed him step by step. "He said, 'Yes, but in the factory, how do you do it?'" said de Seynes. "He was imagining that she was just doing it for the show and that the reality was different. And she said, 'No, but I do it like this every day.'"
The concept of craft has increasingly become a buzzword invoked by luxury brand marketing speak to describe and justify the prices of its products. But "Savoir-faire," as it's called at Hermes, has been key to its story and its real deal manufacturing process since the brand's inception in 1837. Independent and family-owned, Hermès has 16 métiers and has gone to great lengths to keep the majority of its production in France, where it operates 52 workshops and production sites. The group employs 20,600 people worldwide, including 12,900 in France, of which nearly 7,000 are craftsmen. Those numbers increase every year. Since 2008, the Fondation d'entreprise Hermès has operated an 18-month training program dedicated to new artisans across its metiers.
"We have our own school, so we can give a diploma, which is recognized by the French Minister of Education," said de Seynes. "We have a lot of candidates." De Seynes noticed a marked increase in interest from younger generations about five or six years ago. "At some stage, the mind has changed in France," he said. "What is interesting, and it's true also for jewelry or for other activities, young people are really choosing those jobs. But it's not just to find a job and eat. It's a personal choice. They want to do something with their hands. It's more accepted by the family, by the parents."
Marie Claire email subscribers get intel on fashion and beauty trends, hot-off-the-press celebrity news, and more. Sign up here.