The Alicia Florrick Guide to Looking Good in an Uptight Office
Tailoring is everything.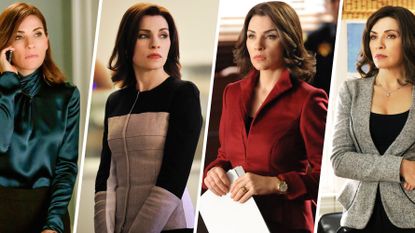 (Image credit: Marie Claire)
A law firm, like any corporate workplace, isn't exactly the land of the sartorially free. So imagine our surprise that after six seasons, The Good Wife's Alicia Florrick has become one of our office style icons.
The facts: She's polished, feminine, and utterly powerful. Not to mention she's proof that dressing for a high-strung office isn't a death sentence for personal style—it just presents more of a challenge.
To help us learn the ins and outs of corporate dressing, we looked to none other than Daniel Lawson, costume designer of The Good Wife and 35•DL. He just gets it.
"You don't want to have to think about your outfits all the time," says Lawson. "You want to be able to step into your closet, grab A, B, and C and have that be it." Preach!
Follow these rules for a Florrick-approved look:
1. Set aside some money for alterations.
Everyone gets this advice, but few people follow it. No matter how well a garment looks on you initially, alterations make all the difference. Buy three things that will be tailored to fit you perfectly, instead of five that won't. Lawson suggests saving somewhere between 10-to-20% of your budget for tailoring alone.
2. Be comfortable in what you're wearing.
You never see Florrick adjusting her skirt or fussing with her blouse. When shopping for office clothes, pay close attention to how something wears. "If you don't have an immediate positive reaction to it, your misgivings about it will just continue to grow after you purchase it," says Lawson. "You're just going to feel awkward or uncomfortable when you put it on."
3. Don't underestimate the power of a skirt.
It's the best way to assert that you don't have to dress like a man to come off strong in a corporate environment. "On the show, I want my leading ladies to look as feminine as they are powerful and strong," he explains. "I think a skirt, one that hits just below the knees, gives you an advantage in the corporate world, because you have a to have a certain confidence to wear it."
4. Don't wear a dress without sleeves.
It can make you more vulnerable in a high-stakes environment. They should at least have a cap or short sleeve. And because it's always worth repeating, never show too much skin. Period.
5. Have a central column of color.
Anyone who watches the show knows that Florrick loves herself a monochrome look—and it's always intentional on Lawson's part. "It happens a lot when one of my characters needs to be particularly strong in a scene," he explains. "I think it makes a strong statement—you're solid, something to be dealt with."
6. Don't overaccessorize.
In the corporate world, understated is always better. "Wear one strong piece that's center stage and let all the other elements support that," Lawson advises. In other words, if you're wearing a large ring, don't wear a bracelet on that hand. If you've got a strong earring game, leave the necklaces at home.
7. Wear high heels as much as possible.
They're practically mandatory! In an uptight environment, heels improve your posture, give you height, and elongate the body to improve the proportions of your clothes. Word to the wise: Don't shortchange yourself when shoe shopping. Invest in a couple pairs that are miraculously comfy. "If you try on a shoe and it's slightly uncomfortable, it's going to be awful when you wear it all day long," says Lawson. "Don't fool yourself—no matter how beautiful or on sale they are, if they don't feel good, you're never going to wear them."
8. Look to feminine fabrics.
"Sometimes women feel like they have to wear a gray flannel suit so they don't standout from the boys, but that should never be the case," says Lawson. Ladylike fabrics will help set you apart, so don't shy away from subtle prints and feminine details you wouldn't find on a man's suit.
9. Always wear proper undergarments.
Again, we know how you feel. It's tough to make the investment because you feel like no one's going to see it. But in reality, that stretched-out T-shirt bra is doing you no favors. The proper undergarments will make everything you wear look better. "They should help shape the parts of your body you'd like to show off," he says. "That way your outer garments will always fall in the right place."
10. Wear more color.
Your spectrum shouldn't range from black to charcoal. Make like Florrick and inject your wardrobe with red, navy, and purple. "Color in the corporate world is something that we've been most successful with on the show," says Lawson. "The colors that we use are always appropriate, never too bright or garish. They help you stand out and add another layer of femininity to a look."
11. Don't carry just any old bag.
It doesn't have to be expensive, but it does have to be quality-made and in good shape. Lawson's corporate tip: "It should be big enough to carry legal documents," he laughs. "I learned that very quickly the first time I tried to use a trendy little purse on the show."
12. Don't forget about the cell that's glued to your hand.
It's not going to hold itself and you have to have on you at all times. Might as well make it look good with a polished, pretty case.
You should also check out:
Stacy London's 7 Rules for Awesome Office Style
What to Wear to Work for Every Occasion


Celebrity news, beauty, fashion advice, and fascinating features, delivered straight to your inbox!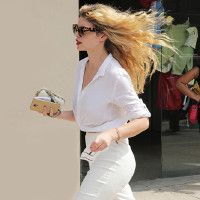 Lauren is the former beauty editor at Marie Claire. She love to while away the hours at coffee shops, hunt for vintage clothes, and bask in the rough-and-tumble beauty of NYC. She firmly believes that solitude can be a luxury if you've got the right soundtrack—that being the Rolling Stones, of course.