Kim Kardashian Taught Me How to Go Braless
And it was worth *all* the effort.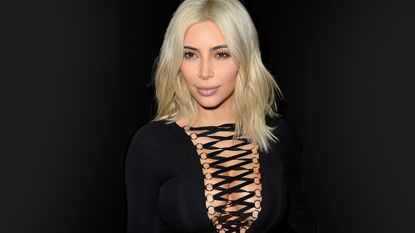 (Image credit: Getty Images)
Pardon my candor, but because I have a relatively ample bosom of my own, I've spent many months perpetually bewildered by Kim Kardashian's ability to go braless. When I do so myself, I'm always 1) extremely uncomfortable and 2) for lack of a better word, wilting.
Yes, in theory you could chalk up her eye-popping cleavage to Grade-A genetics, masterful tailoring, and strategic contouring, but still, I decided to set out on a journey to discover her proverbial pixie dust.
Armed with double-stick tape, a huge archive of Kim K. pics, and expert tips from The Bra Book's Jene Luciani, I test-drove three of Kardashian's signature looks—braless.
Based on my examination of the pretty enviable ultra-plunge above, Kim is working two tools: nipple covers and double-sided tape. As for the former, Luciani's advice is to go with the non-adhesive silicone style as they stay in place using body heat alone, don't hurt when you take them off, and can be re-used. For a night out wearing a '70s-style plunging jumpsuit, I opted for the Hollywood Fashion Secrets Cover Up pasties ($12.99), which were super easy to use and stayed put the entire night night. The double-stick tape was another story, as it took me 20 minutes to apply to my chest even with these instructions from Luciani:
Step 1: While leaning over a bit to give the boobs a lift, start with a strip of tape about 12-16 inches long, depending on how big you are or where your dress is cut. Then, tape from one side of your boobs, with the end pointing toward armpit, under the boobs pulling them together a bit, then up the other side of boobs with the end pointing toward the other armpit.


Step 2: Standing up straight, take a strip of tape and place it horizontally across boobs while pulling them together for cleavage and where it covers the nipples, being sure each end touches the previous tape strip on the side, near armpits.


Step 3: A third strip can be placed above the second for reinforcement, pulling the boobs together again.
While my chest looked better in a halter than ever before, I wasn't exaaaactly comfortable. Still, it was totally worth the effort on aesthetics alone. Though I'd probably opt for a more supportive look the next time I go dancing...
I've been eyeing this look for a while, though I've been way too shy to wear it out. Plus, I was particularly wary of this look because, as Luciani put it, it's difficult to pull off if you're not #blessed with super-round breasts like Kim's.
So how do us normal girls pull it off? Adhesive breast lift tape. Essentially, it's shaped to the breast and you use it by placing it underneath the breast, then pulling it up to stick and lift as a bra would.
For drinks with friends, I attempted to wear my trusty black shawl-collar blazer buttoned halfway, sans anything underneath. First, I used Hollywood Breast Lift Tape ($9.99). While tricky at first, I found it eventually worked as promised. Then, I used double-stick tape to hold my blazer in place. I loved how everything looked, and felt relatively comfortable, but knew full well it wouldn't hold up for a super-long night. Don't test the laws of physics, people.
Spandex, being the generous fabric that it is, felt the least intimidating out of all the looks. However, it does present a bit of a problem if it's thinner, as it could potentially expose what you're doing for support underneath (i.e. the ridges of nipple covers). Because Kim Kardashian I am not, I opted for a solid black leotard that had the same shape up top as Kim's look. I bought it in a size smaller than I'd usually wear, too—you know, for extra support—and wore it with the Hollywood Fashion nipple covers and nothing else. Fortunately, because it's a sturdier, more supportive silhouette, I was able to pull it off beneath a leather jacket while running errands. Of all three looks, this was by far the most comfortable and something I plan on doing more regularly as the temps continue to rise.
If Kim can do it, we can do it. We just need a small arsenal of tricks up our sleeves. Or covering our nipples.
You should also check out:
10 Kim Kardashian Style Hacks That'll Change Your Fashion Game
Tracking Kim Kardashian's Total Hair Overhaul
Celebrity news, beauty, fashion advice, and fascinating features, delivered straight to your inbox!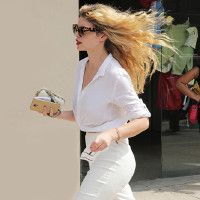 Lauren is the former beauty editor at Marie Claire. She love to while away the hours at coffee shops, hunt for vintage clothes, and bask in the rough-and-tumble beauty of NYC. She firmly believes that solitude can be a luxury if you've got the right soundtrack—that being the Rolling Stones, of course.