Why It's Called "The Kooples," and 8 Other Things to Know About Fashion's New It Brand
The designer trio (they're brothers!) give Nina Garcia the inside scoop.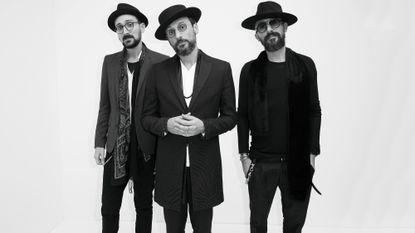 (Image credit: Courtesy of the brand)
Nina Garcia: What's the meaning behind the name?
Alexandre Elicha: In French, couples sounds like "kooples." We wanted a place you could shop with your boyfriend.
Raphaël Elicha: We really believe that somebody wearing The Kooples will not stay single for long. We dress them to help them find the one who is going to undress them.
NG: Does fashion run in your family?
AE: Our parents founded Comptoir des Cotonniers in 1995 and worked with Jean Paul Gaultier, which had a licensing partnership with the Jackson family. We used to host them for dinner and sit around and play guitar with all of the siblings.
Laurent Elicha: We launched The Kooples in 2008 because the three of us wanted to create something together.
AE: I work on menswear, Laurent does womenswear, and Raphaël handles the brand image.
NG: How do you find the couples featured in your ad campaigns?
AE: At first, it was scouting on the street, but now we also get submissions and look on Instagram.
RE: Maybe they've been together 20 years, maybe just two hours. They are so cool and have such crazy stories that we do videos as well.
NG: Are you big movie fans?
AE: We love cinema and telling stories, so we approach The Kooples in the same way.
RE: We did shoot a one-minute movie a year ago and developed a Kooples app—a social network where you can add only one person: the one you love.
NG: What inspires you?
AE: Travel. For spring, we were inspired by Asia, from India to Japan.
LE: When you start a collection, it's better to take a plane.
RE: Because style doesn't come from a catwalk, brand, or magazine; it comes from culture. And culture is in the street.
NG: Is there a recurring theme in your designs?
AE: Skulls are special for us. When we were younger, we were punk skateboarders and the skull signified this notion of "too fast to live, too young to die." With age we became more spiritual, so today it represents to us the idea of filling your life with love and goodness.
NG: What's it like working with family every day?
AE: We always have, so we don't know what it's like to work with strangers. We even live in the same building! Last summer, we rented a house in St.-Tropez with our wives and children. Maybe it's something we connected to as kids, seeing our parents share business ideas.
LE: You can say anything at any moment.
RE: It can be hard, because we laugh too much!
NG: What are your passions outside of work?
LE: I draw a lot.
AE: Muay Thai boxing. I train in Thailand. Work is stressful, and it allows you to leave everything behind.
RE: Portrait photography—my favorite I've ever taken is of my daughter.
NG: Any plans for Valentine's Day?
AE: That's every day for us. We are French!
LE: Actually, we're working on a Kooples Kama Sutra project.
RE: After all, Paris is the city of love.
This article appears in the February issue of Marie Claire, on newsstands now.
Celebrity news, beauty, fashion advice, and fascinating features, delivered straight to your inbox!