Stylist Secrets: Anna Bingemann Talks Baubles, Wardrobe Basics, and Styling at Sea
One of Hollywood's biggest celebrity stylists gives me the scoop on creating the ultimate red carpet wardrobe.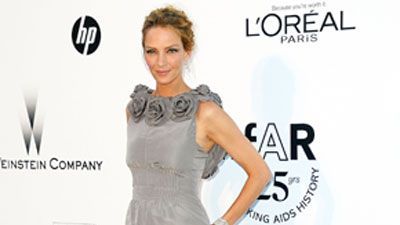 (Image credit: Dominique Charriau/WireImage)
Recently listed as one of The Hollywood Reporter's top five names on their list of Hollywood's most powerful stylists, Australian Anna Bingemann is a fashionable force to be reckoned with. Remember Gwyneth Paltrow's blush-toned Zac Posen gown at the 2007 Oscars? Anna made it happen. How about the incredible couture looks Uma Thurman rocked at Cannes last week? Bingo—Bingemann's doing. On a rainy Wednesday afternoon, I sat down with the stylist to discuss how she gets her celeb clientele looking their red-carpet best. So what did I learn?
1. Sometimes, boats can substitute for proper dressing rooms. While dressing her clients for last week's Cannes Film Festival, Anna stayed on a friend's yacht—meaning that she had to turn her floating accommodations into a space to work her magic. "That's what you learn when you work with celebrities!" she reasoned. "You go with what you've got, you adapt, and you find a way to make it all work."
2. It's all about a great piece of outerwear. "I'm a jacket girl," Bingemann admits. Her daily uniform usually consists of basic tees or tanks from American Apparel and cashmere sweaters from Club Monaco ("everything's priced so well!") elevated with statement jackets from the likes of Balenciaga or Yves Saint Laurent. "I just went to a party in Cannes wearing satin shorts, and old T-shirt…but then threw on a great Balenciaga jacket and it all worked."
3. Clothing trends come and go, but jewelry and shoes stand the test of time. "I still have Prada shoes from 10 years ago that I wear all the time," Bingemann explains. "Accessories are just more lasting—period."
4. Some of her personal favorite red-carpet moments happened while her clients were pregnant. "Gwyneth in Balenciaga [at the 2006 Golden Globe Awards] was just gorgeous … she was glowing. And Naomi in Gucci [at the 2007 Globes] … she'd just announced she was pregnant. It was this incredible strapless blue dress with these bronze embellishments, and we actually had it made from scratch."
5. Her favorite trends for Fall 2011? Earth tones and futuristic accents. "I love all the rustic oranges we saw on the runways, and I loved seeing black mixed with brown," Bingemann explained. "And Balenciaga did these lace pieces with a plastic overlay that were amazing, so forward-thinking. When it comes to fashion, we have to stay modern and contemporary, and this is the way to do it."
6. When a celebrity wears something, it truly does sell.Remember those incredible, one-of-a-kind green Chopard earrings Uma wore to Cannes' opening ceremony? "Those babies sold the very next day!" said Bingemann with a smile.
7. She's teamed up with Chamilia to spread the word about their cool, customizable jewelry. "Chamilia's such a clever idea, because it basically allows you to be the designer. You go on their website, design a bracelet or necklace, and then take it to Chamilia's retail stores and work with their team to make your piece a reality. We don't change our daily uniforms—I certainly don't!—but now you can do it by changing up these pieces of jewelry. It's all about personalization." Bingemann showed me her current favorite piece from the line, a triple-wrapped, braided-leather bracelet strung with beads in rich, deep reds and forest greens. And if you ever wondered whether combining gold with silver was a fashion faux pas, fear not! "I love mixing metals!" exclaimed Bingemann. "It's one of my favorite things to do."
8. "Vacation" isn't really a part of her vocabulary. "Tonight I fly back to Cannes—we're styling for the amfAR gala tomorrow, which is a huge deal, and then of course there's the closing ceremony. Since Uma's a judge this year, it's been a straight 10 days of working on looks for her. And I just got back from working with Naomi and Ewan McGregor in Thailand, doing the wardrobe for their new movie The Impossible." All in a day's work, I suppose, for one of the industry's most on-call stylists.
Celebrity news, beauty, fashion advice, and fascinating features, delivered straight to your inbox!