Hello, Good Buy: Mikkat Market
Meet an L.A. lady who's fast redefining what it means to shop online--on a dime.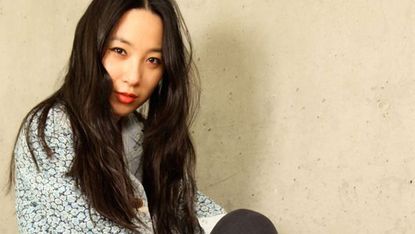 (Image credit: Archives)
Confession: hardly a week passes that I don't window-shop (browser-shop?) my way through Mikkat Market's latest crop of well-priced offerings. From sheer chiffon separates to slouchy button-up shirts to animal-print scarves, this young e-shop boasts a staggering selection of on-trend merch. The online store's most alluring feature, however? Those too-good-to-be-true prices. With denim styles ringing up at a mere $35 and a sleek moto jacket (so soft it might be mistaken for leather) going for just $89, to cite just a few examples, there's no excuse not to scoop up owner Kat Kim's designer-inspired pieces (see some of our favorites below). I recently chatted with Kim herself to get the scoop on the chic West Coaster's popular e-tailer.
NAME: Katherine Kim
AGE: 28
HOMETOWN: Madison, Los Angeles by way of Seoul, South Korea
How did the idea for Mikkat Market first come about?
Fashion had always been a big part of my life while I was growing up, but it all really started with my blog, The Katmosphere. Getting feedback and comments from readers from all over the world made me reconsider my own fashion sense and taste more seriously. That's when I came up with the idea of creating my own boutique, making it into something for everyone rather than a site that was only for myself. I launched Mikkat Market in December 2010—right before Christmas.
I love how you've linked e-commerce with your own personal blog. Tell me a bit about The Katmosphere.
I wanted to use my background in illustration and design to do something fashion-related. And the photographer behind both my blog and Mikkat Market is my husband—who's also my business partner!
What three words best describe the Mikkat Market aesthetic?
Modern, simple, and unique.
Your clothes are priced unbelievably well. How do you keep costs down, and where do you source your pieces?
I've always had issues with the prices of clothes on my own personal wish list, so my first goal for Mikkat Market was to offer pieces priced at the amounts you always thought clothes should cost. Most of the collections are actually from local L.A. brands.
Which of your store's items have proved the most popular?
Definitely the basic tops and jeggings.
Do you have any celeb style icons of your own? Is there a Mikkat Market muse you refer to while building your inventory?
I never really think of one specific person or style icon when it comes to my store. I try to cater more to the general public, people who love clothes and want to put together a perfect outfit every day.
Do you have any all-time favorite designers?
Rick Owens, Maison Martin Margiela, Dries Van Noten, and Helmut Lang.
What's next for Mikkat Market--and for you?
We're definitely trying to expand our collection with more variety of brands and styles. Mikkat Market has been growing so much faster than I ever expected, so I'm just trying to stay on track while planning for the future. I will definitely be building my own career around Mikkat Market—and fashion in general.
Dress, $85
Skirt, $39
Tee, $32
Top, $64