Set Your DVRs: Inside Tom Ford's Designing Mind
A new documentary takes us on a fascinating journey into the celebrated designer-slash-director's creative process.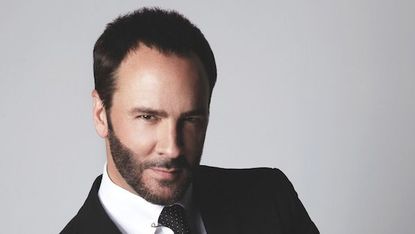 (Image credit: Archives)
Leave it to Oprah to snag a captivating interview with the most notoriously press-shy of couturiers. After months of anticipation, Tom Ford: Visionaries is set to air on OWN (The Oprah Winfrey Network) on October 23. A fascinating journey into the celebrated designer-slash-director's creative process, the documentary follows Ford through fittings for his stunning RTW collection, explores his motivation for directing A Single Man, and captures never-before-seen moments from his top-secret Spring 2011 runway presentation (Beyoncé on the catwalk, anyone?). Ford-philes will love this intimate look at the designer's day-to-day life; who knew the man who single-handedly reinvented Gucci got his start acting at NYU and takes upwards of three daily baths?
I got the opportunity to screen the doc in advance, and couldn't turn down the opportunity to ask director Michael Bonfiglio a few questions about how Visionaries came together.
What initially drew you and your OWN colleagues to Tom Ford as a subject for this series?


Tom Ford embodies the idea of what a creative visionary is. His taste and his creations, from his clothing to his filmmaking, is so specific and beautiful. He knows precisely what he wants, and when you see something he has created, it's unmistakably his.
When did you begin filming, and how long did the project take from start to finish?


Our first day of filming was September 12, 2010, at the debut of his Spring 2011 womenswear collection, and our last was in late February of this year, at the opening of his Los Angeles store. We started editing in December and completed the documentary in late spring of this year.
What were your initial impressions of Ford when you began taping?


He seemed extremely cool and calm for someone who was about to make a massive comeback to women's fashion. I first met him the night before the reveal of his Spring 2011 collection. As I watched him making the final preparations for the event, I was struck by how precise he was in his directions to his crew — he knew exactly how he wanted everything to be, and how to execute it. But I was even more impressed by the politeness with which he treated everyone who was working the event, from top to bottom. I had expected it to be a chaotic scene, as they basically had 24 hours to convert his Madison Avenue store into a fashion show venue, but instead it was very civilized and controlled. And Tom really seemed to be setting that tone.
Did you have any concerns at the beginning?


My main concern in starting the project was my own ignorance of fashion. I am not a part of that world at all, and I really had to do a great deal of homework before I was able to interview Tom. I had seen his film A Single Man, and although I really didn't know much about fashion, the depth and spirituality of that movie gave me the confidence that I could connect with him in some way that would move the piece beyond just a show about his fashion work. I hope the documentary will appeal to the fashion-loving audience, but I also think that Tom is such a fascinating and complex individual that it speaks to people on a very human level.
Throughout the doc, Ford speaks of being a strict perfectionist — yet the film exposes him as a truly warm, calming presence. Was there one side of his personality that emerged particularly strongly over the course of filming?


Off-camera, Tom was the same warm and calm person that he appears to be on-camera. He struck me as a perfectionist in the sense that he knows exactly what he wants, but in relaying his ideas to people, I never saw him do it in a demanding way. He's just very specific about what he likes and doesn't like — and if it has his name on it, it has to be right. He didn't seem to go around changing things just for the sake of changing them — he came across as very precise and purposeful.
Ford's spring 2011 presentation was a top-secret affair. What was it like to gain access?


Funnily enough, I don't think I realized just how exclusive the event was until after we got there. But it was such a good time. We were flies on the wall at the most exciting fashion event of the season, and we had the run of the place! The vibe was completely celebratory and fun, which I think was exactly what Tom was going for. Instead of just hiring models to show the clothes, he enlisted his friends (who happen to be some of the most beautiful and glamorous women in the world), which really seemed to set the stage for what he wanted the evening to be. During the rehearsals, he kept telling them, "Just have fun!" And despite the fact that every tiny detail had been attended to, the overall feeling was one of, "Let's put on a show!" Everyone who was there had a ball, and my crew and I were no exception.
Finally, can you share any fun, memorable stories from the set that didn't make it into the final cut?


I think the most memorable thing, actually, was when I finally showed Tom a rough cut of the film. I flew to Los Angeles to show it to him, and I was very nervous. Given how particular he is about his work — and especially because he's a filmmaker — I was anticipating leaving the screening with ten pages of notes about things he wanted changed. We screened it at a hotel, and he brought one of his colleagues to watch it with us. I sat a little bit behind him, so I could see his reactions as he watched — and about 10 minutes in, I could tell he was pleased. When it was over, he had a big smile on his face, told me he loved it, and essentially had no notes — aesthetic or otherwise. And his colleague told me that one particular sequence had literally brought her to tears. I'm so excited that people are finally going to get to see it!
Tune into OWN on October 23 at 8 pm EST to catch Tom Ford's episode of Visionaries: Inside the Creative Mind. You won't be disappointed.
Marie Claire email subscribers get intel on fashion and beauty trends, hot-off-the-press celebrity news, and more. Sign up here.