Winging It in the City of Angels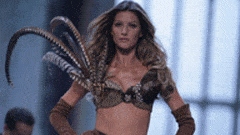 (Image credit: Marie Claire)
Marie Claire Newsletter
Celebrity news, beauty, fashion advice, and fascinating features, delivered straight to your inbox!
Thank you for signing up to Marie Claire. You will receive a verification email shortly.
There was a problem. Please refresh the page and try again.
LOS ANGELES
The show started with what else? A flying angel and the opening strains of Justin Timberlake's "Sexy Back".

It takes a lot to impress a fashion editor, but little to depress her—like the prospect of seeing those heavenly Victoria Secret models, arrayed in show-stopping lingerie in their annual parade in front of an increasing crowd of gawking Hollywoodites. But when guest artist Timberlake rose from a trap door to rock the house with his megahit, I gotta say, so rose my spirits.
The boy is hot—and appropriately prepped the crowd for the boa-clad booty, glittery G strings and cheerleader chic that followed. High fashion ain't the point at the Victoria Secret shows— publicity is. And though this Collection is clearly intimate with the runway trends, you're unlikely to find these corsets, panties and feather headdresses at your local VS shop.
That said, if you want in on a Vegas-calibre showgirl spectacular, tune in to CBS's broadcast of the show Tuesday, December 5th.
The before-show at LA's Kodak theatre held November 16th began with a straight-outta-ENTOURAGE party—all Hollywood stars and wannabes drinking and schmoozing up a storm. We think we hit the Grey's Anatomy trifecta, getting up close and personal with Justin Chambers, Sara Ramirez and Kate Walsh— who looked alarmingly waif-like. Ally McBeal syndrome? (Should be an upcoming episode!)
Paris Hilton in trademark WASP heiress headband approached best frie-nemy Nicole Richie and robot-hugged for the paparazzi. Making up the rest of the mayhem: Alyssa Milano, Jason Biggs, Derek Jeter, Ciara and Robbie Williams, in no particular order. The stars all dressed in cocktail attire—but disappointingly no starlets even attempted to upstage the models.
British stylist Charlotte Stockdale—who knows from English naughtiness—laced five different themes through the Collection: Femme Fatale, Coquettish Fetish, Come Fly with Me, Pink, Highland Romance and Glacial Goddess. Probably the most "wearable" for us mortals: the Come Fly with Me pieces with their retro sexy stewardess vibe. Highland romance was clearly cribbed from Alexander McQueen's infamous Highland Rape collection from Fall 1995.
After the show, a group of New York editors—including Brooke Rosen from Cosmo and Memsor Kamarake from VIBE— relocated to the Roosevelt hotel for the after party and to gab about our fav new angels Rosie, Andi, & Miranda as well as the usual suspects: Gisele, Karolina K, Adriana Lima, Ana Beatriz & Alessandra Ambrosio. Everyone else in the place we were convinced were actors all networking and trying to advance their acting careers. As we fashionistas had no films to promote—and were jetlagging big time—we headed to bed. But not before we decided that THE it accessory in LA is an entourage—a group of friends who think alike and dress alike. And we decided we were one! The next morning the very gracious folks of Victoria's Secret and their fab publicists of KCD invited us to a delish brunch at Clafoutis on Sunset. Nicole Gibbons, Jena Bauer, and Matthew Bires caught us up on all the drama we missed later at the after party.
Justin arrived late and danced by himself, while British heart throb Orlando Bloom was apparently hitting on all the models— somewhat tarnishing his chivalrous image. But with Victoria's Secret in your midst, what did they expect: a stiff upper lip?
Celebrity news, beauty, fashion advice, and fascinating features, delivered straight to your inbox!