"Big Girls" Hit Bloomingdale's for Full Figured Fashion Week
Marcy Guevara, host of Hello Style and MC's Big Girl in a Skinny World, shares an insider look at NYC's curvy girl extravaganza.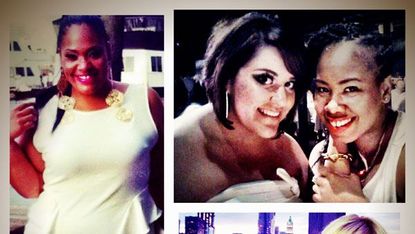 (Image credit: Archives)
Full Figured Fashion Week is in full-swing this week in NYC as plus-size women from all over the world unite to celebrate fashion, beauty and their curves. Created by Gwen DeVoe and presented by Sonsi, Full Figured Fashion Week boasts a healthy roster of sponsors, retailers, models, designers and more. From its kick-off with an all-white sunset cruise on Wednesday, followed by a full slate of panels and events, it's clear that plus-size fashion is in full-force all over Manhattan. The big girls know how to have a great time, and how to make their silhouettes fabulous in an array of looks from Ashley Stewart to Asos.
Thursday morning, I was fortunate enough to participate in the "My Style, My Curves" panel with expert stylists, advisors and consultants. We shared our personal struggles and our professional opinions on dressing for the skin you're in. There were many laugh-out-loud moments with the colorful group, and plenty of tweets broadcasting quotes from the morning, like Sherri Collins of The Curvy Stylist's mantra "ABC: Always Be Cute." (Video coming soon to Hello Style)!
The highlight of the day however, had to be the full-figured fashion show at Bloomingdale's. Voluptuous women flooded the store's fifth floor to watch looks from Michael Kors, Ralph Lauren, Elie Tahari, Jones New York, and Eileen Fisher rock the catwalk. It was a delight to see so many smiling faces sipping cucumber-infused vodka spritzers and shopping the amazing dress selection. From the models to the styling to the music pumping through the air, it was a night that will long be remembered as one when high-end retail met real curves.
I was drooling over so many of the outfits that breezed past me, both on the runway and off. Bloomingdale's showcased the designer names curvy women covet, and proved that their pieces are available to us. In florals, bright colors, and nautical prints, the entire line-up was darling and empowered the audience to dare, wear and rock!
For more Full Figured Fashion Week coverage, keep checking back here, and make sure to follow me on Twitter and Instagram @themarcyminute for sneak peeks into the week! For further deets, and to check out my head-to-toe look, click here.