Two Female Leaders on How Their Personal Style Makes Them More Confident Bosses
The co-creators of #DecodeExperiential lean in to a simple, chic look.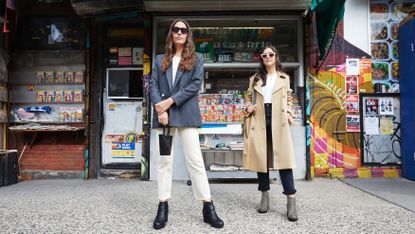 (Image credit: Kelsey Cherry)
Marie Claire Newsletter
Celebrity news, beauty, fashion advice, and fascinating features, delivered straight to your inbox!
Thank you for signing up to Marie Claire. You will receive a verification email shortly.
There was a problem. Please refresh the page and try again.
About two and a half years ago, Daphné Jouanneteau and Jess Conatser met through the companies they run, Lightbox and As We Are. Now, in addition to working for those businesses, the women have have combined forces to co-create #DecodeExperiential, a digital art and technology-focused series that brings together leaders in new media art and experiential marketing.
Whether they're hosting an artist meet-up for #DecodeExperiential or meeting with clients for their respective businesses, Daphné and Jess both value the importance of presentation and the impact fashion can have on a career. As it turns out, the two creatives have a pretty similar idea of what that means: "Jess and I have definitely showed up at meetings wearing the exact same outfit from head to toe," Daphné says. The formula? Simple, chic, and comfortable.
Finding a balance of comfort and fashion is particularly important when it comes to shoes—both women gravitate toward styles that are versatile and will hold up well after trekking the streets of New York City. Two styles from SOREL's Joan Wedge collection passed the test: the SOREL Joan of Arctic Wedge II Buckle Boot and Joan of Arctic Wedge II Zip Boot.
The boots, when paired with a sharp blazer or midi skirt, create an outfit that these two bosses can wear with confidence throughout their work day. Check out their style tips for three looks—and while you're at it, take notes.
|1|
Daphné is the CEO of Lightbox—an experiential event space—that she joined at age 19 after moving to New York from France, where she was born and raised. "I've always kind of held on to my style as a way to kind of evoke confidence," she says. "Even if I'm the youngest person in the room, I think it really helped give me that confidence." One of her go-to moves is to dress up a simple look with a piece that makes more of a statement, like this trench coat—you can't not feel like a boss in that.
For Jess, a polished blazer is the perfect addition to a simple outfit when heading into a pitch meeting for her creative concept studio, As We Are. "It gives me the look and feel to really feel grounded in that space and say what I need to say to really get people to believe in what it is I'm pitching them," she says. The SOREL Joan Wedge Buckle is a choice she doesn't have to think too much about—"I can throw them on with anything," she says, which means getting out the door and confidently heading toward a pitch meeting sooner.
Daphné: Sorel boots, sorel.com; Sezane trenchcoat, sezane.com; Jungmaven t-shirt, jungmaven.com; Agolde jeans, agolde.com; Poms sunglasses, pomspoms.com; Officina Del Poggio bag, officinadelpoggio.com
Jess: Sorel boots, sorel.com; Serrano blazer, serranostore.com; & Other Stories jeans, stories.com; Carolina Santo Domingo bag, carolinasantodomingo.com; Enki sunglasses, enkieyewear.com
|2|
Style-wise, both women aim to strike a balance of sophistication and simplicity. This requires having pieces that can be dressed up or down, depending on the outfit and events of the day.
Take the SOREL Wedge Zip boots that Daphné wears, for example. "I like to go back and forth between formal-ish and casual depending on how I feel," she says. "I always know that no matter what, I would have a shoe like this around that is going to be great to pair with anything and can always tie a look together."
The jacket over her shoulders gives the dress more of a relaxed look, as well, making it an outfit she'd be comfortable wearing in her day-to-day at Lightbox.
Jess likes to focus on efficiency when it comes to her work wardrobe. "I want something that can take me from morning meetings or brainstorming sessions to evenings like after-work drinks or gallery events," she says. "I need it to be casual, but also smart and buttoned up." The sweater and skirt combo paired with the boots is a great day-to-night outfit that is comfortable enough to move around the city in.
Daphné: Sorel boots, sorel.com; & Other Stories dress, stories.com; Lioness blazer, lionessfashion.com; Machete earrings, shopmachete.com
Jess: Sorel boots, sorel.com; Iro sweater, iroparis.com; Ayr skirt, ayr.com; Machete earrings, shopmachete.com
|3|
Daphné and Jess' personal style continues to play an integral role in the big moves they've made in their careers individually and together with #DecodeExperiential. One of their shared pivotal moments was having the opportunity to take over the One Times Square Building in Times Square.
For nearly a month, the building gave #DecodeExperiential space to display more than 25 pieces of digital art while its LED screens were being rebuilt. During that time period, having a polished look for the important pitches the women were giving was essential, but also making sure that they felt empowered in what they were wearing.
"I think doing something like that and hosting these artists to see the actual work on these massive screens in the epicenter of the world was kind of huge for all of us," Jess says. "Being able to dress the part and wear something comfortable shoe-wise, but also chic allowed me to be in one of the busiest places in the world and feel comfortable and confident."
Daphné: Sorel boots, sorel.com; Sezane coat and blouse, sezane.com; Agolde jeans, agolde.com; Young Frankk necklace, youngfrankk.com; Maslo earrings, maslowjewelry.com; Emm Kuo bag, ekrdesigns.com
Jess: Sorel boots, sorel.com; Baum Und Pferdgarten top, baumundpferdgarten.com; Iro pants, iroparis.com; Coco Sands belt, shopcocosands.com
Celebrity news, beauty, fashion advice, and fascinating features, delivered straight to your inbox!
Maya McDowell is an Assistant Editor at HearstMade.