The Best Breton Tops: Our 11 Favorite French-Style Striped Shirts for Women
This tee is still timeless, 163 years later.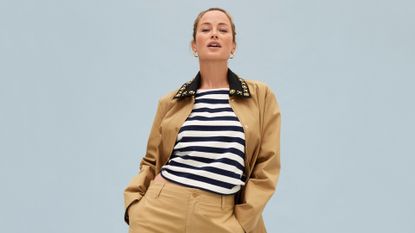 (Image credit: J. Crew)
Welcome to The Essentials, our weekly series highlighting a must-have classic, key to building a timeless, pulled-together closet.
Today, the best Breton stripe tops are accessible wardrobe pieces that offer a low-effort, high-reward stylish effect. But before the graphic T-shirt was synonymous with effortless Parisian fashion, it had quite the utilitarian and hard-working past. In 1858, the distinctive Breton stripe was dubbed the uniform of the French Navy. The blue-and-white tee, with 21 total stripes (a tribute to each of Napoleon's victories), was an easy way to detect the whereabouts of unlucky French sailors who'd fallen overboard on the high seas. It wasn't until the '50s that the top was catapulted to fashion fame via French cinema girls like Brigitte Bardot and Jeanne Seberg, who integrated the striped shirt into their sought-after capsule wardrobes.
"Like denim which started as railroad workers' clothes, or how we all cannot resist the call of khaki, certain sartorial genres have been co-opted over time from more humble or utilitarian origins," describes fashion stylist and creative director Mary Fellowes. "The image of dozens of French sailors with these horizontal lines cutting through our visual horizon was surely beguiling for fashion visionaries that effectively upcycled them into everyday civilian style," she adds of the top's journey from a maritime uniform to It-girl staple.
And for spring 2023, designers—both those working at a high-fashion caliber and those creating garments for your favorite affordable retailers—revisit the classic. Some remain strict to the signature look, while others veer away from the 21-stripe requirement and traditional color schemes.
Ahead, shop the best Breton tops of 2023, according to fashion stylists and Marie Claire's team, and find insight on how to style the striped shirts. Nautical by nature, a Breton-style top will look dreamy on a sailboat or amidst the French Riviera scene, but realistically it's also a smart work-from-home uniform paired with a jogger or jeans.
The Best Breton Tops
Alex Mill Lakeside Striped Cotton Shirt
Color-blocked swatches of different stripes are the way to go for a fun, laidback take on the traditional Breton stripe design. This multi-print Alex Mill shirt, in particular, is one you should consider for spring 2023. This top boasts a baggy, oversized fit, a traditional boat neckline, and slightly dropped shoulders and is crafted of ultra-soft 100-percent cotton. Lean into the shirt's unconventional look and team it with leather bottoms—slim trousers, a mini skirt, or even a pair of mid-length shorts.
Kule The Modern Long Sleeve
This relaxed-fit Breton stripe tee will, in fact, add more joy to your wardrobe. Kule is known for its signature striped tees that update the classic graphic via a playful, personality-filled slant. In particular, this red, white, and blue striped long-sleeve shirt represents the preppy-cool brand's modus operandi to a T. It has a slightly tomboyish fit but is undeniably timeless with its straight silhouette and slightly-scooped neck. It pairs seamlessly with white jeans and your best pair of sneakers.
Everlane The Modern Breton Tee
If you like your tees to have some structure to them, Everlane's contemporary take on the classic Breton top is for you. It's made of a 0.6 oz cotton woven in a thick, durable knit, which adds body to the top. Bonus: this T-shirt will only get softer and softer with each wear, creating a perfectly lived-in feel. "The fabric is great," raves one Everlane reviewer. "It's somewhere between t-shirt and sweatshirt thickness and is not clingy. This feels more like a structured top than a standard tee."
Boden Long Sleeve Breton Top
Offered in an assortment of striped colorways—including cherry red, baby blue, and navy—Boden's Long Sleeve Breton Top is the ideal throw-on-and-go, everyday tee. "This is the perfect shirt," writes an enthused shopper. "Classic and casual, but it also looks great with a blazer. [It's] so comfortable and holds up well in the wash. It's my go-to." Sport this versatile long-sleeve tee with a pair of jeans and sneakers. It will quickly become your weekend uniform. Oh, and this particular red style is on super, super sale for only $36.
La Ligne Lean Lines Striped Cotton-Jersey Top
Here's another no-fuss Breton stipe top that slightly tweaks the traditional 21-stripe design. With a pattern that begins at the bust, La Ligne's Lean Lines top creates an eye-catching staggered graphic through strategic white color blocking and 1varied stripes. It's also made of 100 percent cotton, so you know it's wonderfully soft to the touch. Reach for this soft cotton jersey top as a base layer, peaking out under oversized sweaters and blazers. As for footwear, Fellowes advises "sandals in summer or masculine loafers or other chunky flats."
J. Crew TENCEL-Blend Squareneck Tank Top in Stripe
An easy top done in the classic Breton stripes—but make it going-out ready. This square-neck style from J. Crew is perfect for summer happy hours or dinner parties. Knit from a stretchy blend of TENCEL lyocell, an eco-conscious fiber made from sustainably-sourced wood pulp, this tank will keep you comfortable and worry-free all evening long. As for styling the sleeveless number, try teaming it with flowy front-pleat trousers, your best slingback heels, and trendy pearl jewelry for a look that says, "Yes, I frequently vacation along the French Riveria."
Polo Ralph Lauren Striped Boatneck Jersey Tee
Put simply: "a Breton stripe is a wardrobe staple," says fashion stylist Candice Lambert. "It is never outdated and can be worn year-round in any season." The expert particularly shouts out this bright blue and white striped tee from Polo Ralph Lauren, dubbing it the one to add to your closet as a classic building block if you don't already own a Breton style. Classic both in look and in silhouette, this boatneck number is one you'll find yourself constantly reaching for.
L.L. Bean Saturday T-Shirt Short-Sleeve Stripe
Multi-color stripes offer a cheerful alternative to the classic color combo of navy and white. Case in point: L.L. Bean's cult-favorite Saturday T-Shirt in salmon, saphire, baby blue, and yellow stripes. It's made of a comfy, soft cotton and a subtle-stretch jersey knit. One L.L. Bean shopper shouts out this playfully graphic tee as the hero piece of their seasonal wardrobe, saying it's "too comfortable [and] it just may end up being the shirt you live in all summer."
rag & bone Bardot Stripe Shoulder Button Cotton Top
I mean, it's in the name: If you're hoping to tap into the insouciant elegance of Brigitte Bardot, try a relaxed Breton top reminiscent of the striped numbers the French film star used to sport—like rag & bone's navy and ivory style. The gold, crested shoulder buttons and contrasting navy and white sleeves offer a splash of modern flair, while the boatneck silhouette and dropped shoulders pay homage to the shirt's classic look. This shirt is what you'd call a new classic.
Matteau Striped Cotton-Jersey T-Shirt
Here's another striped top that is one of stylist Candice Lambert's personal favorites. It's made of a yummy cotton-jersey blend, so it's endlessly comfortable. And with its sculptural and oversized sleeves, Matteau striped T-shirt feels like a more artistic take on your standard Breton top. However, there's no need to worry about drowning in the exaggerated silhouette: the tee boasts a cinched-in, fitted waist, which means you're safe to team it with baggier bottoms—cargo pants or roomy jeans, for instance.
Comme des Garçon Striped Crew Neck Sweatshirt
Fellowes' greatest point she hopes you take away? "Buy [Breton stripe tops] second-hand. This is the point since they don't date. Plus, [vintage Breton tops] are typically usually made of robust cotton, which lasts and lasts many washes and wears. So not only is it a more responsible, sustainable choice to buy the secondary market, but it's also way better value for money." She recommends this specific embroidered style from Comme des Garçons, which adds interest to the classic striped tee with its subtle heart-motif embroidery.
How to Style Breton Tops
"Since they are inherently boxy, you want to counterbalance that with something that elongates the silhouette—like long, lean straight trousers," says Fellowes. "Or else just roll with the overall boxiness and the slouchy casual world of the top by pairing it with loose, low-slung, and casual boyfriend-style pants."
"For a low-key dinner, pair your Breton top with jewel-tone satin cigarette trousers, match your lipstick or bag to the trousers, and then add huge statement earrings," offers Fellowes. "The high/low or utility/precious mix makes a fresh juxtaposition."
Be Mindful of the Horizontal Stripes
"Because the Breton stripes are horizontal, they add the illusion of width to the body," notes the stylist. She shares that there's no need to be deterred by the illusion, however: just wear it in a way that will "bring out your best." Her go-to tip is to balance out the horizontal visual by "throwing a gilet or waistcoat over, ideally one that has a decent wide shoulder and is long to the ankle or to the hip." She says "it will give great effortless Beatnik vibes."
"Lots of gold jewelry" on your "fingers, wrists, piles on the neck, and stud earrings" is critical, says the stylist when putting the finishing touches on an outfit featuring the Parisian-chic top.
Meet the Fashion Experts
Creative director, stylist, editor, and now sustainability expert Mary Fellowes has operated in the top echelons of fashion and media for two decades. Based in London, she currently styles leading Hollywood entertainment talent for promo and red carpet while also consulting with fashion and luxury brands on being responsible, ethical, and transparent.
Candice Lambert is a Los Angeles-based stylist and costume designer best known for her "street meets high fashion" approach. Lambert is regularly called upon by Hollywood and the music industry for red carpets, award shows, television sets, campaigns, world tours, iconic performances, and more. She is a favorite of high profile clients such as Kelly Clarkson, Green Day, Bon Jovi, Our Lady J, Danica Patrick, and many others.
Celebrity news, beauty, fashion advice, and fascinating features, delivered straight to your inbox!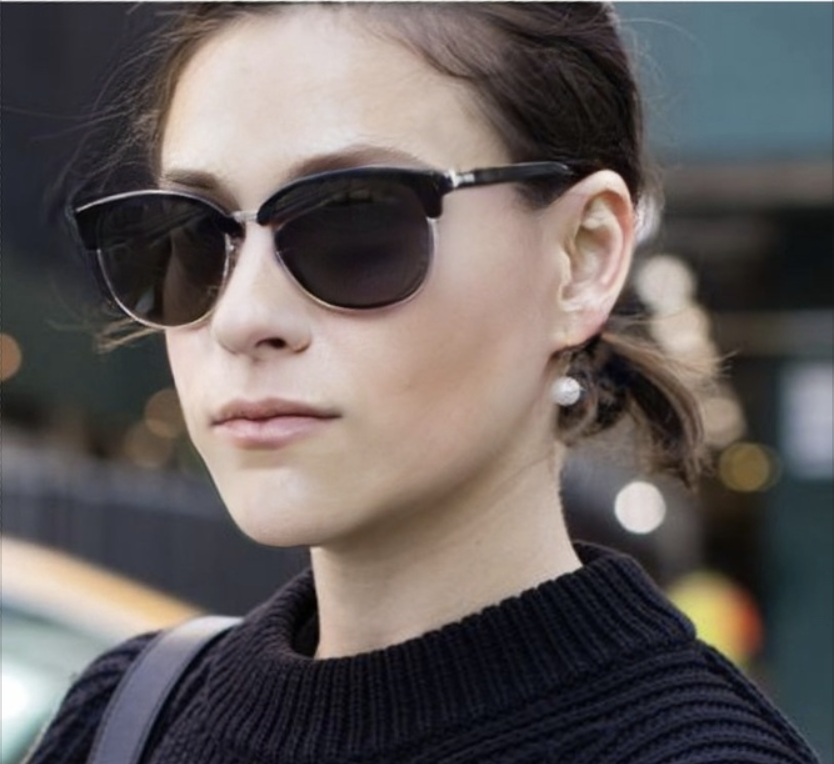 Sara Holzman is the Style Director at Marie Claire, covering runway trends and tracking down the latest finds to buy and wear. When she's not writing about fashion, she pens about the best places to jet-off to. Over her six years with Marie Claire, Sara has reported on the ever-evolving world of fashion— covering both established and emerging designers within the industry. Sara has held fashion positions at Lucky and SELF Magazine and was a regular contributor to Equinox's Furthermore website, where she wrote across their style, wellness, and travel verticals. She holds a degree in Journalism from the University of Missouri, Columbia, and currently resides in Manhattan. Follow her along at @sarajonewyork.