Big Girl in a Skinny World: How Plus-Size Women Can Accessorize
Full-figured fashionista Ashley Falcon gives tips for adding shoes, bags, and jewelry to any look.Plus: Ashley's Top Accessory Picks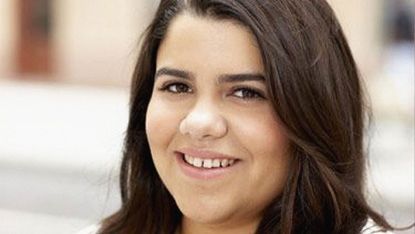 (Image credit: Ben Goldstein)
Marie Claire Newsletter
Celebrity news, beauty, fashion advice, and fascinating features, delivered straight to your inbox!
Thank you for signing up to Marie Claire. You will receive a verification email shortly.
There was a problem. Please refresh the page and try again.
If there's one area of fashion that big girls can rock, it's baubles, bags, and shoes—the very things that often make or break an outfit. But those little touches can pack some plus-size pitfalls, which I discovered at the ripe old age of 11, when my BFF bought us a "best friends forever" necklace and I couldn't get the chain with my half of the heart around my neck! Instead, I wore it as a bracelet, and a week later, every girl in school was doing the same. My love affair with accessories hasn't faded. And while I know not everything will fit, I've learned that my chances of getting into a Chanel necklace are a whole lot better than the odds I'll squeeze into a Chanel suit. It's a reality accessory designers have tuned into recently.
I can't tell you how many times I've asked for the biggest size in a ring, only to find that it won't even slip onto my pinkie! You can imagine my elation, then, as I come across more and more designers reaching out to the plus-size market. Take hsn.com, my new favorite place for ultrafashionable rings, and one that offers sizing in the double digits. With some of the coolest jewelry lines around (Miriam Salat, Grayce by Molly Sims), the site makes it easy to wrap your fingers in style.
Another brand I can't get enough of at the moment is Alex and Ani (alexandani.com)—their adjustable rings slide on seamlessly, and their flexibly sized bangles work, well, like a charm. In addition to its gorgeous rings, Glow by Sheila Fajl also offers larger-size bangles, cuffs, and longer-length necklaces—true statement pieces!
But don't rule out shopping at stores that cater to traditional sizes. My secret weapon here: necklace extenders—an inexpensive way to make just about any necklace fit perfectly. Go to necklace-extender.com and click on "Necklace Necessities Ensemble."
Jewelry isn't the only area where designers are beginning to take notice of big girls like me, though. Lately, handbags have begun to reflect a supersize sensitivity as well. A few of my current faves: Marc Jacobs, whose The Single is fashioned to drape comfortably across the body (a trend showing up at multiple houses this season), and the Tory Burch Heidi Pigskin Mini, which comes with an extra-long shoulder strap.
As for footwear, anyone with even a hint of a shoe obsession (who, me?) knows that while European brands offer some of the most beautiful styles around, they also tend to be cut for a narrow foot—a reality that can spell painful blisters. So instead of wasting money on Band-Aids, take the relatively simple step of having your shoes stretched. In the right hands, your feet will thank you—and not just because they look so cute in those Italian slingbacks.
What are your favorite brands or tips for avoiding the accessory squeeze? Let me know at marieclaire.com/ashley.
Celebrity news, beauty, fashion advice, and fascinating features, delivered straight to your inbox!